Rough Terrain Forklift Hire
High Quality European build
4×4 Hydrostatic Rexroth transmission
Perkins diesel engines
Lift capacities from 1,600 kg – 3,500 kg
Adaptalift has a full range of true 4×4 Rough Terrain Forklifts ready for hire.
Our fleet of rental forklifts starts at 1600 kg with 3 Stage 4500 mm mast and goes up to 3500 kg capacity.
European built with over 15 years of success in Australia's harshest environments, Agria rough terrain forklifts are tough, rugged and built to last.
A reliable Rexroth hydrostatic drive system offers low maintenance costs and a reduced likelihood of breakdowns.
The 4×4 mode can be dis/engaged when driving on or off road, providing a smooth and time-saving ride.
Models available for rent:
Fuel Type Diesel. Transmission 4×4
TH160: 1600 kg – 3 Stage 4000 mm
TH210: 2100 kg – 3 Stage 4000 mm
TH250: 2500 kg – 3 stage 4000-4500 mm
TH300: 3000 kg – 3 stage 4500 mm
TH350: 3500 kg – 3 stage 4500-5000 mm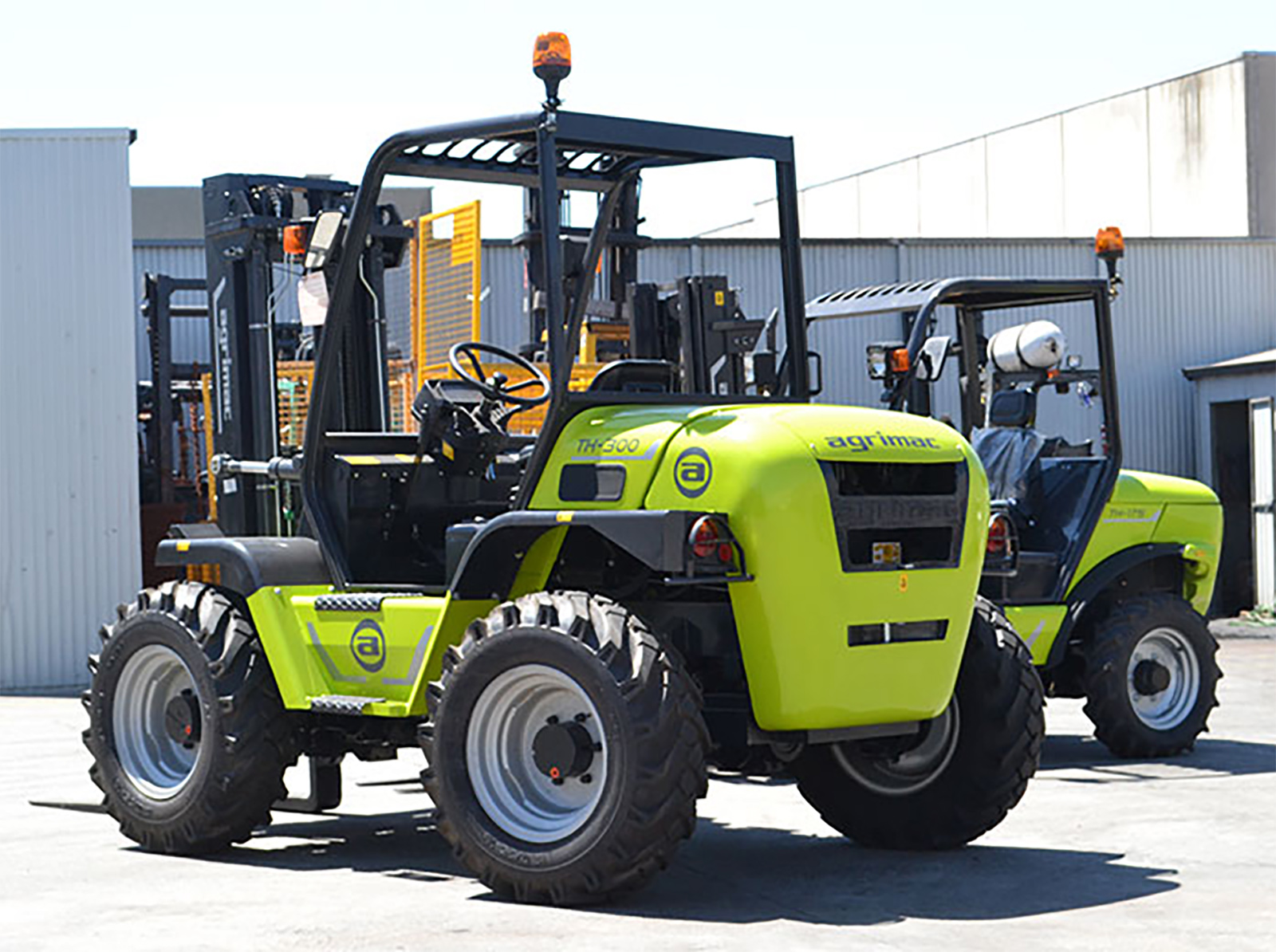 | | | |
| --- | --- | --- |
| Maximum lifting capacities up to 3,500kg | Hydrostatic transmission | Hydrostatic steering |
| Maximum lift heights up to 6000mm | Side-shift | Container masts |
| Great vision | Driver comfort | Quality European Build |
| | TH-120 – TH-350 Series |
| --- | --- |
| Built In | Spain |
| Engine | 3 – 4 cylinders | 952 cc – 3600 cc | 24,4 – 47,5 KW | 20 – 65HP | Water cooled. |
| Capacity | 1 200 – 3 500 |
| Traction | 4×4 with electrohydraulic clutch disconnection |
| Speeds | Slow and fast: up to 0 – 24 Km/h, | Inching Pedal. |
| Brakes | see options (download brochure) |
| Wheels | see options (download brochure) |
| Weight | 2.100 – 4.500 |
| Surmontable Stroke | 35 – 38% |
| Option Mast | Duplex – Triplex Options |
| Turning Radius | External: 3.650 – 4.820 / Internal: 1.750 – 2.950 |