Are you doing all you can to protect your people?
The 'Artificial Intelligence Vision Assist' (AiVA) system from Speedshield Technologies is a vision-based system designed to 'see' pedestrians using advanced machine vision and artificial intelligence.
The system is designed to increase operator situational awareness by automatically detecting and advising when pedestrians approach forklifts, access equipment, or other heavy machinery in operation.
AiVA can accurately sense the position of pedestrians relative to the vehicle and use this information to provide rapid proximity alerts and optionally adjust vehicle parameters such as speed limiting, depending on policy.
In 2021 38% of all workplace fatalities in Australia were because of a vehicle collision.1
36% of forklift related deaths are pedestrians. More than 60,000 workplace injuries per year involve a forklift. 1 in 6 workplace deaths annually involve a forklift.2
What is AiVA?
The AiVA system is made up of a network of four or more rugged weatherproof cameras and a single operator remote.
The cameras are installed and trained on specific segments of vehicles that correspond to a matching segment on the operator remote.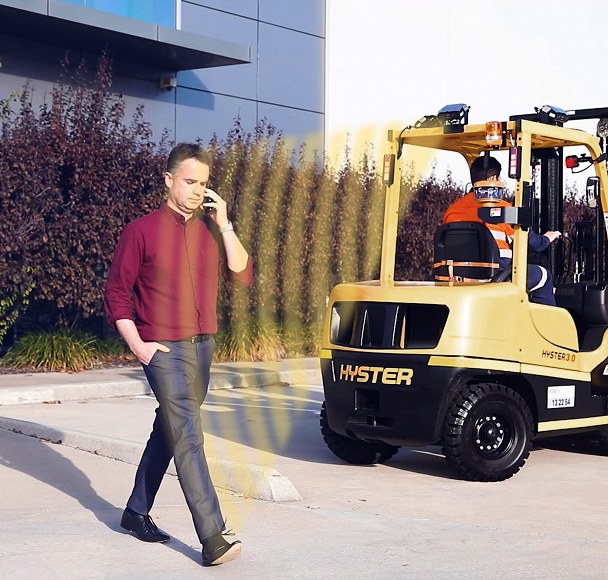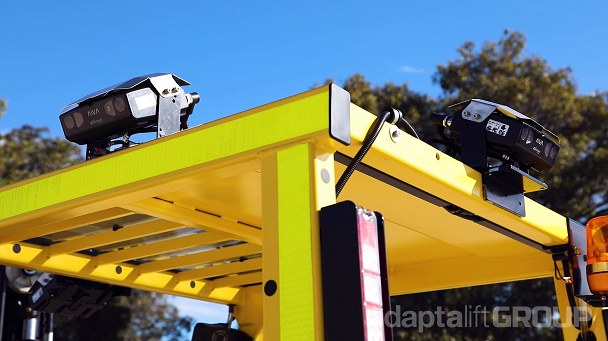 The remote provides a radar like 'bird's eye view' of the entire vehicle surroundings showing pedestrian locations clearly to the operator.
In addition to the visual display, the remote also contains an operator acknowledgement button and a weatherproof speaker to provide loud and effective voice prompts to alert operators and pedestrians to proximity breaches during operation.
Detection Modes and Behaviour
AiVA can detect pedestrian at ranges of 8 metres and beyond. It is programmed to detect and display pedestrians with:
A yellow

LED

in the outer ring of the segmented display when they are at distances greater than 5m.
A red

LED

on the outer ring of the segmented display when they are within 5m of the forklift but no closer than 3m.
A red

LED

on the inner ring of the segmented display when they are within 3m. A voice prompt will also notify the pedestrians proximity to the forklift is within 3m.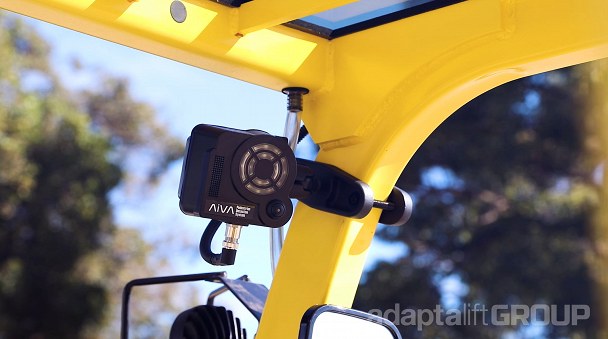 Optional Features
Speed Limiting
Optional speed limiting can be included in the system.
When a pedestrian is detected within 3m of a vehicle its maximum speed will be lowered to a safe speed.
Speed limiting will remain in place until the pedestrian has left the critical area.
Cloud Storage
The AiVA system is fully cloud enabled, automatically collecting, and reporting operational policy breaches and near misses across the fleet.
Event data and video snippets of concerning events are automatically captured and can be used for organisational analytics, training, and continuous improvement.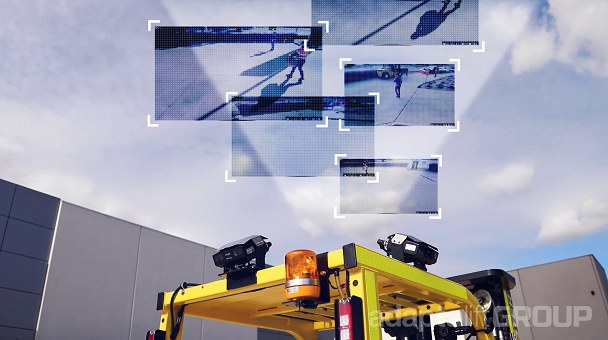 Installing and using the AiVA system acts as a complement to the normal required vigilance of the operator.
AiVA is not designed as a replacement of good forklift and vehicle operation, such as keeping a continuous lookout, driving as slow as possible and to the conditions.
1 Safe Work Australia, Work-related injury fatalities – Key WHS statistics Australia 2022
2 US Occupational Safety and Health Administration 2007 and McCue 2019