Combilift MR4 360° Multi Directional Forklift 2500kg – 4500kg
The brand-new MR4 4-wheel electric multi-directional reach truck incorporates Combilift's patented new Dynamic 360° ™ steering which provides rotation on each wheel, enabling seamless directional change of the truck whilst it is on the move.
The Combi-MR4 is available in two unique models, with capacity ranges of 2,500kg – 3,000kg and 3,500kg – 4,500kg respectively, and can operate in aisles as narrow as 2265mm when guided (based on 1200mm deep material).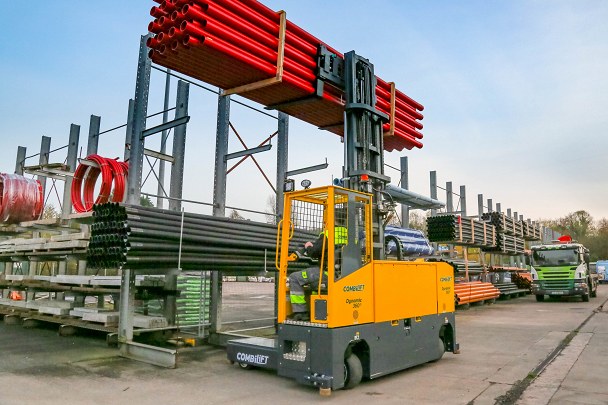 The dynamic steering system allows the agile forklift to work in forward, sideward and crab steer mode guaranteeing swift operation and excellent manoeuvrability.
The highly versatile MR4 can handle long loads as well as palletised goods with ease and can load and offload from delivery trucks.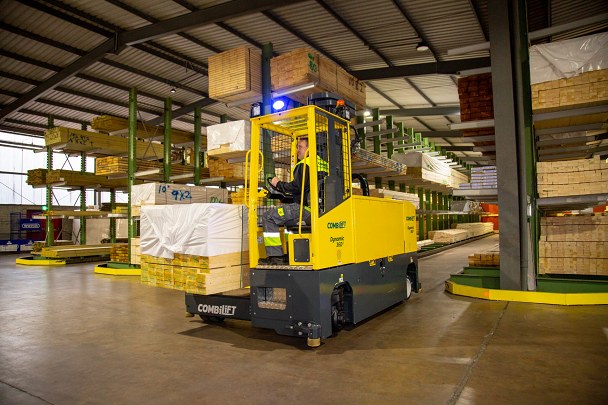 Driver comfort and safety were also major considerations in the development of this new model, with all truck including the below ergonomic features to ensure a smooth ride and straight forward operation.
High visibility operator cabin
Multi-function control joystick
AC-electric power steering
Joystick operated hydraulic mast functions
Articulated rear axle with two rear rubber drive wheels provides optimum traction for outdoor use, while still ensuring nimble and accurate truck placement.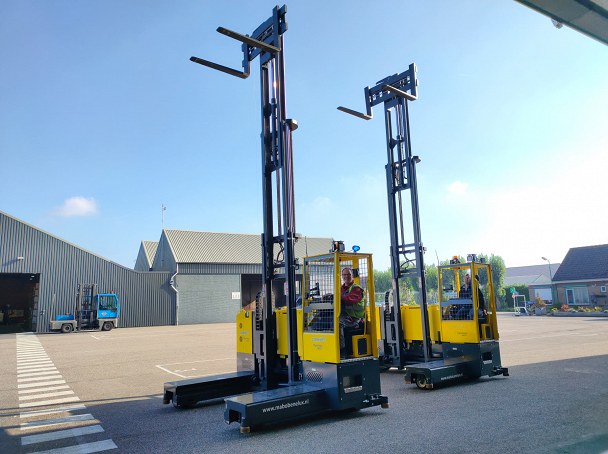 Combilift's patented Dynamic 360°™ steering provides units with a new level of manoeuvrability, allowing operators to manipulate the truck's positioning and orientation without the need to stop and change driving mode.
Intuitive and easy to operate this is achieve with a simple twist of the control joystick to the right or left adjusting the units wheel positions simultaneously, providing crab steering and allowing change of direction on the go.
Suitable Industries
Aluminium
Building Materials
Logistics
Metals
Plastics
Steel
Timber
Warehousing
Special Features
Standing Operator Over-Head Guard
Multi-Directional Operation
AC Electric Steering
AC Motor Technology
Multi-Function Joystick
Optional Integrated Hydraulic Fork Position