Hyster N30-45ZR3/ZDR3, N30-40ZRS3/ZDRS3
Hyster single and double deep reach trucks have the durability, serviceability, ergonomics, and performance benefits that will meet your operator's needs, help reduce costs and work to drive uptime and productivity.
There are three main variations of reach trucks:
Single Reach Truck
Double Deep / Pantographic Reach Truck
Stand up Reach Truck
Single Reach Trucks
Single reach trucks are specifically designed to operate in narrow aisle warehouse spaces.
They are able to reach and pick-up / set down pallets within racking thanks to the two outer legs that distribute the load weight.
Double Deep / Pantographic Reach Trucks
Double deep sometimes known as pantographic reach trucks have the similar manoeuvrability and narrow aisle operating design as single reach trucks however the carriage is fitted with a pantograph that allows the tynes to reach further into pallet racking to retrieve pallets that are being stored double deep.
Stand up Reach Trucks
Reach trucks are commonly engineered as sit down models, however in some specific applications such as order picking a stand up models is optimal.
In these models the operator stands whilst operating allowing them to easily enter and exit the machine as they work.
Advantages of Hyster Reach Trucks
Low cost of operation
Built for comfort
Enhanced productivity
Advanced technology
Low Cost of Operation
The superior design of Hyster® reach trucks helps to lower your cost of ownership and increase productivity. Extended maintenance intervals, longer brake and tire life, all play a part in lowering the overall operating costs.
CAN

bus communications to simplify wiring and improve serviceability.
Integrated Intelligent Interface ties together functionality, software, diagnostic codes, similar interfaces, and is Hyster Tracker compatible.
Swing-out compartment doors reveal an uncluttered, well laid out compartment making servicing easier. Stationary drive motor eliminates power cable flexing, improving cable reliability and longevity.

CAN

bus controller reduces wiring by 40% and electrical connections by 25%, resulting in enhanced reliability and excellent visibility through the mast.
Built for Comfort
The operator compartment is a truly flexible operator compartment. Available in standard side stance or optional fore/aft stance configuration we have a truck for your application. The ability to assume variable positions within the operator compartment offers a comfortable and natural operating experience.
Generously sized compartment lets your operator move about easily yet feels secure, no matter your driving stance.
Padded walls provide soft support for your hips and a 5/8" thick floor mat cushions your feet.
Pressure-sensitive switch in the floor mat requires that the operator have both feet inside the truck before it can travel.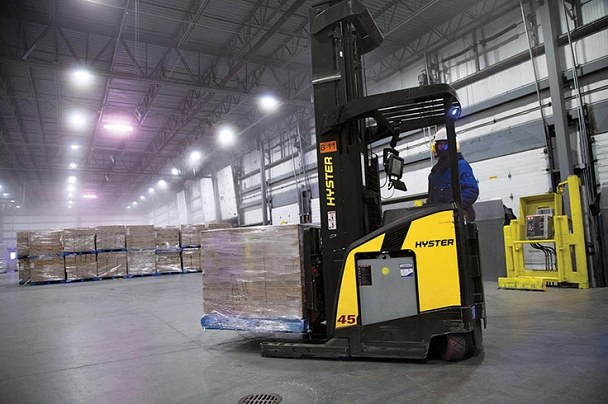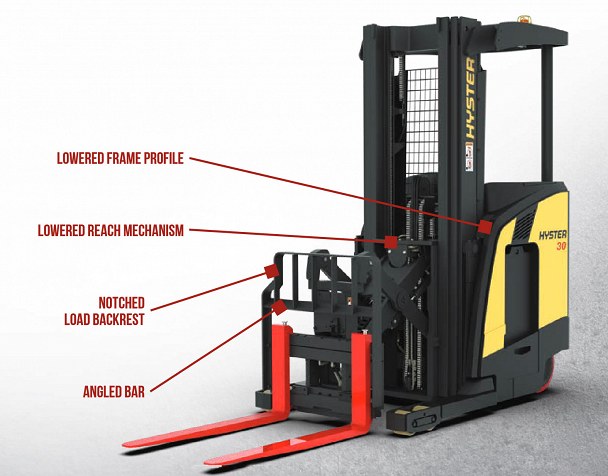 Enhanced Productivity
Powered lowering increases operator productivity by "powering" the load down when unloaded, maximizing lowering speeds (available on the N/ZR 2 and ZDR 2). Also, regenerative lowering helps reduce heat buildup in the hydraulic system and returns potential energy of the load to the battery to help increase battery shift life (available on the N/ZR 2 and ZDR 2).
AC Technology delivers quick and smooth changes in travel direction and offers precise speed control with excellent acceleration thereby significantly increasing productivity potential.
Advanced Technology
Hyster® i3 Technology™ integrates commonality among Hyster warehouse products and simplifies the way in which operators and technicians alike handle and service the truck. This technology allows operator input to optimize performance to suit operator skill level. It also provides setup and diagnostic menus for service technicians.
AC Technology delivers quick and smooth changes in travel direction and offers precise speed control with excellent acceleration. The standard "Extended Shift" feature allows enhanced run time without recharging over longer periods. The "Extended Shift" AC controller setting provides the optimum balance between performance needs and battery shift life. AC Technology features an Auto Deceleration System that, when activated, electronically decelerates the truck to a smooth stop when the operator moves the control handle towards neutral.
Hyster Reach Trucks
MHE

Solutions for all Industries
Wholesale Distribution
Warehouse & 3PL
Food Distribution & Processing
Cold & Frozen Foods
Building Material
Home Centres
General

MFG

Retail & E-Commerce (DC/fulfillment)
Retail Store Operations
Furniture & Furnishings
Health & Pharma
Auto Parts Distribution