The SweepEx range of forklift brooms from Kärcher can be easily attached to the front of forklifts, front-end loaders, telehandlers and skid steer loaders.
They are the ideal cleaning solution for large mess and debris that are too big for a traditional vacuum sweeper.
Mess and debris are simply swept into one convenient location for simple clean-up.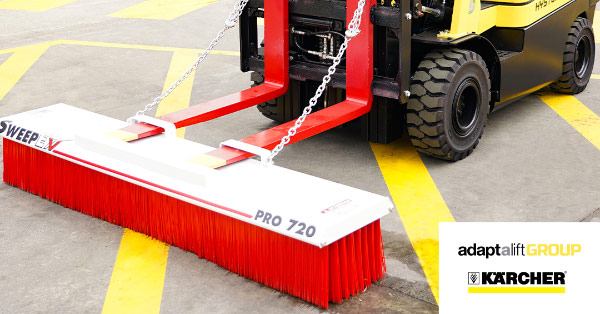 SweepEx forklift brooms are the ideal cleaning aid for:
Warehouses
Industrial recycling plants
Farming and agriculture
Expo and event clean-up
SweepEx brooms are designed and manufactured with minimal moving parts, thus require minimal maintenance.

Features
Sweeps wet and dry materials
Manufactured from robust and durable materials
Suitable for indoor and outdoor use
Low cost of ownership and maintenance
Replaceable bristles
All SweepEx brooms are easily attached to forklifts and other machines using fork tine pockets and chains.
Brooms are available in three series Valu-Sweep, PRO and MEGA with broom widths from 1,500mm to 2,400mm.
SweepEx Valu-Sweep 1,500mm
SweepEx Pro 1,500mm (SPB600) and 1,800mm (SPB720)
SweepEx Mega 1,800mm (SMB720) and 2,400mm (SMB960)
Brooms are backed by a 12 month limited warranty program.