The new Hyster® J7.0-9.0XNL series is one of the first zero-emissions electric lift trucks providing 7-9T lift capacities with matched diesel engine performance.
Paper, timber, steel, and other heavy-duty industries can now easily adopt these tough electric forklifts and benefit from quieter operations, fast acceleration, and even more responsive operation.
Designed to work in both indoor and outdoor applications, the trucks feature high voltage (360-volt) lithium-ion batteries and have the endurance to support three shift operations.
Integrated lithium-ion battery
Provides maximum power for a full 8-hour shift (in most operations).
From flat, the battery can be fully charged within 2 hours.
Opportunity charging gives extended run-time.
The lithium-ion battery is maintenance-free with three times the life of standard lead acid batteries.
Motor technology
A powerful 105kW is provided by two multi-phase permanent magnetic motors, delivering best in class performance with excellent energy efficiency and minimal energy loss.
Fully independent hydraulic pump and traction motors never drop in performance when lifting and moving loads.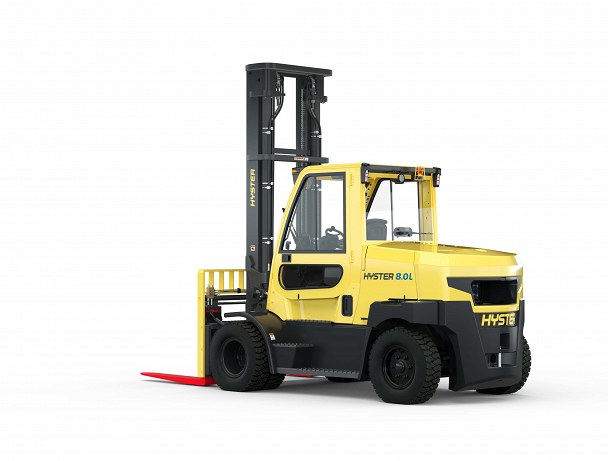 Responsive control
No need to press the accelerator to rev the engine when lifting, which can enhance operator productivity.
Autospeed hydraulics help to maximise overall truck responsiveness and controllability.
Automotive-style pedals have a large, single inch/brake pedal as standard which gives precise low-speed control and smooth electronic inching.
Robust chassis and frame
A robust chassis uses a unitised 25mm thick frame structure and the high strength mast design optimises capacity retention at high lifts with excellent visibility and rigidity.
Operator's compartment
TouchPoint mini-levers integrated into the armrest provide hydraulic control and other key functions.
The well positioned dash display keeps the operator aware of the lift truck's status at a glance.
The operator compartment has clear unobstructed foot space, adjustable steering column, rear drive handle with horn button and it is easy to access with three-point entry and exit.
Operators sit comfortably thanks to the full suspension seat and with the benefit of an isolated powertrain, whole body vibration levels remain below 0.6m/s2.
Vehicle systems and wiring
All vehicle systems are managed electronically to optimise performance and increase reliability. CANbus wiring, sealed connectors and hall Effect sensors reduce complexity for truck system communication.
Stability
The maintenance-free Hyster® Stability Mechanism™ (HSM™) helps keep the truck stable when making turns and enhances its ability to operate efficiently on rough surfaces.
The steer axle is cast steel mounted on polymer bushings for excellent stability and axle articulation.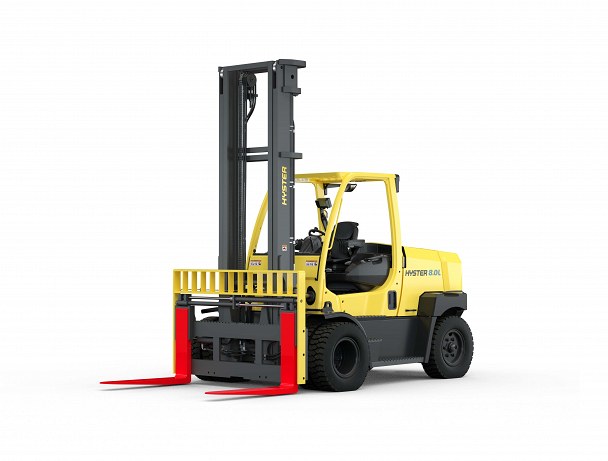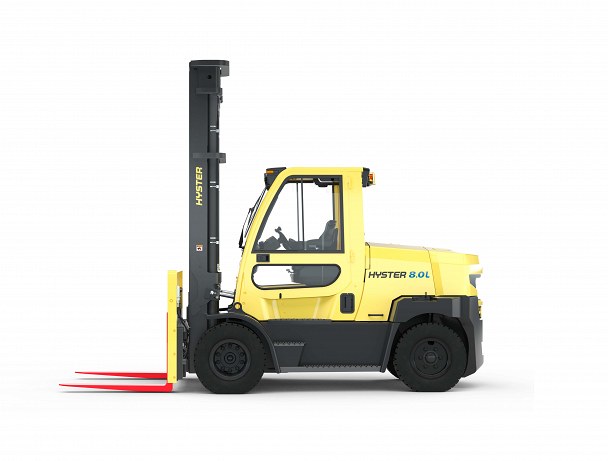 Regenerative braking
The forklifts feature auto generative braking that uses the electric motor to slow the lift truck, minimising wear on the oil immersed brakes.
The regenerative braking system reduces maintenance and extends truck dependability.
Hydraulics
The hydraulic system incorporates a multi-stage gear pump with a cast iron body.
The oil is double filtered, and the hydraulic tank is integrated into the frame.
Lift circuit relief valves give protection from overloads.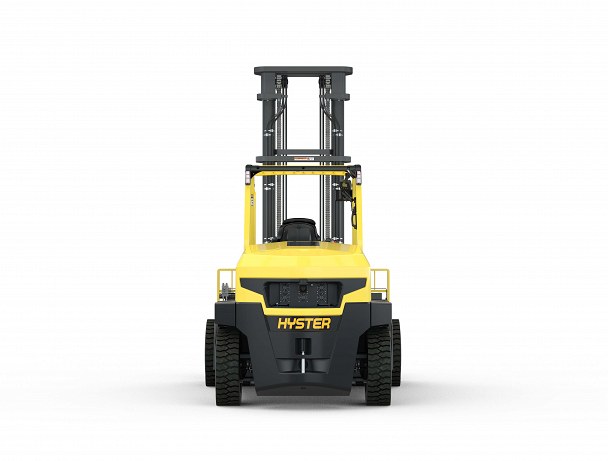 Mast
2-stage limited free lift or 3-stage full free lift masts deliver excellent through-mast visibility and rigidity and feature sealed full radius load rollers that resist forward, rearward, and lateral forces.
Side-thrust wear pads allow for periodic adjustment for lateral clearances. The high strength steel rolled mast channels resist flaring of the mast channel.
Carriage
Wide hook-type carriages optimise visibility and allow the fitting of a wide variety of forks and attachments (pin type available)