Why Hyster?
Hyster Company is a leading lift truck designer and manufacturer with over 90 years of experience, and the strong backing of its parent company, Hyster-Yale Materials Handling, Inc.
The company's success is the result of focusing on clients' needs and delivering tough lift trucks that move products efficiently and elevate the potential of their partners.
With lifting capacities ranging from 2,000 to 105,000 pounds, Hyster lift trucks combine award-winning designs, industrial-strength components and high-tech manufacturing to deliver versatile and dependable solutions.
One of the largest global forklift and materials handling equipment (

MHE

) manufacturers with revenues of $3 billion ($USD) in 2019
Hyster-Yale Group has over 941,000 forklifts across 770 diverse industries globally
Production targets of 140,000 forklifts annually
World class global manufacturing network with locations in eleven countries including: Brazil, China, India, Italy, Japan, Mexico, Netherlands, Northern Ireland, Philippines,

USA

and Vietnam
Highly diversified product offering with 500 base units and approximately 3,000 different variations available to customers
Brief History
In 1929 The Williamette-Ersted Company was founded in Portland Oregon, as a manufacturer of winches and lifting machines for the timber industry.
Legend has it that loggers using the equipment would cry out 'hoist er' as they began to lift a load.
The expression spelled out as Hyster stuck and marked the beginning of the Hyster lift truck history.
In 1934 the company renamed as Willamette Hyster Company introduced one of its first forklift trucks, a straddle carrier equipped with forks.
1944 saw the company formally adopt the name Hyster Company as it continued to build its reputation for durable lifting machines.
The events of World War II saw the company's products distributed overseas, with the international presence helping to establish a global network of manufacturing plants and dealers.
Hyster® brand introduced the famous Monotrol® pedal a unique development providing speed and direction control in a singular pedal.
1989 saw the Hyster® brand acquired by NACCO Industries from the company's founding family.
With the Hyster brand joining Yale in its portfolio NACCO Industries created NACCO Materials Handling Group (NMHG) to integrate and manage the two companies as one.
2016 NMHG changed its name to Hyster-Yale Group to reinforce its position as the operating company under Hyster-Yale Materials Handling Inc.
Legacy Proven, Future Focused
Established in the 1920's Hyster began manufacturing lifting machines for the rigorous logging industry in the United States Pacific Northwest.
A few years later, the first forklift trucks were invented, and the Hyster® brand quickly gained its reputation for rugged quality.
Today, that same pioneering, forward-thinking trajectory is taking the company into exciting new territory.
Hyster forklifts and materials handling equipment continue to reduce the cost of ownership, boost productivity and enhance the comfort of businesses from multiple industries.
Every truck manufactured — whether powered by gasoline, propane, diesel, compressed natural gas, hydrogen fuel cells, lithium-ion or lead-acid batteries — is purpose-built to excel in its application.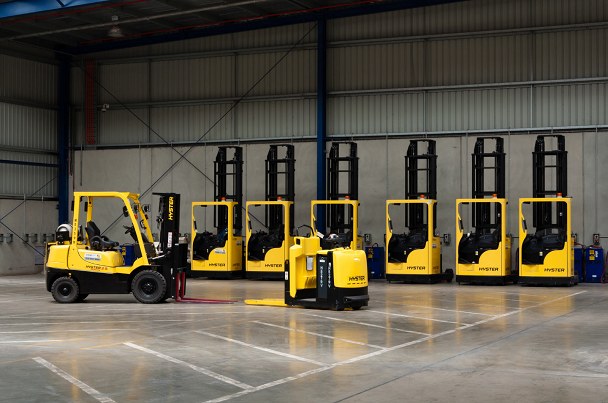 A World of Strength and Support
Customers have every reason to feel a bold confidence when they add Hyster® equipment to their fleet.
Hyster's reputation for engineering and manufacturing robust, reliable lift trucks is reinforced by a dynamic, global network of more than 100 carefully chosen dealers, each with the same goal of keeping our customers operations moving and costs under control.
A global presence also leads to consistent quality, streamlined processes, greater buying power and more configurations to meet client's applications.
When customers choose Hyster, they gain a strong partner with the resources and experience to support their operations regardless of its size and location.
Yellow is the New Green
Hyster has been breaking ground with electric-powered trucks for decades.
As zero-emission initiatives gain momentum, they continue to invest in and expand their product portfolio with innovative clean-energy solutions that not only help clients achieve environmental benchmarks, but also deliver the performance needed to get the job done.
Lithium-ion batteries and hydrogen fuel cell technology open doors to greater productivity and performance as well as faster ROI and lower cost of ownership.
Regardless of the future challenges that arise, customers can count on Hyster to provide the solutions that not only address change but also help drive it.
Celebrated by the Industry and Customers
Hyster has global certification for ISO9001:2008 and ISO14001:2001/2004 and is consistently recognized for their exceptional combustion-powered and electric-powered lift trucks and components.
As a company Hyster continually strives to strengthen client relationships in everything they do.