Why buy your used forklift from Adaptalift?
All our used Aisle-Master narrow aisle forklifts have been carefully inspected by a highly qualified and experienced technician for faults. Any necessary repairs and maintenance have been completed to a high standard before units are offered for sale at competitive prices to customers.
Whilst the high price of a new narrow aisle forklift may be prohibitive for some businesses, a high quality used unit from Adaptalift allows more business owners to experience the benefits of a narrow aisle unit at a fraction of the cost of a new unit.
We offer used Aisle-Masters in a range of configurations with 2T lift capacities and masts with lift heights ranging from 5 – 7m.
Units are available in different fuel types including LPG, CNG and battery electric catering to a variety of indoor and outdoor applications.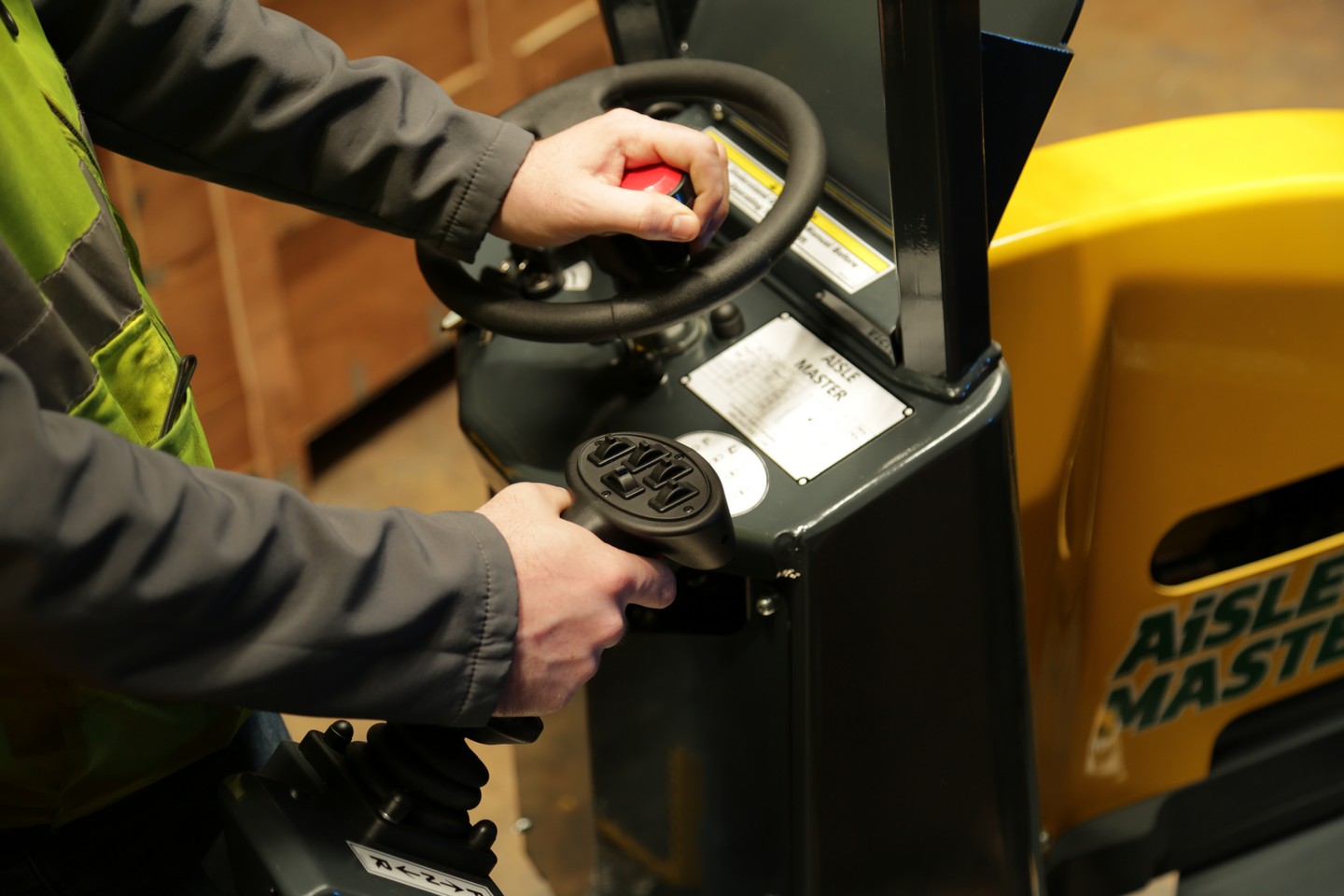 Benefits of Aisle-Master Narrow Aisle Forklifts
Increased Storage Capacity
With the ability to operate in aisles as narrow as 1.6m wide, the Aisle-Master's articulated mast increases and maximises available storage capacity in the warehouse. How? By allowing more racking to be installed where normally space would need to be left to allow standard counterbalance forklifts to turn around whilst fully loaded.
Lift Heights up to 15m High
Mast lift heights range from 4.3m up to 15m high with a lift capacity of 1.5T allow businesses to fully maximise their available vertical storage space, making the Aisle-Master ideal for high density warehouse operations.
Fully Customisable
Options such as tyne length, cab overhead guard, ground travel speed, tyre size and operator cab features can be tailored to meet clients' exacting needs.
If you're looking to maximise available storage space in your warehouse, contact one of our MHE experts to discuss how an Aisle-Master articulated mast counterbalance forklift can help.
Adaptalift Group has a national inventory of used Aisle-Master narrow aisle forklifts and units from other leading manufacturers available nationwide. Call your nearest branch on 13 22 54 to speak to a member of our team to find your next forklift purchase solution.