The new Hyster H25-32XD series of high capacity forklifts is ideal for use in heavy lift applications such as steel, aluminum, container and block handling.
The truck is built tough to operate in the toughest conditions with the ability to work in extreme ambient temperatures ranging from -20oC and 50oC.
The series comprises nine unique models catering to a wide-variety of heavy duty applications, whilst providing high productivity, reliability, fuel efficiency and outstanding driver comfort.
New Ergonomic Operator Cabin
The newly designed ergonomic high visibility operator cabin provides excellent all-around visibility thanks to its armoured glass top window, curved front and rear windows and steel doors with tempered glass.
The cabin provides the largest entry area in the industry, whilst offering advanced control from a full colour screen displaying performance data and more comfort from an exclusive lateral sliding seat, adjustable steering column and foot pedal as well as ergonomic hand controls.
Energy Efficiency
Intelligent CAN bus technology allows easy and precise adjustment and optimisation of truck performance in addition to monitoring key functions, enabling quick and easy diagnostics minimising repair downtime.
Class leading ECO-eLo Fuel Efficiency Mode can be used to reduce the maximum engine speed and optimise fuel consumption and efficiency.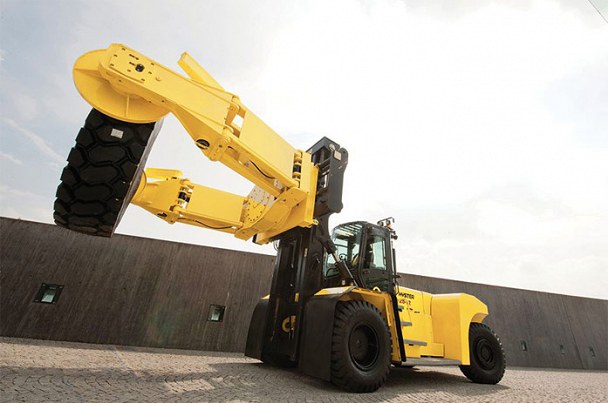 High Performance Powertrain
The high-performance powertrain has built-in engine and transmission protection systems, providing maximum reliability and a low total cost of ownership.
Class leading operating speeds also contribute to lower cost of operation.
The heavy duty industrial use engine comes with a cast iron cylinder block and no HT (high tension) wires, distributor caps or rotors.
Super quick glow plugs allow the engine to start quickly and reliably under cold conditions, the cold start device delivering a cleaner exhaust by advancing the fuel injection timing based on water temperature.
Emissions have been reduced by controlling fuel injection timing according to engine load.
Units have a range of performance optimisation developments are including:
Cooling on demand
Load sensing hydraulics (power on demand)

RPM

management and alternate engine idle speed to help further reduce the total fuel consumption in most applications

ECO

-eLo performance mode reduces energy consumption by up to 15% compared with previous generation engines and without compromising productivity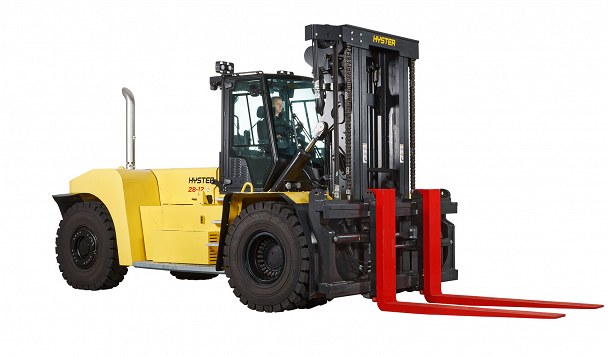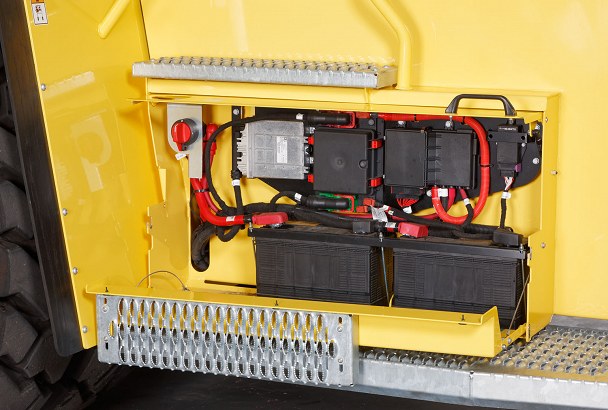 Extensive Attachment Options
A wide range of different carriage, tyne, mast and front-end attachments, including container spreaders and coil rams, are available.
The dual function carriage design – with quick disconnect forks for fast attachment exchange and standard side-shift with fork-positioners – offers unique flexibility to handle many different types of loads
Tyne configurations include:
3040mm wide DF side shift and fork positioning carriage, hook type mount (H25XD)
3200mm wide DF side shift and fork positioning carriage, hook type mount (H28-32XD)
280 × 105 × 2.440 mm long hook type forks (H25XD)
300 × 105 × 2.440 mm long hook type forks (H28-32XD)
The robust masts have extra strength thanks to the unique 'six-roller' construction for lift heights up to 6.81m and mast tilt of 6 degrees forward and 10 degrees back.
Mast configurations include:
2 stage

NFL

Mast with maximum fork height of 3655mm with 3794mm overall lowered height on the H25XD model
2 stage

NFL

Mast with maximum fork height of 3655mm with 3919mm overall lowered height on the H28-32XD models