What is access equipment?
Access equipment is the broad term given to the range of elevating work platforms (EWP's) that mechanically raise and lower operators in a safe manner to access objects and jobs at high levels.
The various configurations of access equipment facilitate operators to reach tricky and hard to reach areas.
Types of access equipment
Personnel lifts
Small, single person access equipment, personnel lifts such as stock pickers and vertical mast lifts offer flexibility and versatility to access a range of heights in indoor applications such as cleaning or building maintenance.
Personnel lifts can either be self-propelled battery electric units or push around lifts.
Scissor Lifts
Scissor lifts are work platforms that can only move vertically up and down on which personnel, equipment and materials can be raised or lowered to complete work.
Scissor lifts can be self-propelled, trailer or truck mounted and have optional outrigger stabilisers to provide additional stability at extreme heights or when working outdoors.
There are a number of sub-categories of scissor lifts including:
Hydraulic scissor lifts
Diesel scissor lifts
Electric scissor lifts
Rough terrain scissor lifts
Pneumatic scissor lifts
Boom Lifts
Boom lifts feature a platform or bucket that is attached to a long arm that is secured to a securely grounded base.
The hydraulically controlled arm allows the platform or bucket to extend out and rise up and down to position workers, equipment and materials into place to complete work at extended heights or hard to reach places.
There two main types of boom lift sub categories are articulating or telescopic boom lifts.
Articulating boom lift arms bend while telescopic boom lift arms remain straight.
The rigid arm design of telescopic booms allow them to lift heavier weights while the articulating booms bending allow them to reach tight and hard to reach places easier.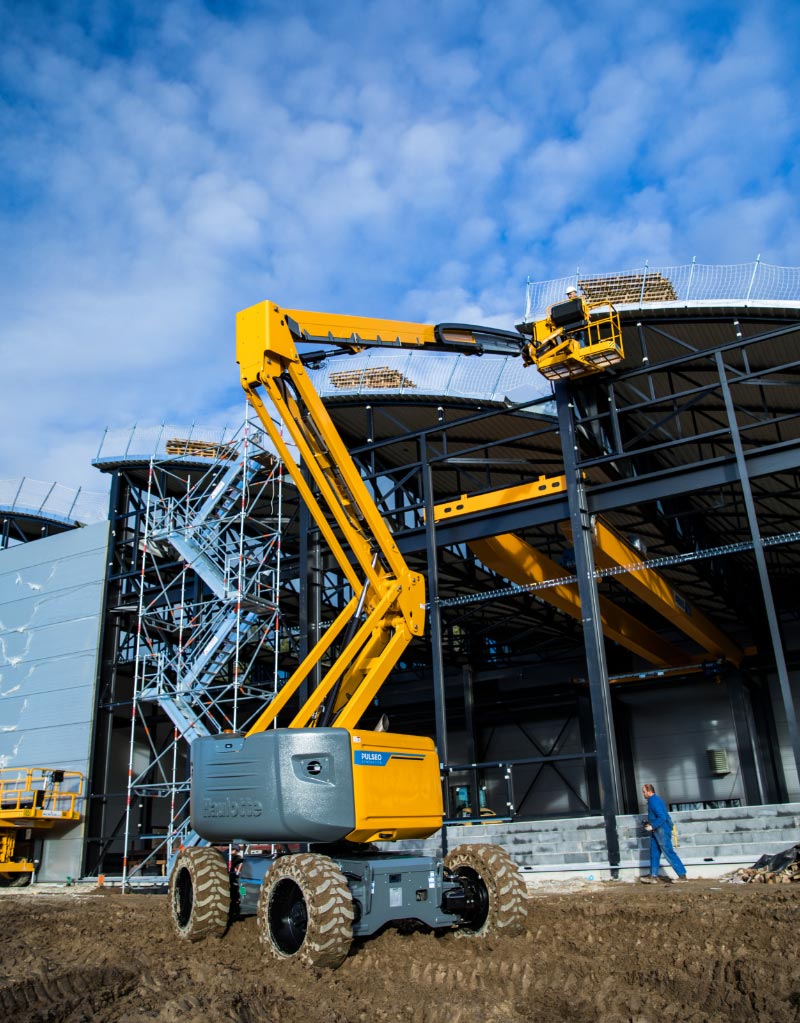 Why hire access equipment from Adaptalift?
Adaptalift Group has a wide range of affordable access equipment for hire Australia wide.
Our extensive range of elevated work platforms allow operators to reach the tallest heights and hard to reach places such as vertical pallet racking and roofs safely and efficiently.
No matter what task you're completing or what height you need to reach, our access equipment range supplied by leading manufacturer Dingli has the right unit for you. Our range includes:
Stock pickers
Scissor lifts
Scissor lift and trailer combos
Vertical mast lifts
Rough terrain scissor lifts
Articulating booms
Whether you're after a one day short-term hire or a long-term hire contract, we have the access equipment solution for you at the most affordable rates.
At Adaptalift Group, we pride ourselves on providing customers with the best hire experience possible. All our customers have access to Adaptalift's industry leading after-sales support. This includes a national fleet of service vehicles, able to service rental access equipment on site and an extensive spare parts program offering genuine and high quality after-market spare parts.
Hire access equipment in Melbourne, Sydney, Perth, Adelaide and Brisbane
Get in touch with the experienced team at Adaptalift if you're looking to hire height and roof access equipment for your next job. As an Australian owned and operated business, we provide a standout level of service to customers. Whether you're based in Melbourne, Sydney, Perth, Adelaide, Brisbane or anywhere else across the country, we have the right equipment for your needs.