Elevating Work Platforms – Do I Need a License To Operate?
Our previous blog post looked at the addition of Dingli EWP equipment to the Adaptalift Group product offering, with a brief look at some of the popular EWP units available.
This week's blog is the first in an EWP series, that will look at important topics regarding EWP's including licensing, safety and operations.
This blog looks specifically at licensing requirements for EWP operators.
To comply with state based Occupational Health and Safety Acts (OH&S) or the new Workplace Health and Safety Act 2011, all operators of EWP equipment must hold a valid Yellow Card (license) for the unit they are operating.
The Elevating Work Platform Association of Australia (EWPAA) highlights the below parts of legislation (OH&S and WHS acts), that demonstrate the importance for all EWP operators to hold the correct licence to be compliant with the legislation.
OHS Act 2000
Employers must provide information, instruction, training and supervision necessary to ensure the health and safety of employees at work.
Manufacturers and suppliers of plant must ensure equipment is safe to use when properly used and must make available adequate information about the conditions for the safe use of the equipment manufactured or supplied.
Employees must co-operate with efforts to comply with OH&S requirements.
WHS Act 2011
Duties of a Person Conducting a Business or Undertaking (PCBU)
Primary Duty of Care:
A PCBU has the primary duty of care to ensure the health and safety of workers while they are at work in the business or undertaking. A PCBU is also responsible for ensuring work carried out does not carry risk to the health and safety of others.
This means the PCBU must:
Provide and maintain a safe work environment;
Provide and maintain safe plant and structures;
Provide and maintain safe systems of work;
Ensure the safe use, handling and storage of plant, structures and substances;
Provide adequate facilities (and ensure access is maintained);
Provide instruction, training, information and supervision; and
Monitor the health of workers and conditions at the workplace.
To assist companys and operators in compliance with the EWPAA in conjunction with industry partners has created the 'EWP operator training program' or Yellowcard as proof an operator is properly trained to operate EWP's.
The program consists of six modules covering different types of EWP's and a specialist transport module for those undertaking the moving of EWP's.
The modules include:
Vertical lift
Scissor lift
Self-propelled boom lift
Trailer lift
Truck mounted lift
Transporting (load restraint)
Operators must gain accreditation to operate each individual types of EWP's as they all differ in their operation and safety requirements.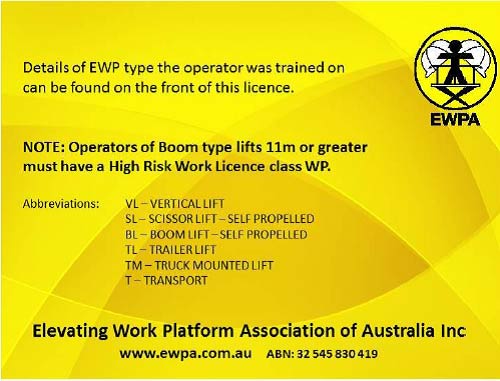 In some cases operators may need a high risk license in addition to a yellow card to operate an EWP. This high risk license is compulsory for operators working on boom type EWP's 11m and over in lift height (truck mounted and self-propelled such as a cherry picker).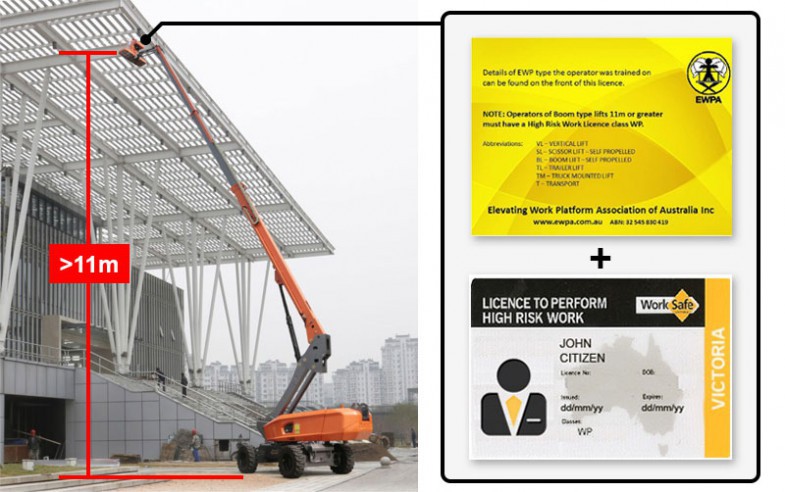 The OH&S and WHS Acts have been brought into legislation to protect owners and operators in the workplace. Disregarding of law compliance can lead to hefty fines and/or jail time for those in breach.
The EWPAA Yellowcard program is a nationally controlled and recognised program conducted by licensed training professionals and organisations that will ensure all operators are properly trained.
To ensure your operators are fully trained and qualified to operate EWP equipment please contact the EWPAA for accreditation checks.
To hire the latest Dingli EWP equipment from Adaptalift Group please click here to browse our entire range.
Note: All information provided in this blog article is for informational purposes only. Legislation may vary from State to State, for the latest OH&S and WHS information and licensing requirements contact your states Worksafe organisation.
Reference List
Why Do I Need a Yellow Card To Operate An Elevating Work Platform. (2015). [ebook] Sydney, New South Wales: Elevating Work Platform Association of Australia Incorporated (EWPAA), pp.1-4.