Forklift Driver Training: What You Need To Know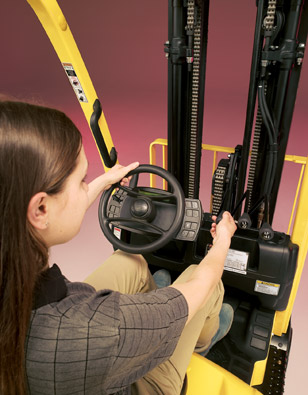 Today we will be discussing forklift driver training and how it affects your workplace. Driver training is an important part of workplace health and safety that many employers and employees overlook. A forklift is a very powerful and useful tool, but in untrained hands, it can do more harm than good.
What are the risks?
By allowing inexperienced and untrained staff to operate forklifts and machinery in your workplace, you open yourself up to many risks including:
Compensation Costs
Fines & convictions (WorkSafe)
Damage companies reputation
Damage of materials, loads, equipment and facilities
Injuries to operators and pedestrians
Loss of life
Forklifts are extremely powerful machines and it does not take much for damage, injury or loss of life to occur. A forklifts size and weight can be quite misleading as everything is compact and hidden from sight. An average forklift with a 2,500 kg capacity will usually require a 3,000 kg counter balance to enable it to lift a load without tipping.
If you add together the forklift weight, counter balance and load it is carrying, it adds up to a moving object with a total weight of almost 6,000 kg! To give you some perspective an average 2,500 kg forklift weighs around the same as four average family sized cars. This is why it is not hard to believe that even when traveling at low speeds; a forklift can be a dangerous machine when not operated correctly and many unfortunate accidents in Australia occur each year, due to untrained or careless drivers.
Taking one example from many, incidents may occur in some circumstances due to employers allowing employees to operate a forklift without a licence or any previous training. This forces them to learn how to manoeuvre and operate a forklift on the job, which is extremely dangerous and in some cases illegal. In other scenarios; forklift drivers just need a refresher course to get updated on new techniques and to iron out bad habits they may have picked up over the years. A simple refresher course could save you thousands in Workcover costs.
Know What You're In For
Visit the WorkSafe website to gather more information concerning your duties and how to comply with them to make your workplace a safer place (Information may vary according to different state requirements).
Forklift Driver Training
It is important for a forklift driver to be fully licensed and qualified to operate a forklift. A forklift licence is not just a piece of plastic; it's the correct skills and knowledge taught by certified teachers that will ensure the safety and proper manoeuvrability of a forklift within your business.
Completing a driver training course increases three main aspects within your workplace:
Productivity – Familiarisation with the equipment's capabilities & features enables the operator to complete tasks in the most productive manner.
Efficiency – Training enables the operator to handle & manoeuvre the equipment in the most time conscious & energy conscious manner.
Safety – the operator will be trained to ensure the equipment is being used in the safest fashion and be aware of hazards that may arise so they can take cautionary action to prevent injury.
Another major factor is that forklift driver training enables your forklift drivers to maintain your equipment in the correct manner, ensuring that all the little things are taken care of (e.g. re-filling battery fluid, safety checks, equipment checks and no mistreatment of equipment) which will in turn reduce costs towards servicing and repairing your equipment.
They Are Not All The Same
Not all forklift driving courses are the same. Before enrolling in a course a little research on the company needs to be done to ensure you are getting what you require from the course they offer. Some courses cost more than others for a reason, whether it is a reason that benefits you is what you need to find out prior to enrolling.
Below are a few questions you should ask to make sure you are getting what you need (requirements may vary according to individual states):
Are you certified?
What specific machinery is the course targeted at?
How many years has the program been running?
What is your average pass rate?
How many people are usually in the course at once? (class size)
What is your training environment like? (Try to simulate your own workplace)
How much will it cost to resit the test if I fail and when can I do it?
To finish off I will answer a few FAQ's that you might have:
What are the pre-requisites of getting a forklift licence?
Must be at least 18 years of age.
Have a basic understanding of the English Language (verbal & non-verbal).
At the test you will need 100 points of identification (e.g. passport, drivers licence, birth certificate, proof of address).
Types of licences: LF or LO?
LF: permits you to operate any forklift (with the exception of an order picker/stock picker forklift).
LO: permits you to ONLY operate an order picker/stock picker forklift.
What is the duration of the course?
Courses can vary according to your needs whether you are completely new to forklifts or just need a refresher course. Courses include:
One day forklift course.
Two day forklift course.
Three day forklift course.
What should I wear to the training course?
It is suggested that you wear clothes that you are comfortable in. It might be a good idea to wear the clothes that you would typically wear within your workplace, so you learn in a similar environment and feel that you will work in the future. Also a requirement is that you wear a closed toe shoes and a high vis safety vest (usually provided) for health and safety reasons.
I am ready to enrol in a forklift driver training course, what should I do?
Do your research (online, ask co-workers and other companies).
Call up to ask a set of questions (refer to "They Are Not All The Same" section).
Book the next course available.
How much can I expect to earn as a forklift operator?
According to Payscale.com forklift operators in Australia earn between $17.20-$22.33 per hour with overtime averaging $27.22-$34.39. Total annual paying starting at $37,274-$49,953. And bonus averaging from $305.21-$1,965.