Common Forklift Attachments Types: Part 2
This is Part 2 of this series on Forklift Attachments. We now take a look at some Common Forklift Attachments. If you would like to read about Forklift Attachment safety please read Part 1.
Choosing the right attachment for the right application can increase productivity of your logistics handling dramatically. Which attachment should you choose? There are hundreds of different configurations and designs available on the market. Today we will cover some of the most common & their benefits; to help you make the right choice.
SIDESHIFTERS

(SS)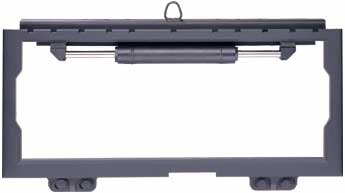 Side Shifters are one of the most common attachments used today; most forklifts come with this attachment as standard. This attachment allows you to shift the forks (tynes) from side to side allowing for small adjustments to be made by the operator; enabling alignment with pallets without manoeuvring the entire forklift.
Benefits:
Allows accurate fork positioning without the operator having to manoeuvre the truck.
Reduced fuel and truck wear.
Faster loading or unloading pallet times.
Reduced pallet damage
FORK

POSITIONERS

(Fpos)

Fork Positioners are another very common attachment used today. The Attachment allows forklift tynes to be moved closer or further away from each other hydraulically. Allowing for faster and more effective handling of different size pallets and odd size objects. This enables the operator to align forks with pallets more accurately and significantly faster.

Benefits:
Allows accurate fork positioning without the operator having to manoeuvre the truck.
Reduced manual work; as operators don't have to manually adjust fork positioning.
Reduced fuel and truck wear.
Reduced pallet damage.
Improved load handling times
PAPER

ROLL

CLAMPS

(

PRC

)

Paper Roll Clamps handle different sized paper rolls for industries such as newspaper printing, paper manufacturing, tissue manufacturing & other paper industry products. Paper Roll Clamps can be ordered with automatic pressure controls; which allow allocation of correct pressure without damaging/crushing the paper roll. A number of different types of gripping pads are also available depending on the paper you're handling.

Benefits:
Increased handling times; with paper handling 360° rotation
Reduced paper damage with automatic clamp pressure & large selection of clamp pads
Specifically designed for the paper industry.
PUSH

/PULL OR

SLIP

SHEETER

(Ppull)

Push/Pull attachments are used for the handling of loads that have slip sheets instead of pallets. They push to unload and pull to load using slip sheets.

Slip sheets are most popular for bagged cement, bagged seed and grain, packaged food, dairy products, fruit and corrugated box handling. The unique aspect about this attachment is that instead of using pallets, it is substituted by an inexpensive slip sheet which decreases maintenance costs, storage area and damaged stock due to old pallets.

Common variations of the attachment are Save or Standard; with Save removing the slip sheet and allowing it to be reused.

Benefits:
Fast removal and installation; with no need to remove forks.
Allows easy handling of goods with slip sheets
Benefits of Slip Sheets:
Slip sheets reduce packaging weight (lowering shipping costs)
Slip sheets increase storage space (lowering shipping costs)
Low cost to replace and reuse compared with pallets
Eliminate the need for pallet exchange
CARTON
CLAMP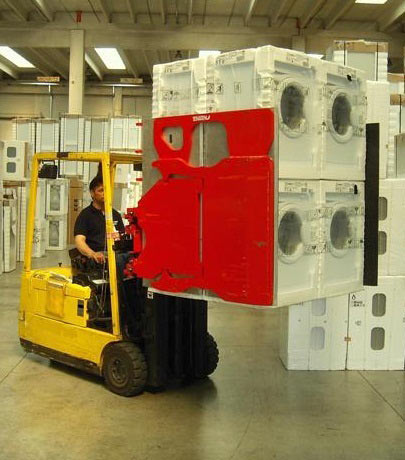 Carton clamps are designed to handle large rectangular or square shaped objects that don't require a pallet; most commonly used by beverage, appliance and electronic applications. But they can also be used to handle fragile goods when used with automatic pressure sensing systems.
Common configurations for the attachment are horizontal and vertical depending on the application requirements.
Benefits:
Removal of the need for pallets when handling rectangular/square objects
Removes pallet purchase cost & repairs cost.
Reduces weight and therefore shipping cost (due to no pallets)
Increase storage space (due to no pallets)
Specialise at handling rectangle and square objects
Reduced handling times of white goods, electronics & boxes
SINGLE

-

DOUBLE

PALLET

HANDLER

Single-Double Pallet Handlers transport single or two pallets side by side. Spreading the four forks allows handling of two pallets side by side. When brought together, the four forks convert into two forks ready for single pallet handling. Forks are hydraulically or manually positioned. Generally used by high turnover production and warehousing/shipping industries, such as bottling, brewing & soft drink/can industries.

Benefits:
Potentially doubles handling capacity of pallets
Allows handling of both single and double pallets
Reduces loading & unloading times
Reduces the amount of required truck manoeuvres to load and unload.
Reduced fuel and truck wear.
Adaptalift, offer a full range of forklift attachments from all the leading manufacturers such as Cascade, East West & Bolzoni Auramo. We will provide you with completely unbiased views on your attachment needs ensuring you get the right attachment for the right job. Give us a call or enquire through this website.