Forklift Attachment Guide: Introduction & Safety: Part 1
This is part 1 of our 2 part series on Forklift Attachments. Part 1 covers the benefits to workplace safety by using Forklift Attachments. Part 2 cover the basic forklift attachments available & some of their key benefits.
Forklift attachments are used regularly, as without them it would be impossible to move certain loads within a workplace. The main problems are that many people perceive forklift attachments as only being used for unique objects or tasks when in reality, there are forklift attachments that can suit almost any job which will make it faster, safer and alot less hassle. Ope rators may be perfectly trained and capable of driving and operating a normal forklift but they must also receive the proper training for the attachment they are operating.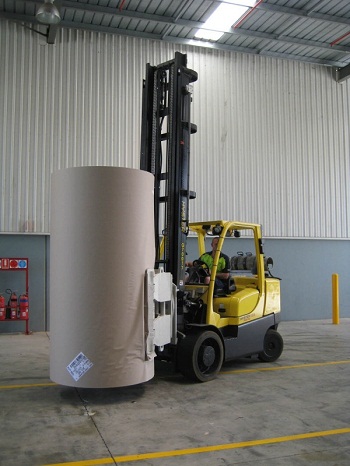 "Forklift Attachment Guide" is a series aimed at getting you familiar with forklift attachment safety and the different types of general forklift attachments and the uses of them, so you have a better understanding of what their capabilities are and which one may suit you best. The forklift norm is to have two tynes moving vertically carrying pallets/loads from point A to B, but have you ever thought that a forklift could be so much more? With a large variety of hydraulic and non-hydraulic attachments, your forklift has the potential to do a number of tasks that you never thought possible.
There are a number of benefits of having a forklift attachment including decreasing:
Time it takes to move a load
Man power
Employees hours (operating forklift)
Number of employees
Fuel consumption
Chance of damaging stock
Attachment Safety
It is important to note that when you use an attachment on a forklift, the load capacity will be reduced and the center of gravity of the forklift will be affected, making it less stable than it would be without the attachment. This is because you are putting weight in front of the fulcrum point (the point or support on which a lever pivots) of the forklift prior to picking up your load. It is therefore necessary to drive the forklift as if it were partially loaded, even prior to picking up the load.
For this reason it is advisable when working with any attachment to travel at a slow speed and make turns slowly and gently. The attachment you are fitting should be listed on the data plate giving you the capacity of the truck. It is extremely important that prior to fitting any attachment you must ensure that you are given the training required to enable you to be competent in the fitting, operating and removal of the attachment.
The following checks must be made before using an attachment on a forklift:
The attachment must suit the truck you are fitting it to, and must be suitable for the type of load you are lifting
It must be properly attached to the forklift with a suitable locking device
The data plate on the truck must allow for the use of the attachment
The main take away points from attachment safety is that you should always know what your forklift capabilities with an attachment on are, before you begin to operate it and you must have training for the specific attachment before use.