Different Types of Loading Docks
As the link between manufacturing and transportation, and between transportation and storage functions, loading docks perform a crucial function in most warehouses. Although there are a number of different types of loading docks, all mark the beginning and end of material flow through a facility.
To maintain productivity, loading docks must be as efficient as the facility they serve. This week we will look at five different types of loading docks used within today's organisations.
Back to Basics:
A loading dock is a recessed bay in a building, where trucks are loaded and unloaded. Commonly found at manufacturing plants, warehouses and other industrial buildings. They are the primary location of the movement of product, coming in and out of a facility.
Flush Dock
Flush docks are the most commonly used dock design today. In this instance, the face of the dock (foundation) is flush with the outside wall of the building. To prevent wall damage, often the foundation/dock bumper extends 4" beyond the outside wall.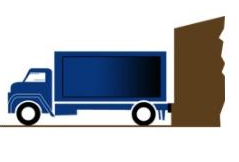 Enclosed Dock
Enclosed docks are not overly common but are used when climate control, product protection, security and overhead lift capabilities are required. This dock design allows the truck to park inside the building or sheltered area during loading.
This design lacks in occurrence due to high construction costs as well as limited space. A ventilation system is also required and vehicle exhaust pollution needs consideration.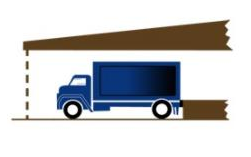 Open Dock
Although required in certain situations, open docks are generally not recommended. They are difficult, as they are subject to weather exposure and susceptible to pilferage. Ideally, these docks should encompass a canopy to limit weather exposure.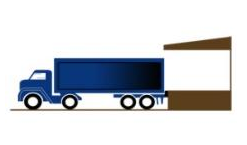 Depressed Dock
Depressed docks have a sloped driveway. They are used where building construction eliminates basements and dock level floors.
Take caution in planning the grade of the driveway, it should not exceed 10%. This is so the top of the truck will not hit the wall of the building, as this can lead to the toppling of cargo. Pull away problems may also arise in harsh weather conditions if the grade of the driveway exceeds 10%.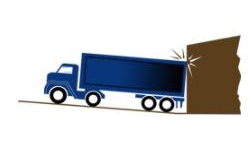 Saw Tooth Dock
Saw tooth line-ups are used when there is limited manoeuvring space. However, the oncoming roads have to be designed in such a way, that the trucks can leave in the direction of the angle of the dock. The trucks require less manoeuvring space because they are already lined up in the "drive way" direction. However, extra building space is required when using saw tooth dock designs.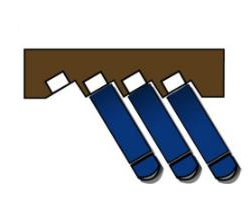 Loading dock design plays an important part in ensuring the proficient movement of product. To ensure efficiency and safety in your organisation, you should regularly ensure procedures and practices are followed out at the loading dock zone.