High Risk Work Licence – What You Need to Know
A High Risk Work Licence is a photographic licence issued to people who have been trained and assessed as competent to work in a class of work defined as high risk work.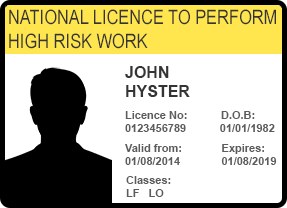 The licence is valid for 5 years and is issued subject to identification checks and verification of age. You must be at least 18 years of age before you can be issued with a High Risk Work Licence.
Once your licence has expired you must not carry out high risk work until you have renewed your High Risk Work licence with WorkSafe.
Why do I need a High Risk Work licence?
A person requires a High Risk Work licence to perform Forklift operations. There are two classes of forklift operation:
| | |
| --- | --- |
| | Forklift truck (Class LF) – covers the operation of a powered industrial truck equipped with a mast and an elevating load carriage to which is attached a pair of forks or other attachment. |
| | Order picking forklift truck (Class LO) – covers the operation of a powered industrial truck of a type where the operator's control arrangement is incorporated with the load carriage/lifting media, and elevates with it. |
Is my licence valid Australia-wide?
The licence will allow you to perform this work in any state or territory of Australia. You can transfer an interstate licence providing it is current and has not expired.
How do I obtain my High Risk Work licence?
To obtain a Licence to Perform High Risk Work or add a new class to your existing Licence, you must undertake the appropriate training.
You will need to be trained by a Registered Training Organisation and assessed by a WorkSafe Registered Assessor.
To find a Registered Training Organisation, search: www.training.gov.au.
During your assessment, you will be required to undertake a written exam and a practical test. Upon successful completion, the assessor will issue a Notice of Satisfactory Assessment (NSA) and give you an application form/tax invoice. Take the tax invoice to a participating outlet to process your application. Your new Licence to Perform High Risk Work will then be mailed out to you.
How do I renew my High Risk Work licence?
High risk work licences must be renewed every 5 years.
Your licence can be renewed or replaced by applying online or directly contacting WorkSafe in your state.
Additional Information: