Hyster Container Handling Vehicles
Shipping containers have been used to transport goods around the world since the 1950's. As shipments have become larger in size container sizes have also increased to accommodate larger pay loads. In the 1970's International Standards Organisation (ISO) introduced 20' (6.10M) long containers. This has increased further with approximately 50% of containers in use today measuring 40' (12.2M) in length.
Standard dimensions for both lengths of containers are shown below: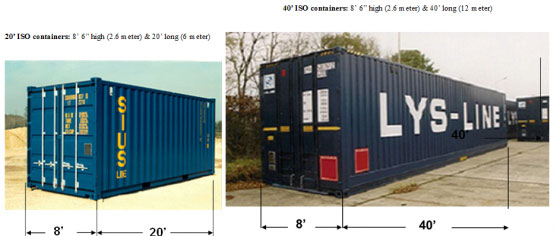 As the physical dimensions and weight bearing capacities of containers increase, proper handling methods are essential. Using the proper handling equipment will ensure worker safety when moving the container, as well as safeguarding the containers cargo. Proper handling equipment will also ensure a streamlined efficient handling process, improving storage procedures, loading times and eliminating processes such as double handling. No matter the type of container or the handling process Adaptalift Hyster has the correct container handling solution for you. Below are some of the most common solutions, including: forklifts, reach stackers, front loaders and straddle carriers.
Forklifts
Approximately 75% of all 20' ISO containers have fork pockets built into the base of the container. Fork pockets allow forklift tines to enter under the container allowing a standard forklift to lift a container (as long as the forklift is rated to lift the payload). All Hyster forklifts from 8 – 32 tonne capacity are suitable for ISO fork pockets (size 115 × 355mm). Specialist 'thin line' forks (110mm thick) are also available for 36 – 40 tonne vehicles.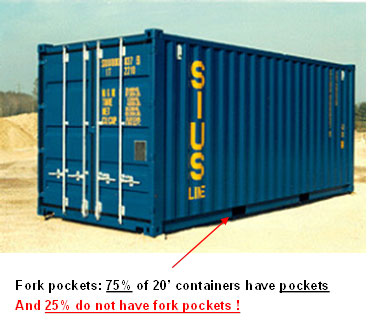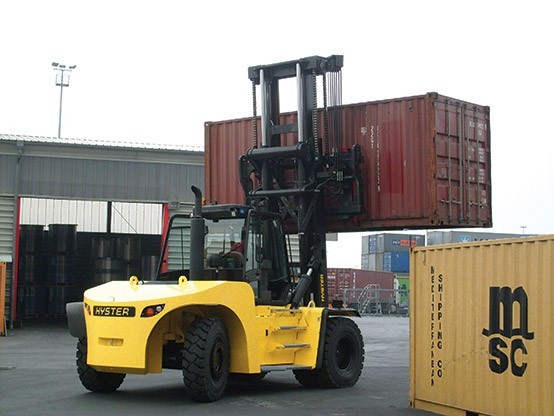 Containers that do not have fork pockets built in can be lifted using one of Hyster's other specialised container handling vehicles as described below:
Reach Stackers
Hyster's reach stackers provide a great option for moving and storing containers. They provide great stacking density as they are able to stack containers up to 3 rows deep. They also give drivers maximum flexibility as they can drive under height restrictions and turn a container up to 180 degrees when working in narrow aisles.

Front Loaders
Front loaders are used to move empty containers. They offer fast turnaround times and are able to lift most container types. However they do not offer the same stacking density or manoeuvrability as a reach stacker due to the high mast and first row container stacking only.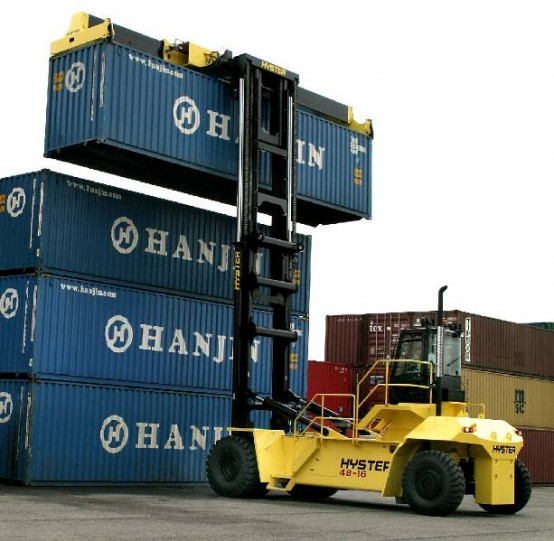 Straddle Carriers
The Combilift straddle carrier is a unique container handling vehicle, best utilised in narrow aisles and for lifting and driving long distances. A straddle carrier is able to drive over a trucks flatbed trailer to position itself directly over a container to then pick up and directly drive away with it in place.

With multiple container handling options Adaptalift is able to provide cost effective and efficient solutions for any container handling operation.