Laden and Unladen Container Handlers
In this blog post looking at Hyster's range of container handling vehicles we look at laden and unladen container handlers.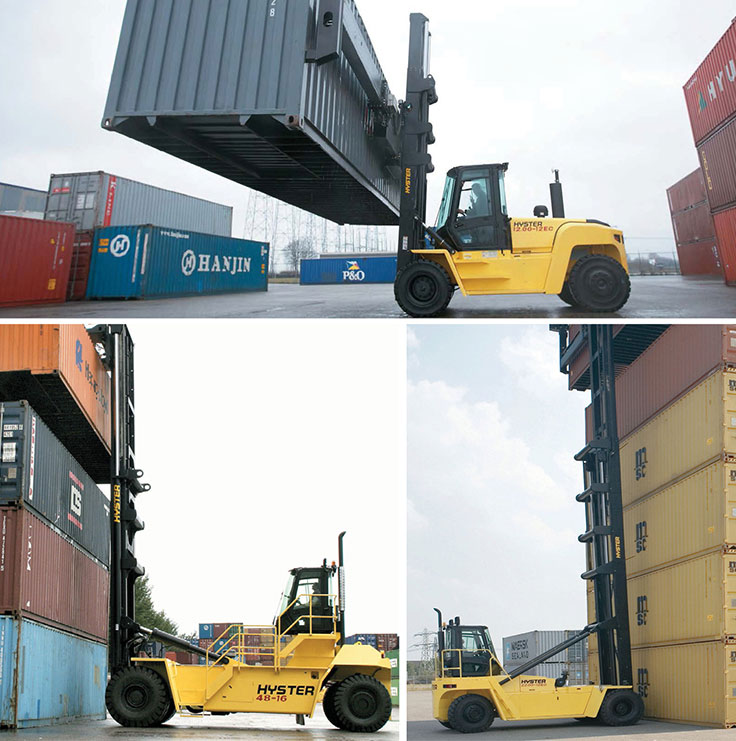 Both of these specialty vehicles have been specifically designed to fulfil unique tasks within the container handling industry.
Both types of vehicles are able to lift and stack containers measuring ISO 20' to 40' in length, with the main difference being potential lift height and load weight.
Laden Container Handlers
Laden container handlers are the larger heavier vehicle due to their need to cope with container weights of up to 50 tonnes. As such incorporated into the vehicle design are a number of additional features including:
A larger counter-weight to stabilise the vehicles whilst lifting fully laden containers
The overall vehicle is larger making it less manoeuvrable with a larger overall turning radius
The rugged vista mast is able to stack laden containers 5 high with slower lift speeds to ensure safety whilst lifting heavy loads
The vehicle is powered by a larger diesel engine to cope with the increased load weights
The larger design of the Hyster laden container handler ensures even the heaviest containers are able to be lifted and/or shunted at a fast but safe speed.
The ability for fast paced vertical stacking and shunting makes a laden container handler a cost effective alternative to other larger more expensive container handling vehicles like a ReachStacker.
Hyster's industry leading Vista cab along with a rugged Vista mast offers excellent forward and rear operator visibility, through rear positioning of the cab and extremely wide spaced mast channels.
The twist lock engagement system also allows for unique 2 high containers stacking.
Unladen Container Handlers
Unladen container handlers are the smaller vehicle as they do not need as much power to complete their specific operations as empty shipping containers weigh only approximately 9 tonnes. This lighter load weight has led to some vehicle design differences from laden handlers to provide a more efficient operation, including:
Smaller vehicle counter-weight as loads that need to be balanced are much lighter
The overall vehicle is smaller and more manoeuvrable with a smaller turning radius allowing it to operate in smaller areas
The rugged vista mast is able to stack laden containers 6 or 7 high (depending on model configuration) with industry leading lift speeds that also ensure the utmost safety whilst lifting loads
The vehicle is powered by a smaller diesel engine providing owners with reduced running costs
Unladen container handlers offer multiple engagement systems, including:
Twist locks
Twist locks with moveable heads
Hooks and side clamps
Double horizontal twist locks
Both versions of the container handler offer easy maintenance, with the trucks providing unobstructed access to the engine compartment and convenient located service check points.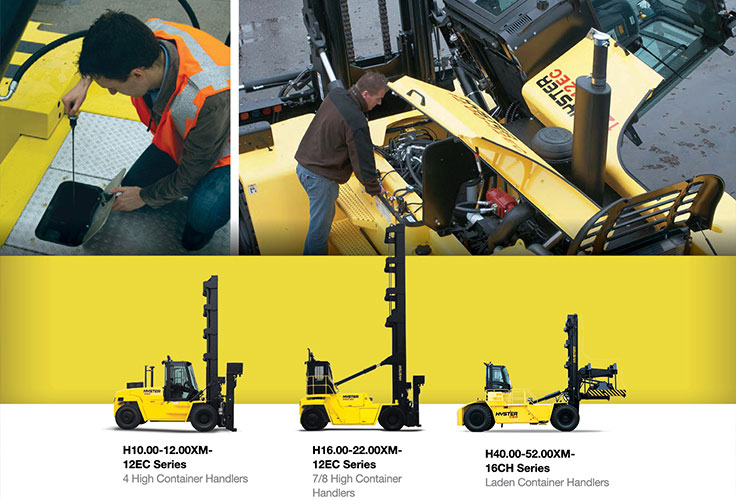 Browse all container handlers available to buy or rent.