Forklift Battery Room Design
This blog will look at some key considerations in designing and placing a battery room, with practical examples of designs previously installed by Adaptalift.
BHS Global Ltd (2012) state that for organisations that utilise battery electric materials handling fleets:
'The battery room is an integral part of daily operations, it is imperative to include its layout in original floor plans when setting up any new facility.'
A well designed and placed battery room should minimise time spent travelling between working areas and charging stations, this can be achieved with a centrally located room or in large facilities multiple battery rooms maybe required.
Charging equipment should also be setup to maximise charging operations to ensure maximum unit up-time as well as prolonging battery life.
Battery room position
The most important phase of battery room planning is selecting the correct position for the room.
The best way to plan is to determine the significant areas of a facility where units will be operating and then plan to install the battery room in close proximity. This will minimise wasted travel time when units need to recharge.
Often a centrally located room is best, however in large facilities with operating areas spreadout multiple smaller battery rooms may be required to maximise unit uptime.
Another key consideration for positioning a battery room is the room needs to house or be close to both a main electricity feed and water and drainage facilities.
Having sufficient power to not only charge batteries but also to power equipment such as ventilation, heating, cooling and battery handling equipment are imperative to a well-designed room.
Water and drainage facilities are also necessary to correctly water batteries as well for first aid equipment such as showers and eye washing stations in the event of emergencies.
The further away a battery room is from key electricity and water supplies the more expensive it is to run.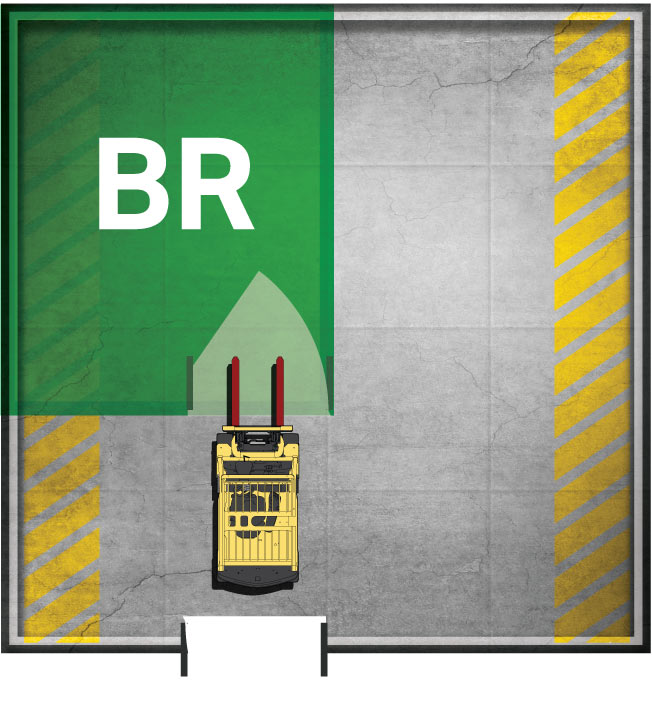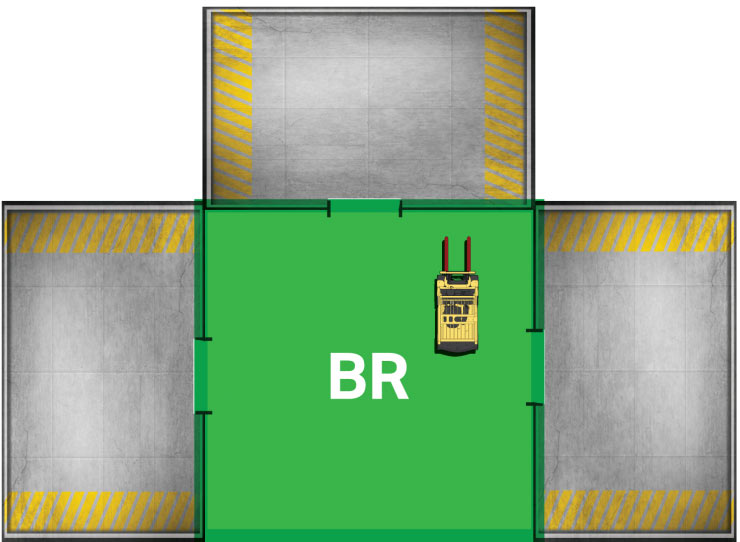 Note: images above show examples of battery room locations only. For illustrative purposes only, not to scale.
Battery room size
The size of a battery room directly correlates to the size of the fleet being operated. The larger the fleet the more battery charging stations will be needed.
As outlined in our previous blog on safe battery room design there should be a minimum of one metre gap the whole way around each vehicle to provide easy access when necessary.
Battery handling equipment must be taken into account as well when considering the size of the room, for large fleets or those operating units with large batteries mechanical assistance may be required when changing batteries (overhead or side extraction), all this equipment will require space that needs to be factored into the room.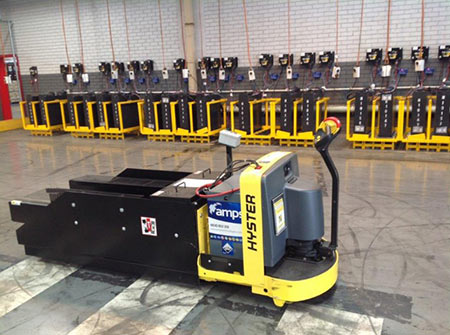 Traffic flow
Battery rooms need to have sufficient space and doorways to allow the proper flow of traffic in and out.
Traffic aisles in the room as well as leading to it need to be wide enough to allow units to safely travel past each other both ways simultaneously, whilst also being clear of any potential obstructions.
Battery and charger storage
Once room location, size and traffic flow have been established the most important design feature of all battery rooms is how batteries and their chargers are stored.
In most rooms individual or groups of charging stations are setup, these charging stations have all the necessary equipment conveniently setup so all operators need to do is drive their machine into the station and connect the charger.
Some key principles in setting up well designed charging stations include:
All chargers should be mounted to shelves or stands specifically designed for battery storage
If chargers are to be stacked they must be done according to manufacturer's recommendations
Charging stations must be positioned to manufacturers recommendations to allow adequate ventilation at all times
All charging cables need to be able to connect to batteries, whilst also not exceeding the manufacturers cable length specification is exceeded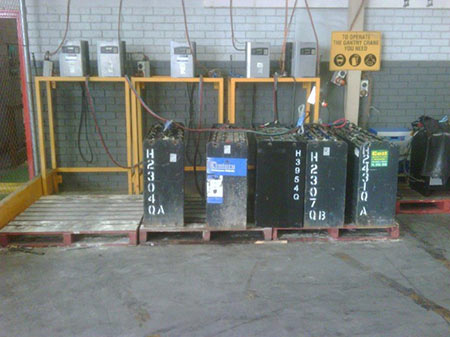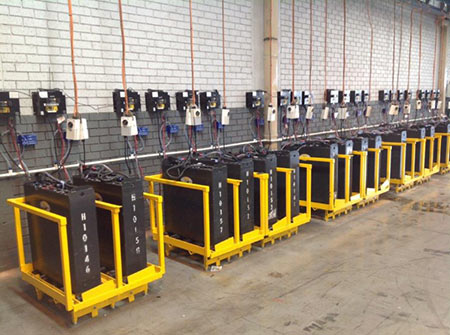 The images above show how Adaptalift was able to design and install battery recharge stations.
To discuss a new battery room design or to improve an existing setup, contact us.
Reference List

Parkinson, C, 2009,

MHD

Special Feature – Warehouse & DC planning, design, construction and fit out', Philadelphia Scientific Asia Pacific', p.1-2

BHS

Global Limited (2012). Battery Room Best Practices. [online] St. Louis, pp.1-6. Available at: https://apmea.bhs1global.com/wp-content/uploads/2012/08/GSM-1005-Battery-Room-Best-Practices.pdf [Accessed 22 Nov. 2017]