New Lithium Battery Electric Pallet Jack - Benefits
Manually operated hand pallet jacks have been a mainstay of materials handling operations for years.
As the size of loads and frequency of movements increase many businesses are looking for more efficient and safer ways for operators to move loaded pallets.
One advancement in the engineering of hand pallet jacks/trucks to improve efficiency and operator safety is battery electric versions.
In this week's blog we look at the features and advantages of the Liftsmart PT15-3 battery electric pallet jack.
Liftsmart PT15-3 Specs and Features:

1,500kg max load capacity
Maintenance free 48V lithium-Ion battery
4-5 hour runtime (estimate)
1 minute battery swap over
Multi-functional ergonomic handle with

LCD

battery indicator
Brushless drive motor
Sturdy lightweight design only 122kg


Lithium-Ion Battery Powered
Anyone who has used a manual hand pallet jack to move a load over one tonne in weight will know that it requires a large amount of pushing or pulling force to start moving the load.
The amount of force needed to manoeuvre loads significantly heavier than the operator can lead to a heightened potential for operators to injure themselves.
Powered by a rechargeable 48V lithium-ion battery the PT15-3 has a 4-5 hour runtime on a fully charged battery (may differ based on application).
Fully loaded with a 1.5T payload the unit can travel at speeds up to 4 km/h
The Liftsmart PT15-3 reduces the risk of operator injury by allowing loads to be moved efficiently and safely compared to a manual hand pallet jack.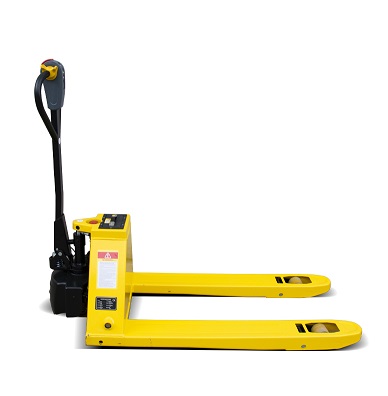 1,500kg Maximum Load Capacity
With a 1.5T maximum load capacity the PT15-3 can lift and manoeuvre a wide variety of palletised goods efficiently and safely.
When compared to major competitors the PT15-3 is able to lift up to 300kg more than their lift weights of 1,200kg.
Hydraulic Raising and Lowering
The PT15-3 increases efficiency and productivity thanks to its hydraulic raising and lowering mechanism.
Rather than having to manually pump up loads like a manual pallet jack, with the simple press of a button loads up to 1,500kg in weight can be effortlessly raised and lowered to be placed in desired positions by any operator.
The hydraulic lift also assists with reducing the risk of operator injury as they no longer need to manually pump the handle to raise a load, which can put unnecessary strain on the body depending on the load weight.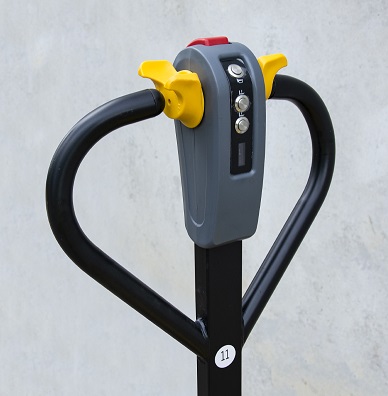 Sturdy Lightweight Design
The PT15-3 offers the ultimate lifting capacity whilst being one of the lightest units on the market at only 122kg.
The unit sturdy design ensures it can stand up to the rigours of repetitive lifting and manoeuvring of heavy loads.
Fast and Easy Servicing
Another advantage of the PT15-3 is the ability for maintenance and servicing to be carried out fast and straightforward.
The maintenance free brushless DC motor requires minimal servicing across the lifetime of the unit.
There are no plastic parts in vulnerable areas of the unit reducing the risk of parts breaking and needing to be replaced on a regular basis.
Major components such as the handle can be easily removed and replaced in minutes by a trained technician.
The LCD battery indicator on the handle provides accurate battery charge monitoring, providing operator alerts when the battery needs to be replaced before completely running flat.
With its easy access battery design, battery changeovers can be completed with minimal fuss by simply sliding out the flat battery and replacing it with a charged one.
These quick changeovers reduce unnecessary downtime and leads to increased productivity.
5 Year Manufacturer's Warranty
Buyers of the PT15-3 can have peace of mind when purchasing as the chassis of all units come with a five year manufacturer's warranty.
Safety Features
Some of the aforementioned features of the PT15-3 increase operator safety by reducing the risk of injuries.
The unit is also fitted with safety features including an emergency braking button that can stop a fully loaded unit safely in an emergency.
The unit is also fitted with a steel guard around the motor and hydraulics to prevent an operators feet being run over.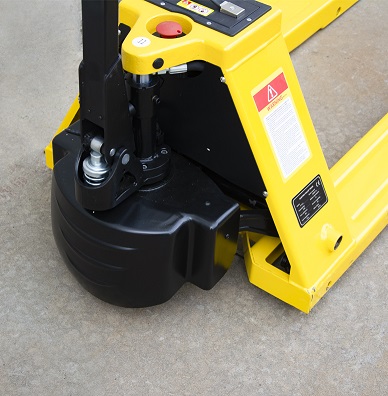 To speak to a team member about how your materials handling operation can benefit from the implementation of battery electric pallet jacks like the Liftsmart PT15-3 contact your nearest Adaptalift Group branch on 13 22 54 or contact us for further information.