Combilift Improves Safety and Efficiency Loading Long Loads and Containers
Combilift Ireland has engineered and built a variety of unique and innovative materials handling units with the aim of increasing efficiency and safety across operations.
In this blog we briefly showcase two of these products the straddle carrier and container slip sheet that greatly improve efficiency and safety when lifting and transporting unconventional long loads and when maximising the use of available space when loading containers respectively.
Combilift Straddle Carrier (SC)
Companies that handle large long loads such as concrete pillars or structural steel are familiar with the risks posed when loading or transporting these unconventional loads.
During loading employees are often required to work at unsafe heights standing on truck trailer beds as they guide forklift drivers or to sling hooks around loads when using cranes.
To eliminate the hazards mentioned above many companies are adopting and utilising Combilift's range of straddle carriers that allow full loads to be safely prepared on the ground before being lifted or transported.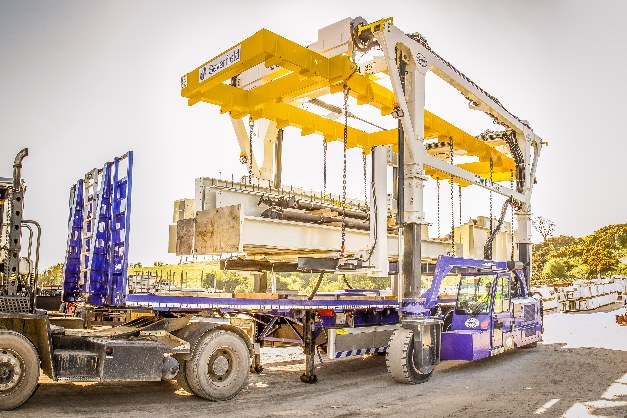 With the straddle carrier's unique design and ability the unit can be driven directly over a load, picked up and then placed directly on the truck bed ready to be properly secured for transport all in one movement greatly increases workplace safety during lifting operations when compared to a conventional counterbalance forklift.
The straddle carrier's optimal centre of gravity, broad wheelbase and 3 wheel maneuverability ensure maximum load stability.
The units cab is centrally located and easily accessible from the ground.
The cab offers operators 360 degree visibility, whilst the intuitive user interface allows for all functions to be carried out from within the cab without the need for operators to work at height.
Mike Nesbitt Equipment Manager at Schulte Building Systems in the US says:
"Doing something the safer way has ended up being the more profitable way too. Our Combi-SCs have not only improved safety in the shop floors and yards but have halved the time it takes to build a load, reduced labour costs and boosted profits."
Combilift Container Slip-Sheet
The desire to improve safety and efficiency when loading containers was the motivation behind the development of Combilift's Container Slip-Sheet (Combi-CSS).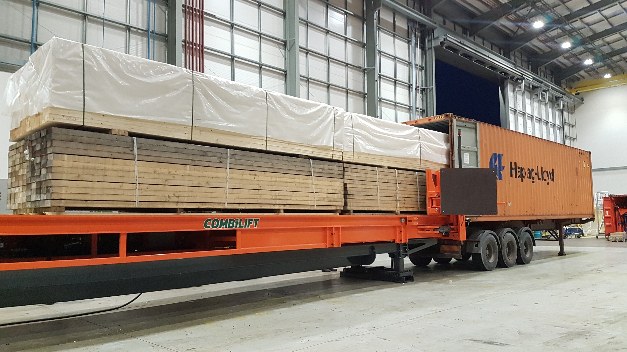 The aim of the unit was to replace manual loading with a mechanised method to reduce the time taken to load whilst reducing the risk of injury to workers as well as damage to products.
The slip sheet has a capacity of 30T and is a low, free standing platform with a dual-directional hydraulic pulling mechanism, on which a steel sheet rests.
A full container load of goods can be prepared onto of the steel sheet before it is guided into the container.
The CSS greatly reduces the time needed to load an individual container with a 20' container able to be loaded in approximately three minutes and a
40' container in six minutes, thus greatly increasing operational efficiency.
Once fully loaded a hydraulic rear gate swings across the container opening and is locked in place safely securing the load in place before the metal sheet is slipped out from underneath.
With the slip sheet removed the load is securely locked in place and the container doors can be closed and sealed ready for transport.
Fast Freight SRL in Romania were one of the first companies to receive and utilise a Combilift CSS unit and it has greatly improved their container loading operations:
"Safety and the reduction of risk across all operations is a major priority for us," said Ioana Nedu, Export Sales Representative, bq. "and we use various Combilift products to handle the very diverse loads we ship around the world. The Combi-CSS has enabled us to enhance safety whilst also increasing capacity and margin per load."
For further information on how a Combilift straddle carrier or slip sheet can improve the efficiency and safety of your operations talk to one of our product specialists today on 13 22 54 or fill out a contact form and we will answer your enquiry.