5 Reasons to Become a Sustainable Warehouse
Warehouses are large company assets that are not only places to store large amounts of valuable raw or sellable products that directly contribute to a company's bottom line, they can also play a huge role in the company's corporate social responsibility.
A well run sustainable warehouse can greatly assist a company in achieving its environmental goals, making it a good corporate citizen during times where customers and the broader community are placing a greater emphasis on partnering with more environmentally conscious companies as we tackle environmental problems such as climate change and pollution.
In a recent article Combilift outline five reasons why companies that incorporate sustainable warehouse practices can reap benefits, we briefly discuss the benefits below:
1. Minimise Warehouse Footprint
Poor design and inefficient use of warehouse space can lead to unnecessary operational costs, land usage and labour expenses.
Investing in a sustainably designed warehouse and materials handling solution that allows for the maximised usage of a warehouses interior storage capacity can greatly reduce overall operating costs over the lifetime of the warehouse.
Adopting narrower aisles and installing taller pallet racking are some of the ways to fully maximise the use of a warehouse available horizontal and vertical storage space.
As a business grows maximising warehouse storage space also helps avoid the need to relocate or construct a large facility until a last resort to increase the company's footprint.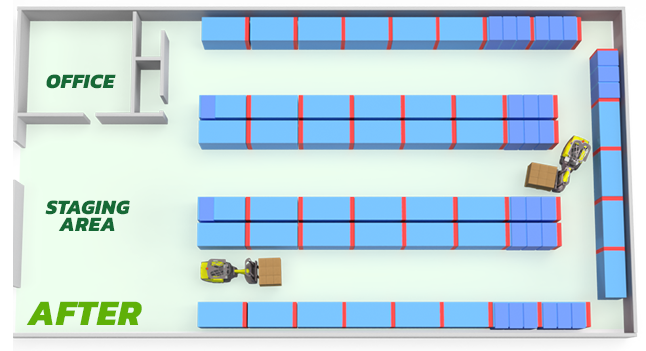 2. Meet Customer Expectations
As environmental issues such as global warming come more to the forefront of customers thinking when deciding which companies to buy from or partner with long-term, they expect companies to operate in a more environmentally and socially responsible manner being good corporate citizens.
Incorporating sustainable warehousing practices is more than a gesture for companies, a company's corporate social responsibility can often be a deciding factor in a customers purchasing decision.
For conscientious customers to reach their own sustainability goals they will often favour buying from and supporting a company that is also making conscientious efforts to embrace purpose-driven initiatives similar to their own.
A company that adopts and enforces sustainability practices will not only help itself attract new customers but also has a higher chance of retaining existing ones.
3. Improve Productivity
Going green and sustainable in a workplace may increase productivity as it can provide a far more pleasant and inviting work environment for employees, greatly enhancing their motivation and contentment.
Workers are more likely to work diligently and productively when their ideals and values align with their employers and offer value to the wider society.
Allowing employees to present sustainability ideas and initiatives for how businesses can become even more environmentally friendly can also boost engagement and productivity as it instils a sense of belonging and responsibility to help making a difference to the company and the community.
Implementing sustainable businesses practices not only empower your current employees but can also attract high calibre new employees who share the same sustainability ideals and values as the business.
4. Maximise the Quality of Production Process and Products
Adopting 'Lean Manufacturing' is one way of maximising the quality of production and products.
Eliminating non value added operations, detecting defects along with processes, resolving them and preventing them in the future, reduces waste which can be in the form of human effort, unnecessary materials or any action that consumes space or time.
Eliminating operations that obstruct the process of maximizing quality is of utmost importance, this aids in the development of environmentally sustainable practices by identifying adverse environmental impacts prior to them occurring.
Implementing frequent check-ins and follow-ups is critical to maintaining the highest levels of quality. This not only reduces a business's costs by getting rid of needless materials, but also contributes to a cleaner and more environmentally responsible brand image.
5. Reduce Operational Costs
Whilst cost may initially seem significantly higher when developing a more sustainable warehouse, the payback in the long-run is greater in reducing operational expenses.
Some examples of large and small changes to a warehouse that can contribute to making it more sustainable and reduce overall operational costs are shown below:
Installing solar panels on the warehouse roof to generate electricity will save money on utility bills in the long-term
Harvesting rainwater from roofs and grey water from bathrooms can lower water costs reducing the amount of freshwater required long-term
Printing on both sides of paper can reduce the amount of paper consumed annually
Switching off lights and electrical devices in infrequently used rooms such as storage rooms or meeting rooms when not in use can reduce electricity bills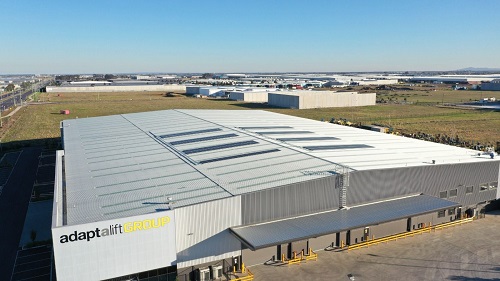 Adopting sustainable warehouse practices can provide multiple benefits to your warehouse.
Our free warehouse design planning service includes a site survey conducted by one of our MHE experts, highly detailed 2D and 3D visual models of how your business can increase storage capacity without the need to move to a bigger facility and recommendations on the ideal MHE to that will transform your warehouse into an efficient and sustainable asset.
To take advantage of Adaptalift Group's free warehouse design planning service contact one of our specialist on 13 22 54.
Reference List
Dzanuska, H., 2022. Why become a sustainable warehouse?. [online] Combilift. Available at: [Accessed 8 February 2022].