Australian Forklift Licence Classes - Which One Do You Need
A large proportion of Australian businesses use and rely on forklifts for their daily operations.
Forklifts are utilised to move heavy materials and pallets of bulk stock as well as to load and unload trucks and vehicles.
Many employees who work in businesses such as warehousing and 3PL, construction and retail are required to obtain and keep an up-to-date forklift licence as part of their on-going employment so they can safely and legally operate a forklift as part of their job.
Safe Work Australia the peak industry body for occupational health and safety in Australia lists three main types of forklift licences (high risk work licence) employees may need to obtain to operate a forklift including:
LF – Forklift Truck Operation Licence
LO – Order-Picking Forklift Truck Operation Licence
1 RS – Reach Stacker Operation Licence
Depending on the type of forklift an employee needs to operate that will need to obtain one or a combination of the three licences above.
In this post we answer some key questions on the process undertaken to obtain a forklift licence whilst also providing information as to which type of licence an employee may need.
Australian Forklift Licence Requirements
In Australia it is mandatory for all employees to obtain a national High Risk Work Licence before they operate a forklift.
Forklift licence requirements may differ slightly depending on which state or territory it is being obtained in, however there are some common national requirements including:
Applicant must be 18 years of age.
Applicant must have a good verbal and written understanding of English.
Applicant must provide 100 points of identification at training course.
Training must be completed at a Registered Training Organisation (

RTO

) with a WorkSafe assessor present.
After successful completion of the training course the correct documentation must be submitted to WorkSafe to apply for a forklift licence.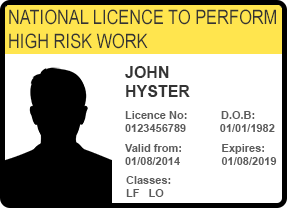 Victorian Example of Forklift Licence Application Process
Forklift licence training courses usually conducted over two days:
Day 1 – Theory and Practical
Theory learning of how to operate a forklift safety by a qualified trainer.
Learning how to calculate loads and interpret forklift rating plates to ensure safe lifting and operation.
Gain experience through practical exercises such as driving a forklift, navigating obstacles, safely lifting and moving loads under the supervision of a trainer.
Day 2 – Assessment
Usually three types of assessments:
Knowledge assessment
Calculations assessment
Practical assessment
Once all assessments have been satisfactorily passed and completed candidates will be issues with the following documents that can be submitted to WorkSafe to apply for a forklift licence:
Notice of Assessment (

NOA

)
WorkSafe Victoria L2 Application Form
Statement of Attainment for the Unit of Competency TLILIC0003 – License To Operate A Forklift Truck
Candidates must submit their licence application within 60 days of obtaining the above documents via an Australia Post office.
If the 60 days elapses then the application will be void.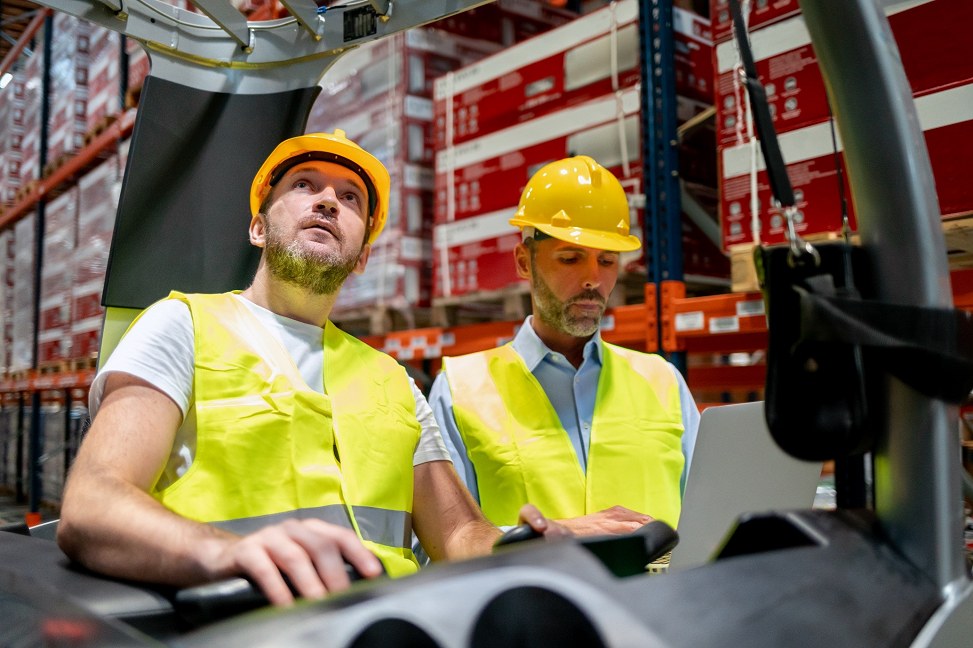 Australian Forklift Licence Classes – Which One Do You Need
LF – Forklift Truck Operation Licence
The most common forklift licence type, it allows employees to operate any forklift including multidirectional trucks except for order/stock pickers and Reach Stacker container handlers.
LO – Order-Picking Forklift Truck Operation Licence
An LO forklift licence allows employees to only operate order/stock pickers.
1 RS – Reach Stacker Operation Licence
A specialist licence required to operate reach stacker container handlers specific to employees including (but not limited to) dock workers, warehouse and logistics, freight forwarders and heavy industry.
To find out exactly which forklift licence you require for your role speak to your company's OH&S representative or contact an RTO for assistance.
Which Classes of Forklifts Require a Licence
To assist with understanding the licensing requirements of State and Territory jurisdictions for the different unit types the Australian Forklift and Industrial Truck Association (AFITA) has a comprehensive licence FAQ available on their website.
The images below have been taken from this FAQ as a guide.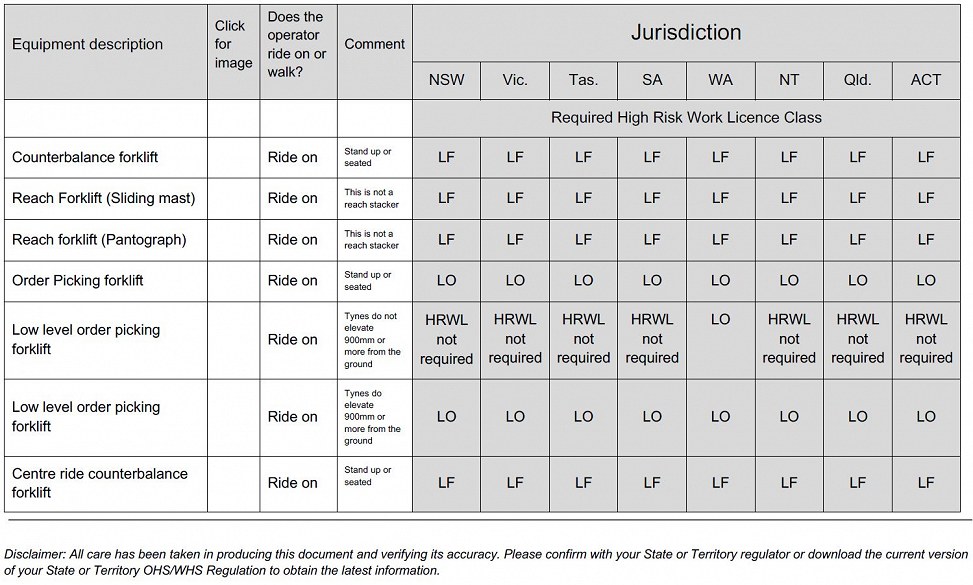 How to Renew a Forklift Licence
Australian forklift licences are valid for 5 years after which they must be renewed for operators to be legally allowed to continue operating forklifts.
Licence renewals can be completed at Australia Post outlets via the submission of the correct renewal form, providing 100 points of ID and a high quality passport sized photo along with the payment of any renewal fees.
Reasons to Obtain and Benefits of Holding a Forklift Licence
There are a number of reasons and benefits as to why employees should obtain their mandatory forklift licences, some of these reasons are briefly highlighted below.
Legal Compliance
Obtaining a forklift licence and becoming certified means the employee complies with all workplace safety regulations that protect themselves and their employer.
There are strict workplace occupational health and safety regulations for all Australian businesses that ensure safe working conditions for all no matter what industry.
Being certified is vital in protecting employees and businesses from breaching rules and having to pay extensive fines.
Increased Safety
Safety in the workplace is paramount, forklifts pose a number of risks to operators and employees who work in and around them including serious injury and even death.
Safety compliance is a significant part of forklift training, after completing a licencing course employees will fully understand how to safely operate the forklift.
Cost Savings and Better Upkeep
Through the process of obtaining a forklift licence employees learn how to operate the unit correctly.
In addition they also learn how to inspect a forklift, identify and address basic operational issues.
Being able to operate the forklift correctly and properly maintain it reduces wear and tear on the unit lessening the likelihood of it breaking down reducing overall cost of ownership whilst increasing its longevity and minimising delays in major repairs.

Reference List
High risk work licence (no date) WorkSafe Victoria. Available at: https://www.worksafe.vic.gov.au/high-risk-work-licence (Accessed: 17 August 2023).
High risk work licence classes (no date). Available at: https://www.safeworkaustralia.gov.au/safety-topic/managing-health-and-safety/licences/high-risk-work-licence-classes (Accessed: 17 August 2023).
Powered Industrial Truck (Forklift) – High Risk Work Licence Frequently Asked Questions (2021) Australian Forklift & Industrial Truck Association. Available at: https://www.afita.com.au/wp-content/uploads/2021/09/AFITA-023-

RHW

-License_FAQ-2020-Final.pdf (Accessed: 17 August 2023).