Can Anyone Operate a Scissor Lift?
It may seem simple and easy enough for any employee to quickly access and operate a scissor lift or other MEWP to retrieve or put away a stock item once in a while.
No matter how short the journey or time the employee is going to be operating the scissor lift is, it is imperative they have completed the relevant operational and safety training for the unit.
This is particularly important so they know how to respond or shutdown the unit in the event of an emergency.
As an Elevating Work Platform Association of Australia (EWPA) member we recommend all operators obtain a Yellow Card through their industry leading training program.
If you have any questions regarding EWP training requirements or assistance in finding a qualified training partner contact one of our access equipment specialists for assistance.
WHS

& OH&S Laws and Responsibilities

Under WHS and OH&S laws employers and businesses have a legal obligation to provide all staff, visitors and contractors with a safe working environment.

This legal obligation extends to ensuring that all operators of plant equipment have undergone up-to-date activity based instruction and training and are suitably qualified to operate equipment for their own and others safety.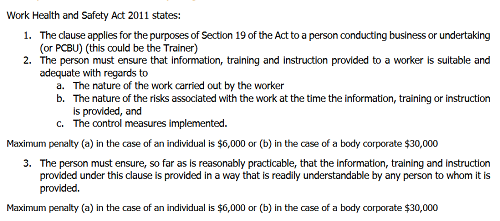 What is the
EWPA

Operator Training Program or 'Yellow Card'?

The EWPA Yellow Card operator training program was created after significant consultation with industry to help them better comply with their legal obligations.

The program was designed to ensure that all yellow card holders were able to show they have been trained in the safe use and operation of various types of mobile elevating work platforms.

The card provides a quick and easy way for operators to provide evidence of them completing training from an accredited training provider.
How Does the Yellow Card Work?
The Yellow Card training course offers comprehensive theoretical and hands-on practical training on all types of MEWPs.
At the completion of each training course employees and operators can be expected to have learnt the skills required to safely operate the unit.
Course content includes:
Hazard identification and risk assessment controls
Fall arrest harness inspection, fitting and use
Identifying safe operating parameters using data plate and manual
Conducting pre and post operational safety checks
Correct operation of

EWP

Emergency response procedures
Theory assessment and practical observation and demonstration
A Yellow Card is proof of training completion on one or more types of MEWPs.
There are various other types of MEWPs in addition to scissor lifts with each unit requiring the study of specific training modules before employees are allowed to operate them.
Once training has been completed for a particular type of MEWP, operators Yellow Card is updated to show they have completed the training.
Vertical Lift (VL)
Scissor Lift (SL)
Self-Propelled Boom Lift (BL)
Trailer Lift (TL)
Truck Mounted Lift ™
Advanced Boom (AB)
After successfully completing training operators are issued with a photo ID Yellow Card and their licence details are uploaded to the EWPA database which organisations can then access to independently verify the validity of the licence.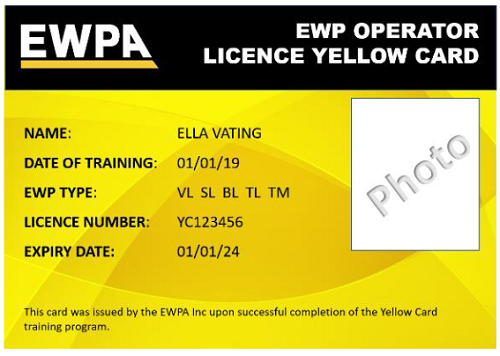 Yellow Card Alternatives
As a member of the Elevating Work Platform Association of Australia, Adaptalift Group highly recommend that all EWP operators complete the relevant training course through an association accredited approved training partner to obtain their Yellow Card licence as described above.
Whilst the Yellow Card is widely recognised and accepted by industry nationally there are alternative methods offered for EWP safety and operation training.
Alternative methods include in-house training schemes or user specific programs that offer a structured training format delivered by a qualified workplace trainer/assessor with training content that meets or exceeds the Australian Standard 2550.10, and manufacturer's safe operating procedures.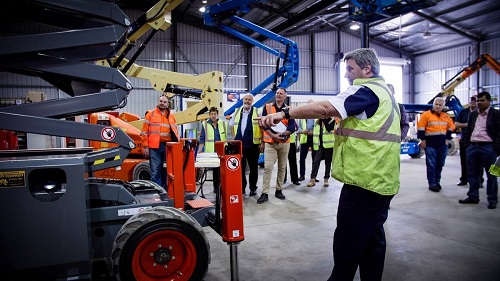 In this week's post we have answered the question if anyone is able to operate a scissor lift.
To best comply with current WHS and OH&S laws in all Australian states we highly recommend all MEWP operators undertake some form of relevant theoretical and practical training either via obtaining a Yellow card through the EWPA or through in-house training or user specific training programs.
Were an accident to occur without the operator having undertaken the necessary training, it may not only lead to serious injuries, damage or fatality, but can also have serious legal ramifications and financial penalties for the operator and the business.
It is imperative all scissor lift operators are correctly trained before they begin work.
Looking for your next scissor lift or EWP? Adaptalift Group have a large range of EWP to lift your next projects to new heights.
Units are available for hire and sale throughout our national branch network for projects right around the country.
Contact one of our access equipment specialists on 13 22 54 for the most competitively priced scissor lifts Australia wide.  
Reference List
2018.

EWP

Operator Licence / Yellow Card Course Overview. [ebook]

ELEVATING

WORK

PLATFORM

ASSOCIATION

OF

AUSTRALIA

, pp.1-3. Available at: [Accessed 21 January 2022].
2019. Why do I need a Yellow Card to operate an Elevating Work Platform?. [ebook]

ELEVATING

WORK

PLATFORM

ASSOCIATION

OF

AUSTRALIA

, pp.1-3. Available at: [Accessed 21 January 2022].