Do you need to wear a harness when using a forklift cage?
Order pickers are specially designed and built materials handling equipment (MHE) that lift workers up via an elevating platform to allow the picking and/or loading of goods into high vertical shelving.
For businesses that already own a forklift and don't want to purchase an additional order picker and alternative way for workers to be safely lifted is to fit the forklift with a safety cage.
In this post we briefly look at the risk control measures that need to be implemented when using a safety cage on a forklift.
What is a Forklift Safety Cage?
A forklift cage is a safe work platform to raise or lift workers performing occasional or short-duration tasks, where it isn't practical to use more expensive permanent solutions, such as scaffolding or an elevating work platform.
Pre-Lift Forklift Cage Risk Control Measures
Before a worker steps into the safety cage, it is important the operator should perform a trial lift of the empty cage.
This trial lift will check that the cage is secured to the forklifts tynes correctly, that there is a clear vertical path for the cage to travel up and that there is no risk of the cage occupants or the cage itself contacting overhead obstructions such as doorways or working in proximity to overhead power lines.
When workers have entered the safety cage and before lifting commences it is imperative to ensure all workers in the cage are:
Aware they must always stay within the bounds of the safety cage. Workers must stand on the floor of the safety cage not on a ladder, rail, or other object
Wear a securely connected safety harness
Able to safely exit from the safety cage and forklift in the event of a failure in normal operations
Are trained to use the cage safely including any emergency procedures, so occupants can be rescued in the event of an accident or breakdown.
Forklift Safety Cage Risk Control Measures
The following risk control measures should be put in place when operating a forklift safety cage:
Safety cages should only be installed on a forklift that has been rated for use, with a load data plate that shows it has been manufacturer rated to safely use the cage.
The forklift is to be always stabilised on a hard level surface while lifting workers and/or loads.
Before lifting commences the forklift operator must ensure that the parking brake is applied, the driver controls are in neutral, and the mast is vertical, and that hydraulic controls are off except for lift and lower capabilities. Tilt functions should not be used.
The forklift operator must always remain at the controls during lifting operations, this ensures they do not inadvertently engage controls when accessing / egressing the forklift and that they can lower the cage in the event of an accident or unexpected breakdown.
Where possible workers should only enter the safety cage when it is in position ready to lift, it is not recommended to transport workers whilst they're in the cage unless necessary.
The safety cages gate is self-locking and is kept always shut the cage is raised up.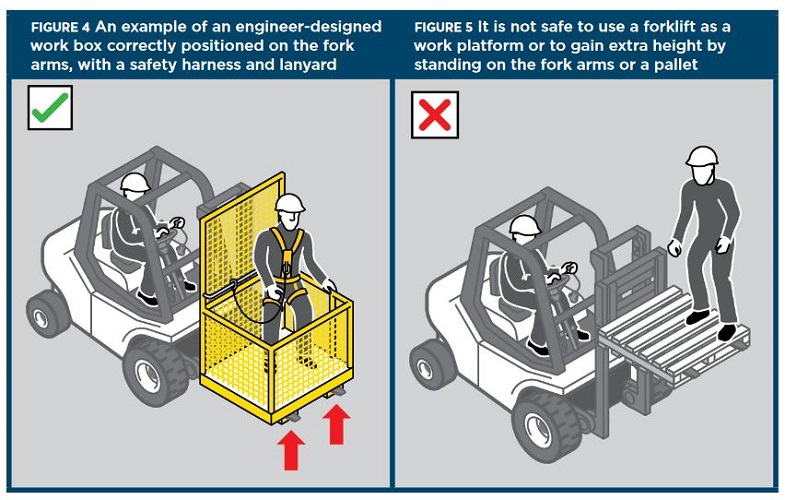 Interested in purchasing a forklift safety cage? Contact our sales team on 13 22 54 to discuss available safety cages and other attachments available to increase the versatility of your forklift.
Reference List
Commission for Occupation Safety and Health. (2008). Guidance Notice Working Safely with Forklifts. www.commerce.wa.gov.au. Retrieved December 2, 2022, from https://www.commerce.wa.gov.au/sites/default/files/atoms/files/working_safely_with_forklifts_0.pdf
Safe Work Australia. (2014, July). General Guide for Industrial Lift Trucks. www.safeworkaustralia.gov.au. Retrieved December 2, 2022, from https://www.safeworkaustralia.gov.au/system/files/documents/1703/industrial-lift-trucks-general-guide.pdf