How Much Does It Cost to Rent a Scissor Lift
Our short-term rental team are often asked how much it costs to rent a scissor lift.
Due to the wide variety of scissor lifts in our STR fleet there isn't a standard rental cost.
When quoting scissor lift rental prices our experienced STR consultants ask several clarification questions to ensure a suitable lift is quoted for customer rental.
The full cost of renting a scissor lift may include:
Rental costs
Transport costs
Insurance costs
Damage waivers
In this post we briefly examine some of the factors that can impact the price of scissor lift rental.
Lift Height
How high a scissor lift can extend is a contributing factor its rental cost.
Lifts with higher lift heights and platform weight limits will be larger in size.
Typically, larger scissor lifts such as outdoor rough terrain lifts will cost more to rent than smaller indoor lifts.
When considering which scissor lift is best to rent based on lift height it can sometimes be more economical and productive to rent a larger scissor lift with a higher lift height and a larger platform weight limit that will allow you to lift an additional person or extra tools and supplies to complete the job faster thus reducing the number of days rental required.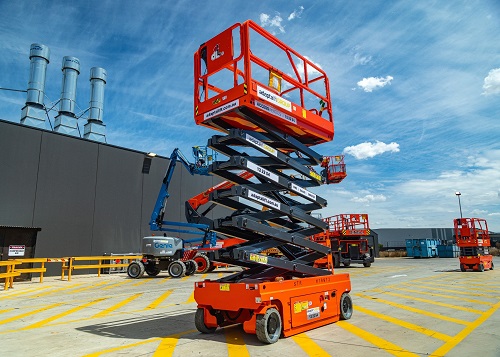 Transport Costs
The lift height and overall size of the scissor lift has a flow on effect to the transport costs a rental company will charge to deliver and pick-up the unit.
Larger lifts will require a larger truck such as a flatbed to transport, whilst smaller lifts can be transported on a small truck such as a tilt tray.
The further the delivery site is from the supplier will increase the transport costs to cover aspects such as the drivers time and fuel costs.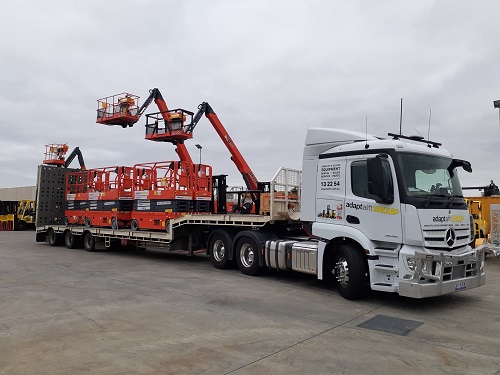 Type of Scissor Lift
The type of scissor being rented can influence the overall costs, with specialist units such as rough terrain scissor lifts costing more to rent than standard lifts.
Rough terrain scissor lifts are for exclusive outdoor use. Equipped with four-wheel drive they are easily able to operate across sloped or uneven ground.
Electric scissor lifts are popular for indoor applications. With no emissions or noise their small size makes them ideal to fit in and access confined job spaces.
Rental Duration and Availability
Scissor lift rental pricing is offered on a per day, per week or per month basis, therefore the duration of your job will influence the overall rental cost.
Some rental suppliers may offer specials or discounts on rental costs for longer rental duration's.
In instances of high demand that exceed supply levels the cost of renting a scissor lift may increase.
Insurance Costs and Damage Waivers
Rental companies may include insurance and damage waiver costs in the rental price.
Insurance costs will cover the unit during transport in the event of an accident where the lift may be damaged or written off.
Insurance costs can also cover the party renting the unit in the event of an accident.
Damage waiver costs are charged by rental companies to cover any potential damages whilst the lift is out on rent.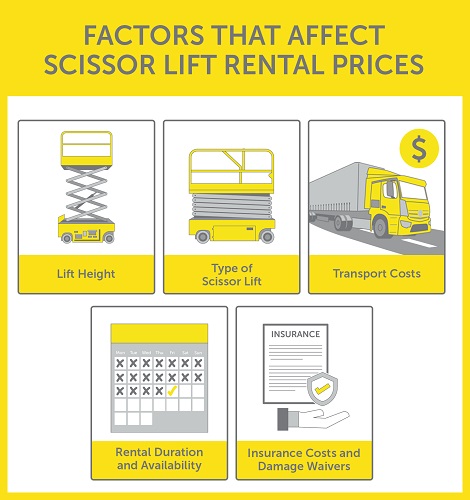 Our modern fleet of access equipment rental units is continually updated to ensure we have the most modern and safest lifts available for customers nation-wide.
Contact one of our STR specialists on 13 22 54 to find the right scissor lift for your application or view our scissor lift STR specials online.