How Much Electricity does a Forklift Use per Hour?
A key question commonly asked by prospective battery electric forklift owners is how much electricity is consumer by the unit per hour of operation.
Similar to a car forklift manufacturers test unit performance and provide estimates of fuel consumption, however there are a number of factors that may affect a forklifts consumption throughout operation.
In this post we detail the hourly electricity consumption of some Hyster's most popular forklifts whilst also briefly examining some factors that can affect the health and performance of batteries that can impact fuel consumption.
How Much Electricity Do Forklifts Consume?
An example of hourly electricity consumption of lithium-ion and lead acid battery Hyster forklifts is provided below.

Power consumption increases the higher the forklifts lift capacity to cater for heavier loads.
Factors that Affect Forklift Battery Efficiency and Lifespan
There are a number of factors that can affect the efficiency and lifespan of forklift batteries and they're discussed below.
High Temperatures
Heat from forklift operations cause the lead in the battery to deteriorate.
If a forklift and battery are used for an entire shift it is important to charge the battery correctly and sit long enough to allow it to cool down.
This is why it is common for battery electric forklifts are used for eight hour shifts during the day and then charged and cooled down overnight ready for operation the next day.
Exposing forklift batteries to extended periods of high temperatures can greatly reduce its efficiency and lifespan.
Over and Under Charging Forklift Batteries
Not charging a forklifts battery correctly risks harming its efficiency and lifespan.
If a battery is overcharged excess heat is generated causing the battery to deteriorate over time.
Undercharging a battery leads to plate sulphation and battery breakdown reducing its performance, eventually leading to the battery needing to be replaced.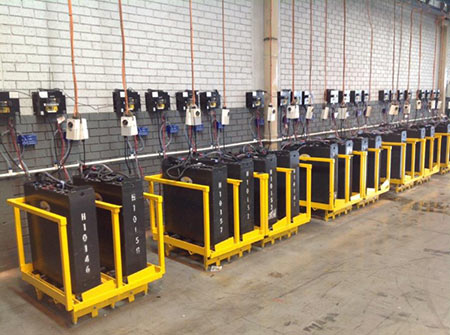 Forklift Battery Cleaning
It is recommended to clean a forklift battery monthly to remove any build-up of debris that may lead to tray corrosion, faster discharge and possibly negatively impact the unit's electronics.
Regular Battery Equalising
Regularly equalising your forklift battery will rebalance the battery acid concentration levels and prevent stratification.
Without regular equalising a higher acid concentration will occur at the bottom of the battery rather than the top which can cause damage and affect performance and longevity.
Not all batteries require equalising so it is important to check your battery specifications before completing.
Incorrect Battery Watering
Forklift lead acid batteries typically are made up of a mixture of 35% lead acid and 65% water within their cells.
During operation water evaporates from the battery whilst the lead acid remains.
The evaporation creates disproportionate levels of water and acid, so the water needs to be replaced on a regular basis.
If the battery is topped up with water at any stage other than fully charged, you risk the battery spilling water and acid on top of the battery and onto the floor.
This causes the battery oxidize and lose acid, ultimately losing capacity and efficiency.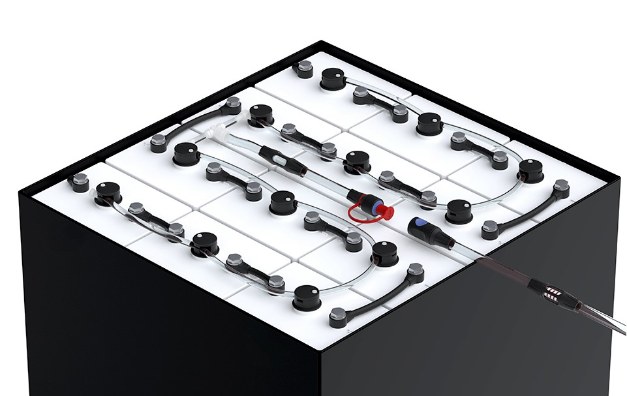 For more information on how to maximise your batter electric forklifts fuel consumption contact us on 13 22 54 or fill out our contact form.