How to Choose the Right Pallet Jack
Pallet jacks are a popular type of materials handling equipment (MHE) and are used in warehouses across Australia.
They are the most basic of MHE available, and are suited to a range of uses within a warehouse.
Ideal for operation in tight areas where other machines can't fit, pallet jacks can make a world of difference to your operation and will ensure that staff can work efficiently and safely at all times.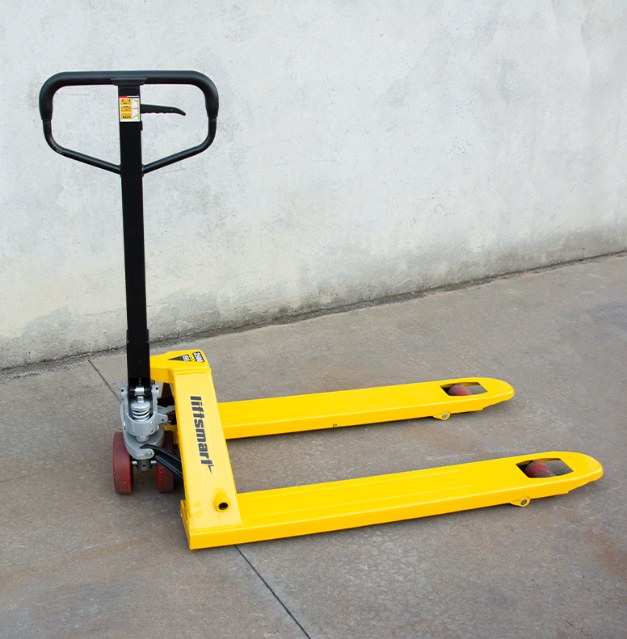 But how exactly do you choose the right pallet jack for your business? Keep reading to find out.
Load capacity
The first thing to consider when it comes to purchasing a pallet jack is load capacity.
Basically, each piece of equipment will be able to carry a certain amount of weight, and adhering to this load limit is important.
Overloading can put both your staff and stock at risk.
Fragile cargo can get dropped, crashes can take place and people can get injured in the process.
To reduce risk, make sure you understand the weight limits of your supplies so a suitable pallet jack can be chosen.
Length of forks
When it comes to picking up and dropping off pallets, the length of the fork on your jack matters.
In other words, if you don't have properly sized tools, then you won't be able to operate safely and efficiently.
Having forks that are too long or too short can impact maneuverability.
As a basic rule, if you have longer pallets, you'll need longer forks.
Be sure to provide the correct measurements for your warehouse stock to ensure you get the best fit.
Size
Something that shouldn't be overlooked is how big the actual equipment is.
Pallet jacks are by design small and easy to maneuver in tight spaces, however they do vary in terms of size and this should be factored into any considerations.
For instance, if you have narrow aisles, then you may be best off looking at something compact in nature.
Alternatively, if you have a little more room to play with, then a larger model may be the best fit.
Again, always consider the nature of your working environment when making these kinds of decisions.
Manual vs electric
The final thing to think about when it comes to choosing a pallet jack is whether or not you want an electric or manual model.
Electric pallet jacks such as the Yale MPC15 are generally easier to use, safer and more efficient than their manual counterparts.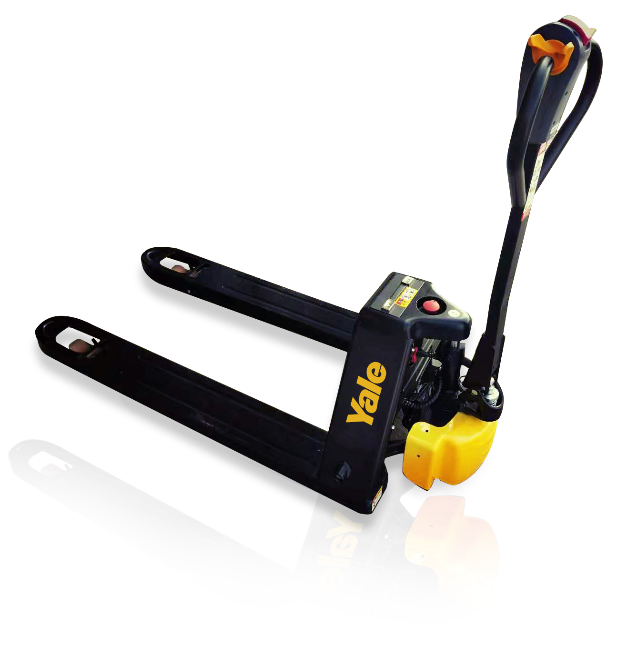 Even better, they're environmentally friendlier.
Consider the peace of mind you'll have in knowing you're dealing with a model that eliminates operator strain, increases productivity and comes with a range of safety features, such as emergency stopping and power braking.
Keep in mind that the many benefits of electric pallet jacks far outweigh the costs.
On the other hand, manual alternatives require more physical work but are more economical.
This makes them a great option if you run a small business, or if you're looking to reduce overall spending.
You can opt for one over the other, or you can choose to use a combination of both depending on the facility in which you operate.
Remember to consider the following when choosing between electric and manual pallet jacks:
Budget
Maintenance budget
Size and weight loads being carried
Facility, distance being traveled, and aisle size
Pallet jacks for sale and rent
Pallet jacks can make a great addition to your business and can help in a variety of ways.
To find out more about this form of materials handling equipment, or to enquire about our hire and purchase costs, get in touch with Adaptalift.
We have a wide range of models available and provide affordable finance options to customers in Australia.
Whether you're looking for new or used machines, know that we have all of your needs sorted.
Call today on 13 22 54 or fill out a contact form and we'll get back to you as soon as possible.