Hyster's New Materials Handling Innovations
As environmental concerns surrounding greenhouse gas emissions on the planet become more influential, Hyster has been continually developing innovative materials handling solutions to combat their negative influences into the future.
Hyster is continually investing in the research and development of clean energy solutions that not only assist customers in achieving their environmental benchmarks, but also deliver the levels of performance they've come to expect from Hyster's industry leading forklifts and MHE.
In this post we briefly explore some of the innovative clean energy product development and new units that Hyster is developing or has released to the market.
Hydrogen Reach Stacker Pilot
The rise of e-commerce and online shopping has continued to increase, resulting in a large increase in goods being shipped around the world.
The majority of these goods are still shipped via sea with ports playing a crucial role in the loading and unloading of goods in shipping containers.
To safely and efficiently move shipping containers large container handling units such as reachstackers play a vital role.
With growing demand for container handlings and reachstackers across ports Hyster has begun the development of an environmentally friendly hydrogen powered reachstacker.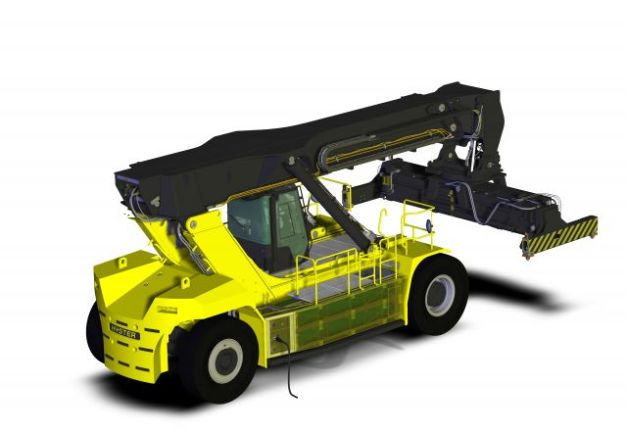 With the aim for the unit to provide comparable lifting capacity to current diesel powered models whilst being significantly more environmentally friendly with zero emissions.
The hydrogen reachstacker is being developed in conjunction with the Port of Valencia in Spain and will be subject to a two year pilot program.
The new innovative reachstacker is powered by fuel cells that convert H2 to electricity and acts as a range extender for the unit resulting in a zero emission unit.
A hydrogen refuelling station developed by CNH2 will provide refuelling for the reachstacker, Hyster expects the fuel cell to provide power to the unit for one full day before the H2 needs to be refuelled.
Port of Valencia see the development of the hydrogen reachstacker to have advantages over other zero emission units such as fully electric versions, including:
Combined hydrogen and fuel cell is more compact when compared to fully electric where the battery pack for the reachstacker would need to be almost as big as half the unit full size to work for an entire day
Compared to charging a large battery that may take hours, hydrogen units offer quick refuelling from the refuelling station in as little as 10 to 15 minutes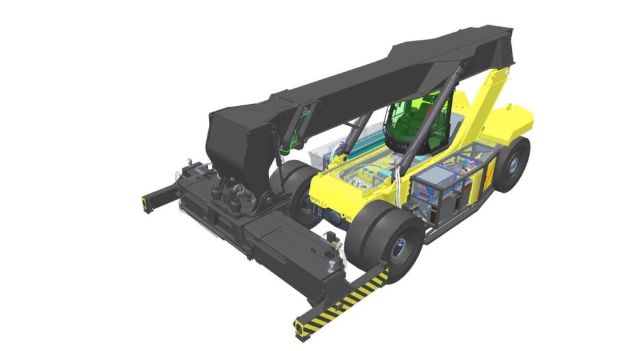 Lithium Ion Battery Forklifts and Warehouse
MHE
Willem Nieuwland Big Truck Program Manager for Hyster say:
For several years, Hyster has been working on unique zero-emissions container handling equipment for ports that incorporate lithium-ion battery and fuel cell technology…we are now 'extending the family' and bringing these benefits to more equipment types to support total green operations…
In the past 12 months Hyster has launched a number of innovative products to support zero-emission handling with high productivity.
Lithium Ion Powered Forklifts
The new Hyster J7.0-9.0XNL lithium Ion battery powered counterbalance forklift can safely lift and move up to 9 tonnes.
The unit provides operators with comparable power and performance to similar combustion engine (IC) powered units.
Units also support rapid opportunity charging allowing operators to charge batteries when opportunity arises such as during lunch breaks or during shift changeovers without compromising the health and performance of the battery.
The new forklifts have been developed with the endurance to support multi-shift demanding operations and provide a realistic environmentally friendly alternative to their IC counterparts thanks to their lithium ion battery, high voltage drive system and the use of multi-phase permanent magnetic motors.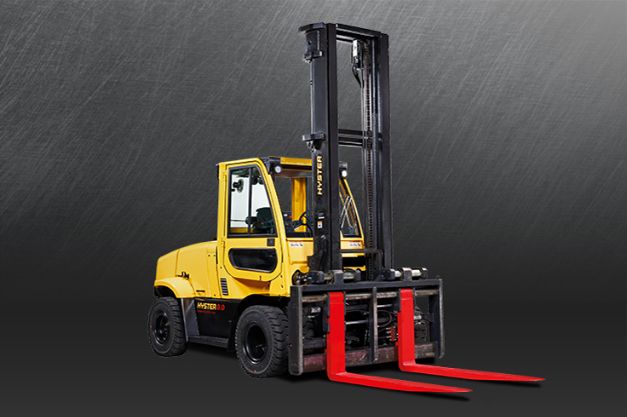 Lithium Ion Pallet Trucks
Warehouses and businesses that store, send or receive palletised good can benefit from the new Hyster PC1.5 ultra-compact lithium ion powered pallet truck.
Thanks to its high performance lithium ion battery the pallet truck offers greater productivity and efficiency compared to standard manual hand pallet jacks, without the complex maintenance that is required of current lead acid battery powered units.
The pallet trucks are designed and built tough and reliable to stand up to the rigours of daily operation.
When the battery requires charging the operator receives a charging alert and they can easily exchange the empty battery within six seconds causing minimal disruption to operations.
In this week's post we've highlighted Hyster's new research project the development of an environmentally friendly hydrogen reachstacker that doesn't sacrifice performance and two newly released lithium ion powered units that can assist businesses achieve their environmental goals.
For more information on how your business can benefit from the adoption of a lithium ion powered forklift or pallet truck from Hyster contact our team of MHE experts on 13 22 54 or fill out a contact form and we will reply as soon as possible.
Watch out for a future blog post providing an update on the Port of Valencia's two year hydrogen powered reachstacker trial.
Reference List
Greenport.com. 2021. GreenPort | Hydrogen reach stacker pilot. [online] Available at: [Accessed 28 May 2021].
Hyster.com. 2021. Hyster Discusses 'Total Port Electrification'. [online] Available at: [Accessed 28 May 2021].
Hyster.com. 2021. Why Hyster?. [online] Available at: [Accessed 28 May 2021].