Maximising Cold Storage Space with Combilift's WR Walkie Reach Stacker
In recent years the cost of warehouse storage has skyrocketed, for businesses that operate cold storage warehouses the cost per square metre of storage space is even more than standard warehouses.
As businesses look to expand their operations maximising the available storage space both vertically and horizontally is a priority.
In this week's post we look at how Jordan International Transport was able to maximise their cold storage space in their new purpose-built facility in Moy, Northern Island by adopting Combilift's WR walkie reach stacker as their warehouse materials handling equipment of choice.
Combilift WR Walkie Reach Stacker Overview
The Combi WR and multi-directional WR4 models are the first purpose built standard and 4-way multi-directional travel pedestrian reach stackers with features such as a pantograph reach, side shift and tilting fork carriage for handling long loads and pallets in very narrow aisles.
They're the only truck of their kind able to work in aisle widths of 2.1 m pallet to pallet.
With they're unique patented multi-position tiller, electronic power steering and fingertip controls it is easy and effortless to operate, push button control rotates the rear wheel parallel to the chassis and back again which reduces the need for leaning, reaching and bending and minimises general manual strain when picking and placing loads.
Advantages of the Combilift WR Walkie Stacker
Maximisation of Available Storage Space
With its ability to lift loads up to 1.4T in weight up to a maximum height of 4.9m in aisle widths as narrow as 2.1m, the WR walkie stacker was an ideal MHE solution for Jordan International Transport to adopt in their new warehouse to maximise the available storage space.
As a cold storage facility storing both chilled and frozen goods Jordan International Transport were looking to improve the ratio of stored products and the amount of space needed to access them.
Storage and Distribution Manager Barry McIlvanna explained that:
"The freezer system must work just as hard to cool the relatively unproductive areas set aside for access. With standard racking and conventional forklifts such as the counterbalance and pallet trucks we were previously using, only about half of the space could be used for storage. With the new system, this has risen to 85% so our freezer circuit can operate much more efficiently and therefore more cost effectively."
The new narrow aisle racking and the WR's ability to operate in narrower aisle when compared to standard counterbalance pallet trucks the company is not able to store 35% more sellable products in the same warehouse footprint whilst also experiencing increase efficiencies from their freezer cooling systems with a positive flow on effect to the companies bottom line as the cost to cool the whole facility is reduced.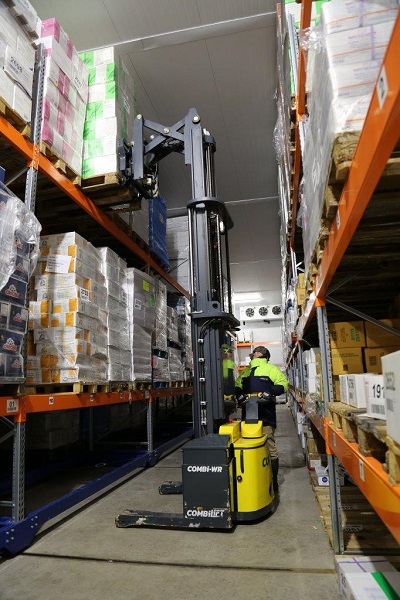 Patented Tiller Arm Increases Operator Safety
One of the distinguishing features of the WR walkie stacker is Combilift's patented, award winning tiller arm.
The multi-position control arm contributes to an increase in operator safety as they can stand to the side of the unit rather than behind the unit when operating in narrow aisles.
This improved operator position eliminates the risk of an operator getting sandwiched between the unit and racking which may commonly occur when operating a standard counterbalance stacker.
Being positioned to the side of the unit during lifting operations also provides the operator with a full view of the load, tynes and their surrounds so they can respond to any failures faster better protecting themselves and staff working in the vicinity.
McIlvanna explained the impact the WR stacker had on operator and staff safety as:
"The operator's position with this pedestrian version allows a greater level of control over the products when moving them around and as you have full visibility of the loads, the forks and the surroundings it's safer for operators and other staff nearby, particularly when working in our narrow aisles and tight spaces,"
Low Temperatures, High Performance
Jordan International Transport were initially concerned how the below zero temperatures of the cold storage warehouse operating environment would affect the performance of the WR stackers.
The stackers have however performed really well with the colder temperatures having no negative impact on their performance as explained by McIlvanna:
"It's perfect for our set up. Working at -18°C over a few hours it never misses a beat. We were initially concerned whether a truck could work equally effectively in such cold temperatures compared to normal conditions, but the team at Combilift had all the right specifications and solutions."
Double Deep Pallet Racking
The WR stackers pantograph reach allows for double density pallet racking as the unit can reach into the racking to access the second pallets, allowing for further maximisation of available storage space.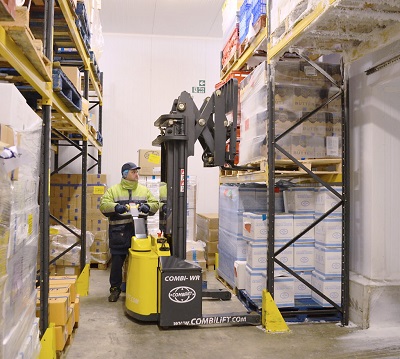 Barry McIlvanna Jordan Internationals Transport summarises the businesses experience adopting the Combilift WR Reach Stacker as their warehouse MHE of choice as:
"Quick accessibility to products, adhering to deadlines and guaranteeing a high level of service have kept us at the top of our game for over 25 years. We believe being the best means using the best equipment available – and that's what we have with the Combi-WR. I am sure that any future growth will involve more of Combilift's products."
If you're interested in finding out more information on how the Combilift WR Walkie Reach Stacker can allow your business to maximise your available warehouse storage space, contact one of our Combilift product experts on 13 22 54 or fill-out an online enquiry form.
Our experts are able to conduct site visits to review your current setup and then specify a new tailormade MHE solution.
Reference List
"More in the cold store with a Combi-WR" (2022). Monaghan: Combilift

ULC

.