Traffic Management Plans - Separating Forklifts and Pedestrians
In busy warehouses and operations where forklifts operate alongside pedestrian employees it is imperative for the safety of employees that a traffic management plan is implemented separating machinery from people wherever possible.
Without separating pedestrians from forklifts there is a heightened risk of collisions between the two occurring that could result in a number of negative consequences, these may include:
Personal injury
Fatality
Damage to capital equipment (e.g. forklift rollover)
Damage to facilities (e.g. walls, racking)
Product damage
This blog explores some basic considerations and solutions for separating forklifts and pedestrians that can be implemented as part of a broader traffic management plan.
Training and Supervision
One of the easiest ways to reduce the likelihood of a collision between pedestrians and forklifts occurring is training staff on their responsibilities when they are working in the vicinity of units.
If staff have been trained and are aware of the potential dangers to look out for and their responsibilities to ensuring a work space is safe not only for themselves but other employees they can be proactive about their safety and not put themselves in dangerous positions.
Visitors to a worksite may not be aware of the dangers and need to briefed or supervised whilst on site by a trained employee who is aware of risks to ensure their safety and that they don't unintentionally adversely affect site operations.
Pedestrian Safety
In an ideal workplace setting eliminating the risk of pedestrian and forklift collisions would be done by completely separating the two through measures such as elevated walkways allowing pedestrians to safely move around above the forklift operational area.
If full separation is not possible Safe Work Australia recommends the following can be implemented to separate and improve safety:
Installing physical separation barriers such as concrete barriers or fencing keeps forklifts and machinery contained in their operational area whilst restricting pedestrians access to this area
Separate pedestrian doors at entry and exit point's keeps pedestrians separate from forklifts that are potentially carrying full loads where pedestrians may be unsighted by the operator. The pedestrian door can lead straight to the safe pedestrian walkway the is separated from the forklift operational area by a physical barrier
Utilise safety railings or bollards to prevent pedestrians from stepping out into the operational area where they are hard to see in a forklift operators blind spot
Implementing and enforcing right of way procedures that all pedestrians and forklift operators are aware of that clearly indicates who has right of way whilst the other must give way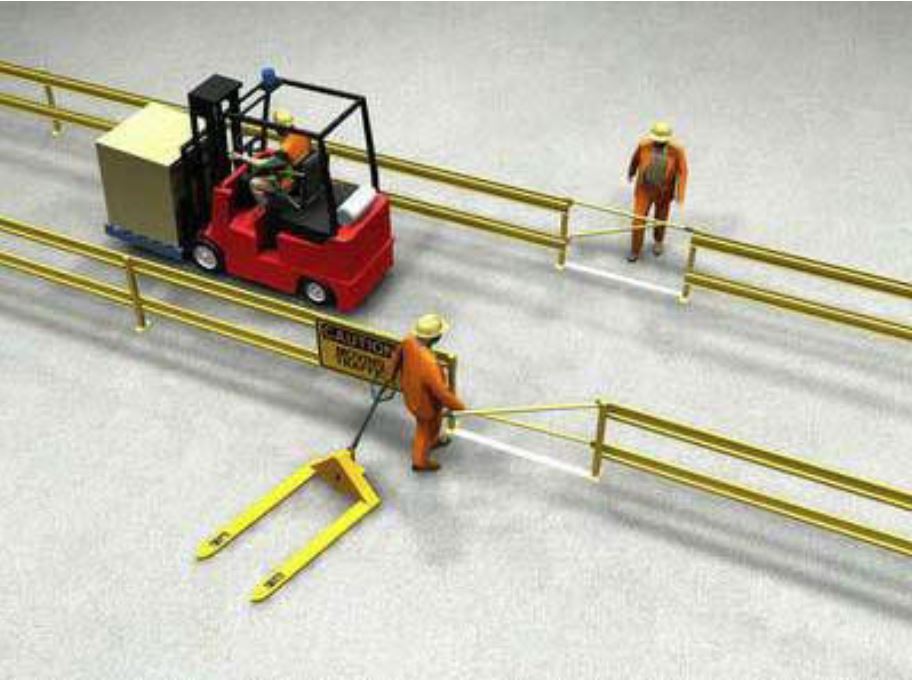 Pedestrians Working with Forklifts
For pedestrians that work in some areas such as loading bays full separation from forklifts may not be possible as they are essential to operations.
In scenarios such as above Safe Work Australia recommends the implementation of the following safety measures:
Restrict access to the operational area such as a loading dock to only essential staff, non-essential staff such as office workers may not enter the area whilst forklifts are in operation
Erect clear warning signs to forewarn pedestrians that forklifts operate in the area and that they should avoid it
Ensure that all staff who enter the operational zone adhere to and wear the correct personal protective equipment (

PPE

) that may include high visibility clothing, steel cap safety boots, gloves and protective eyewear to protect vulnerable body parts from injury such as feet being run over or debris and foreign objects flying into eyes
Enforce safe distancing rules that require all pedestrians to stand clear as vehicles are being loaded or unloaded by forklifts. Physically removing pedestrians from the danger zone and providing clear separation between them and the forklift during critical manoeuvres such as lifting heavy loads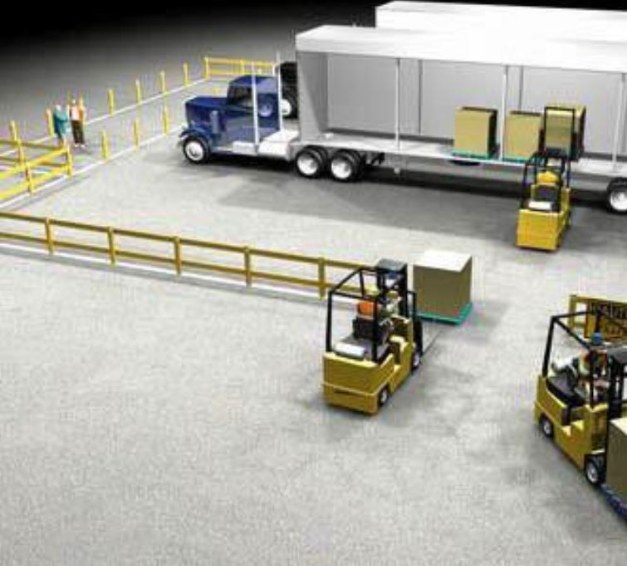 Forklift Operators
For scenarios where full separation from pedestrians is not possible Safe Work Australia recommends the following safety precautions should be considered for forklift operators:
Facility layouts should be designed to minimise the need for pedestrians to be in the forklift operational area. Areas with high traffic volumes such as reception and tea rooms should be built away from forklift operating areas to minimise the risk of pedestrians entering
Implementing and enforcing strict speed limits can reduce the risk to pedestrians as forklifts will be travelling slower, in the event of an emergency due to the slow speed the forklift is travelling at it is easier for the operator to brake and stop the forklift
Provide communication devices such as hand held radios to supervisors and forklift operators to allow quick and easy communication regarding jobs without people having to come near the forklift
Ensure all forklift parking and recharging areas are clearly marked, ensuring there is no potential for a forklift to be parked near or across a pedestrian walkway impeding traffic and becoming a trip hazard
Site supervisors must ensure that all forklift operators have undertaken correct training and hold a valid license to operate a forklift this ensures only fully trained staff who are aware of their safety responsibilities and how to operate the forklift in a safe manner can operate it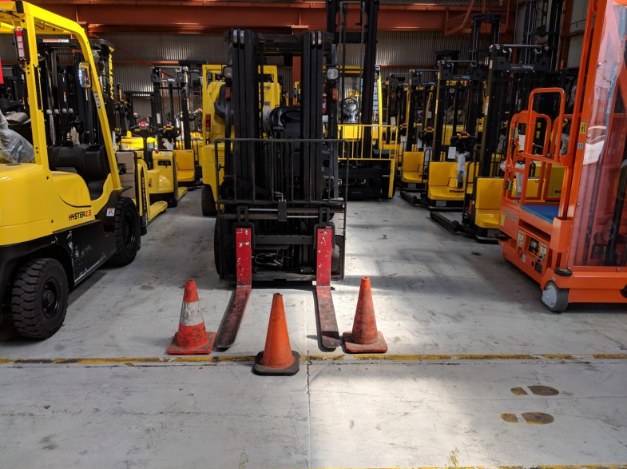 Implementing a traffic management plan will clearly demonstrate to all employees how the risks of forklift operation and pedestrian movement are to be managed in the workplace.
Plans should be regularly monitored, reviewed and updated especially after incidents that breach the plan occur to ensure it is up to date and effectively takes into account any changes within the working environment.
All workers should be educated and have a full understanding of their responsibilities under the traffic management plan, ensure they can be proactive about their safety and contribute to a safer workplace by not putting themselves in harm's way.
For assistance in formulating or implementing a traffic safety plan or for information on how industry forklifts and materials handling equipment from global manufacturers Hyster, Yale and Combilift can assist in making your workplace safer contact our team on 13 22 54 or fill out a contact form and we will respond as soon as possible.
Reference List

2020.

TRAFFIC

MANAGEMENT

:

GUIDE

FOR

WAREHOUSING

. [ebook] Australian Capital Territory: Safe Work Australia, pp.1-5. Available at: [Accessed 1 October 2020].
2017. Separating Forklifts And Workers. [ebook] Queensland: Workplace Health and Safety Queensland, pp.1-3. Available at: [Accessed 2 October 2020].


Disclaimer: The information contained in this blog is for general information only and is not intended as being an authoritative or complete set of guidelines for making your warehouse safe and in compliance with relevant legislation. Every workplace is different and you should always obtain your own professional and legal advice in relation to the steps necessary to make your site compliant with relevant legislation and to protect your business and its employees.

AALG

makes no warranty or representation that the information in this blog is appropriate for your business and accepts no responsibility for any reliance on the information given in this blog.