Used Forklift Pre-Purchase Checklist – Part 1
Purchasing a forklift can be particularly expensive.
Exploring options to purchase a used forklift can be a smart move that can save money.
To assist customers with their used forklift purchase Adaptalift Group has created a downloadable pre-purchase checklist that details things prospective buyers need to look at before making a purchase.
Following the checklist will ensure you purchase a high quality used forklift that is fit for purpose and functions at optimal levels.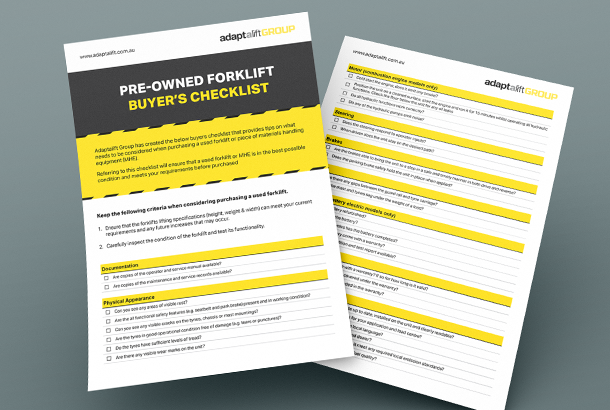 In part 1 of this series we examine the first four sections of the checklist and why they're important to consider.
Documentation
It is important to check the available documentation that comes with a used forklift upon purchase.
Important documents such as manuals and service records if not supplied with the forklift should be easily obtainable by the purchaser for future reference.
Operator Manual
Having access to a copy of the operator manual is vitally important for operators to understand how to safely and properly operate the unit.
It also provides a reference for diagnosing and troubleshooting any errors or problems that may arise during operations.
Service Manual
For owners looking to maintain and service the forklift themselves the service manual is essential in providing instructions on how to safely maintain and service the unit at the manufacturers prescribed intervals.
The manual will provide information regarding spare parts and consumables that need to be used as part of maintenance and servicing.
Maintenance and Service History
Being able to provide prospective buyers with a forklifts full maintenance and service history can be reassuring as buyers are aware that the unit has been fully serviced and maintained to manufacturer's specifications throughout its operational life.
Properly maintaining a forklift can play a major role in the unit operating at optimal levels and also extending its operational life.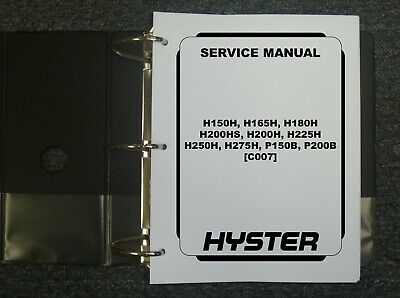 Appearance
Closely inspecting the physical appearance of a used forklift before purchase is very important, the inspection can bring attention to any obvious physical issues with the unit that could be expensive to repair after purchase.
Cracking and Areas of Rust
Any visible areas of rust or cracks will need to be repaired as it directly impacts the structural integrity of the forklift and may be a high safety risk to operators.
A used forklift with rust or cracking may not be suitable for operation at all and should be avoided when purchasing.
If there are any visible cracks on a forklifts tynes, mast or lift chains these need to be immediately repaired as they could snap or further degrade during lifting operating posing a safety risk to both operators and loads.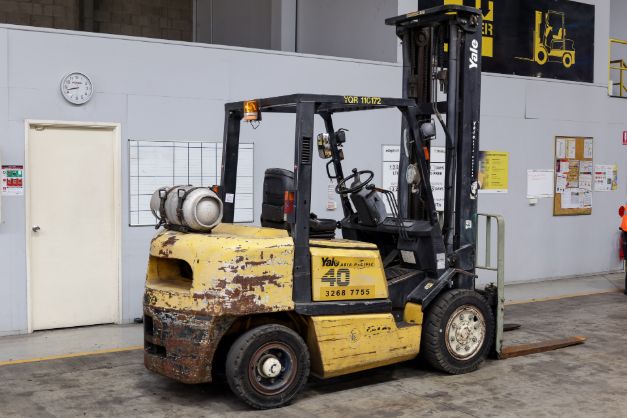 Tyre Condition
Ensuring the forklifts tyres are in good condition with enough tread and able to maintain pressure will ensure that the forklift can safely travel across terrain maintaining grip and balance, whilst safely supporting the heavy loads you require it to lift.
Safety Features
Ensuring the forklifts safety features such as seatbelt and parking brake are fully functional greatly increases operator safety.
If any of the safety features aren't present or not fully functional the forklift should be avoided or the safety features should be repaired and operating correctly before the unit is purchased and operated.
Engine (combustion models only)
Before purchasing a used forklift it is important to ensure its engine is in working condition to properly power and propel it.
Checking the forklifts engine and hydraulic controls aren't leaking will ensure fluid levels are maintained safe for operation and that any leaked chemicals don't create a safety risk to operators and other employees.
Due to the heavy loads the forklift is expected to lift it is imperative to ensure its hydraulic controls can be operated correctly and aren't noisy.
If the hydraulic controls were to fail whilst lifting a load it can potentially lead to employee injury, fatality or product loss.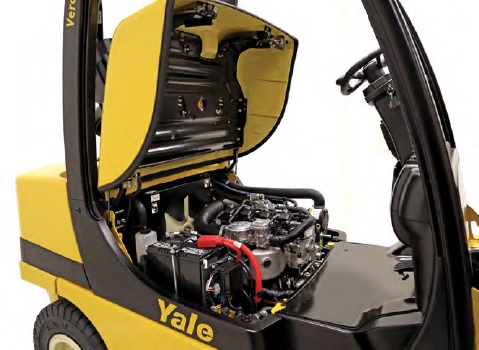 Steering
It is very important to test and ensure a forklift steering is responsive and that the unit stays on track when being driven.
If the unit doesn't respond to inputs made by the operator turning the steering wheel the forklift should not be purchased as operators do not have the precise control they need to maneuver the forklift whilst lifting heavy loads.
An uncontrollable forklift can be a massive liability especially when operating in confined spaces as it is a major safety hazard to the operator and other employees with the potentially to seriously injure them due to its size and weight if a collision were to occur.
Brakes
One of the most critical components of a forklift that needs to be comprehensively checked before purchase is the brakes.
Similar to a forklift with malfunctioning steering a faulty brake system is a severe liability.
It is crucial that an operator can bring the forklift to an immediate stop in the event of an emergency to avoid collisions that may injure employees or damage loads and other equipment.
A used forklift should not be purchased if the brake system is faulty or cannot be repaired to operational standard before use.
Part 1 of our used forklift pre-purchase checklist has discussed why it is important to inspect a unit documentation, appearance, motor, steering and brakes before purchase.
Read part 2 of this series next week where we discuss the last four checklist topics mast, battery, warranty and safety and compliance.
Adaptalift Group sell a large range of quality used forklifts to suit a variety of applications.
Our used forklifts are expertly conditioned and affordable, offering great value to buyers.
To view our full range of used forklifts click here or give one of our used equipment specialists a call on 13 22 54.