What is Pallet Racking?
As the growth of e-commerce and online shopping continues its rapid growth the demand for warehouse and commercial storage space is at an all-time high.
Many businesses and warehouses are investing in or upgrading their existing pallet racking to be able to store more products to meet increasing demand.
In this post we explore the basics of pallet racking including:
What is pallet racking?
Benefits of pallet racking
Different types of pallet racking
What is pallet racking?
Pallet racking is a multi-level storage solution consisting of vertical frameworks and load bearing pallets.
Racks have become a staple equipment in almost all modern warehouse thanks in part to their ability to accommodate loads of varying sizes and weights.
It is designed to optimise the stacking of materials and products safely, for easy access by a forklift.
Pallet racks allows goods to be safely and securely stored vertically to maximise the use of available storage space.
Benefits of pallet racking
Pallet racking can offer businesses a number of benefits, some of which are discussed below.
Convenience: Items in a warehouse should be stored in a convenient place that is easy for them to be retrieved. Staff need to be able to manually collect and deposit items quickly or a forklift needs to be able safely retrieve the whole pallet.
Robust and Flexible: Pallet racking can be setup to support a wide variety of load weights. High quality racking is designed and built to withstand years of persistent use. Durable pallet racking will require little to no maintenance over its lifetime as they offer safe and secure long-term storage solutions.
Cost Effective, Affordable: Modern pallet racking systems are efficient solutions that help reorganise warehouse goods on a large scale. High quality racking systems are affordable and eliminate the need for expensive readjustment or relocation of goods. They're long-term durability means they will last a long time without needing to be replaced resulting in low on-going costs.
Cleans-up Floor Space: The ability to install pallet racking vertically to maximise available vertical storage space in a warehouse transfers pallet storage from the floor to up on walls. Floors will become less crowded and easier to manoeuvre around as obstacles have been eliminated increasing safety.
Increased Product Storage: By moving racking vertically businesses may be able to install more racking increasing the amount of storage available.
Flexibility to Grow: Modern pallet racking systems are flexible and are easily configurable and can be expanded as businesses grow. During periods of business growth it is quick and convenient to increase storage to meet higher demand, future-proofing your business.
Types of Pallet Racking
Pallet racking comes in a variety of specific designs for the handling of specific products or weights.
Below we briefly describe some of the different types of pallet racking available.
Selective Pallet Racking
Selective racking is very common, the simple system is easily customisable to a wide range of customer requirements and specifically focuses on providing multi-level horizontal rows.
It is very effective in increasing storage space whilst reducing search and handling time for picking operations.
Selective racking systems are most suited for the storage of lighter weight products.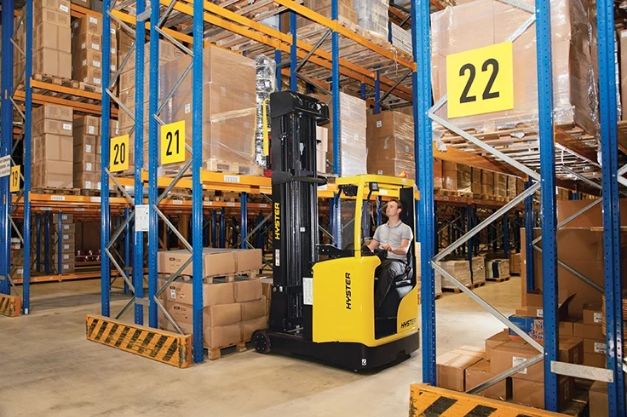 Narrow Aisle Pallet Racking
Narrow aisle pallet racking make the most of the minimum aisle width for forklift access, making them highly popular with warehouses and businesses who are already struggling with space utilisation.
This type of pallet racking looks to take advantage of vertical storage space over horizontal space.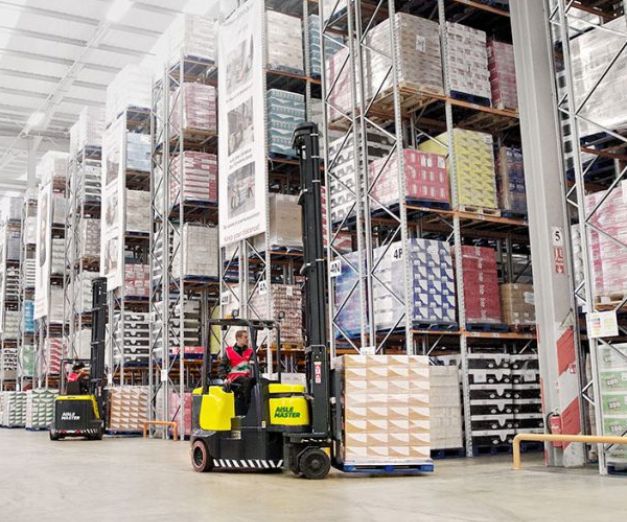 Double Deep Pallet Racking
Double deep pallet racking allows twice as many racks per pallet as you would through traditional racking systems.
For warehouses and businesses that process a high quantity of goods this is a popular pallet racking option.
One disadvantage of double deep pallet racking is a specialist unit such as a reach truck will be required to retrieve pallets.
Before considering double deep pallet racking a comprehensive site survey should be conducted to scope out a warehouses suitability.
Drive-in Pallet Racking
Drive-in or drive-through forklift pallet racking promote easy manoeuvring for forklifts and other warehouse MHE.
The racking stack up to create block which save space through reduced aisle space.
Ease of loading and unloading is increased.
Powered Pallet Racking
For unique warehouse spaces bespoke powered or mobile pallet racking is the ideal solution.
As they're custom designed and built they can also help warehouse build storage solutions in unique location, whilst being easily portable to be move when need be.
These types of racking systems provide extra flexibility over static racking for businesses that need to be fluid to meet varying customer demands.
Carpet Racking
Specially designed carpet racking built to optimally store large rolls of carpet or flooring materials when compared to standard racking.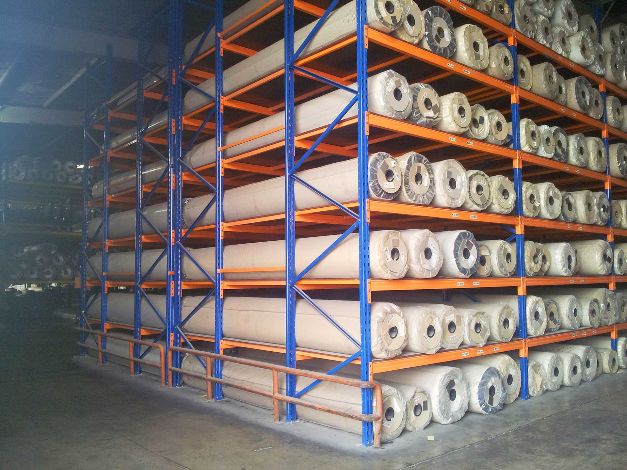 In this week's post we've provided a brief introduction into pallet racking, detailing some of its advantages whilst describing some of the most common types available in the market today.
If you're looking to outfit you're your warehouse with new racking or upgrade your current racking to a new configuration contact one of our MHE and racking specialists on 13 22 54 to arrange a comprehensive site inspection where they will be able to make recommendations on a full racking and forklift solution tailored to meet your requirements.