Where can I sell my forklift?
One of the most common questions members of our sales team receive when they sell or deliver a new forklift to a business is 'where can I sell my old forklift?' this question can also apply to businesses that are pivoting and no longer need their forklift or are closing and disposing of all profitable assets.
In this week's post we look at five of the most common places and ways businesses can sell their forklift and turn their unwanted asset into a profit or revenue that can be spent improving other areas of the business.
1. Private Sale
A common way business may look to sell or dispose of an old forklift is through a private sale.
Private sales can often be the most profitable methods of sale but also the hardest.
As the business is responsible for and handles the entire advertising process and the fees, they pay to advertise the unit they can control the amounts they spend to sell the unit.
All profits from a private sale are paid directly to the selling business as they do not have to pay any commissions to a dealer, auctioneer or website who sells the unit on their behalf.
As they are handling the whole sale process privately the business is also responsible for the hard work to sell the forklift such as keeping the unit clean and running to show to potential buyers.
As part of the private sale the buyer and seller are responsible for the financial transactions and completing the necessary paperwork to complete a legal sale.
2. Online Website
There are several online equipment websites such as machines4u and Gumtree that allow individuals and businesses to list their used equipment for sale.
Listing equipment online is an easy way to get your unit in front of a large audience of buyers.
Setup of equipment websites varies most of them allow customers to advertise their equipment and then the potential customers to contact them directly via their website listing.
Usually, the only cost to advertisers maybe a membership or ad promotion fees, the websites normally do not take any commissions on sales as they only act as a conduit connecting buyers and sellers who then complete private sales.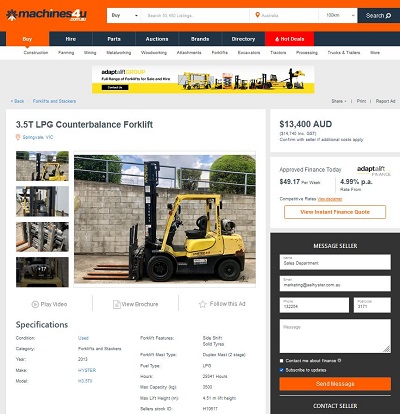 3. Online Auction Sales
Another online sales option is to engage the services of an equipment auctioneer site such as Grays Online that handle the full sale process of the forklift via auction including the advertising, pricing, and sale documentation for the business in exchange for a commission fee.
Selling a forklift via an auction site may often lead to a faster and more convenient sale as they often go to sale during large equipment auction days alongside other similar pieces of equipment where they can be sold in bulk.
Online auctions often also attract large-scale overseas buyers who buy bulk lots of equipment, so provide an even greater audience reach than local Australian website with both local and international buyers.
Depending on the value of the forklift being sold an online auction may not be the most profitable way to sell an old unit as the commission and fees they charge may consume any profits from the sale.
4. Forklift Dealer
There are two ways businesses can sell a forklift through a local dealer, depending on how they operate a dealer may either:
Buy the forklift directly from a business and then on-sell it as a used forklift
Sell the forklift on behalf of the client either at their branch or via an online platform and when the unit is sold charge the client a commission fee that covers any advertising, storage costs as makes a small margin for the dealer
Some of the advantages of using your local forklift dealer to sell your forklift include:
Customers who come through their showrooms are qualified forklift buyers
Their sales team have client lists they can call on and they may know a client who is specifically after a forklift like the one you're trying to sell
Their sales staff are forklift experts and will know all about your forklift specifications and features and can answer all customer questions giving you an increased chance to sell the unit
Most dealers like Adaptalift have onsite workshops and spare parts departments who can service or make any necessary repairs to your forklift, so it operates at optimal levels increasing its appeal and resale value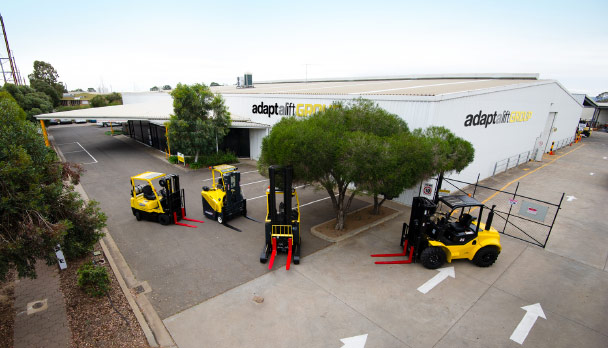 5. Trade-in Towards a new Forklift
The final way to sell a forklift isn't exactly selling a unit it is trading an old forklift in towards the purchase of a new updated and upgraded unit.
Most forklift dealers offer customers the opportunity trade-in their old unit when purchase a new or upgrading a unit.
The dealer will evaluate the condition, operating hours, specifications and features of the forklift and provide a trade-in value to the customer, this value would then be then deducted from the new unit purchase price when completing the sale.
Trading-in your old forklift is a convenient way for businesses to dispose of their old unit without having to go through the expense and hassles of a private sale or sale via an online website or auction.
The funds from the sale of the forklift are immediately reinvested to benefit the business as they are put towards the new unit purchase instead of potentially being wasted elsewhere.
In this post we've briefly described five of the most common ways to sell a forklift, turning an unwanted asset into revenue or profit to improve other areas of a business.
Have you recently sold your forklift or are you looking to trade-in your old unit towards a newest safest and efficient unit?
Adaptalift Group offer one of the widest ranges of forklifts and materials handling equipment Australia wide.
We offer our customers great trade-in values towards their new dream forklift to take their companies materials handling operations to the next level.
Contact one of our forklift experts on 13 22 54 to discuss your forklift trade-in or the purchase of your new unit.