World Day for Safety and Health at Work – Combilift
In recognition of World Day for Safety and Health at Work on April 28th 2021 this week's blog in conjunction with Combilift looks at three ways their innovative materials handling units can improve safety at work.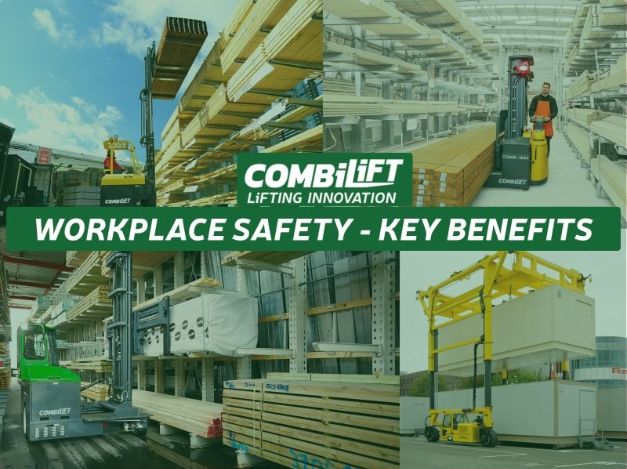 All Combilift's innovative materials handling solutions have been engineered and built to the highest safety standards, to provide superior levels of safety to operators and employees.
1. Safer on Foot
There is a growing trend towards the greater adoption of company's utilising pedestrian operated trucks as opposed to engine powered units where the driver sits in a cabin.
Lifting and moving loads at the walking speed of a pedestrian unit is inherently safer than at the faster speeds of an engine powered forklift.
Slower walking speeds offer a number of advantages including:
Provides operators with a greater response time to any unexpected or emergency situations
Easier to arrest or stop a machine in motion in case of emergency
Less likely for the units momentum to dislodge a load affecting its stability
In the event of a collision any damage may be minimised or mitigated due to the low travel speed
Combilift's range of pedestrian stackers includes the WR, WR4 and counterbalance CS are able safely and efficiently handle not only small palletised loads but also long loads such as timber, steel or sheet metal increasing their versatility.
A key safety feature of all the pedestrian stackers is Combilift's patented multi-position tiller arm.
Operators are able to turn the arm left and right allowing operators to safely stand to the side of the unit when they're operating in narrow aisles giving them a clear view of loads being lifted on the tynes.
By standing to the side of the unit operators are also removed from rear of the unit reducing the risk of them being crushed or trapped between the unit and racking behind them in the even the unit were to move unexpectedly.
2. Handling Extreme Loads
Lifting operations handling extreme sized loads such as concrete slabs or pre-fabricated buildings present a large number of risks to operators and employees, including the need for employees to work at height on top of truck trailers to guide loads onto the trailer or to sling hooks when using cranes.
Combilift's Straddle Carrier's offer a safe extreme sized load handling solution mitigating many of the risks requiring employees to work at height during loading and unloading operations.
Units are specifically designed and engineered to lift loads with uneven weight distribution safely with maximum stability.
Loads are prepared for lifting safely on the ground, once ready the straddle carrier is able to drive directly over the top of the load on the ground connect the load to four lifting points in each of its corners for maximum stability and then lift the load off the ground safely.
Unloading is similarly safe as the unit can drive directly over the bed of the truck and safely lower the load onto the truck trailer bed to be secured for transport.
The straddle carrier's optimal centre of gravity, broad wheelbase and superior maneuverability ensure maximum stability and safety when dealing with extreme sized loads.
Mike Nesbitt, Equipment Manager at Schulte Building Systems in the US explains:
"Doing something the safer way has ended up being the more profitable way too. Our Combi-SCs have not only improved safety in the shop floors and yards but have halved the time it takes to build a load, reduced labour costs, and boosted profits."
3. Safer Long Load Handling
Long loads such as lengths of timber or steel can be very tricky to manoeuvre around warehouses or worksites, whilst also taking up large amounts of valuable storage space when being stored.
Combilift's multi-directional forklifts are specially engineered to safely and efficiently lift and transport long loads.
They combine the best elements of a counterbalance, side-loader and narrow aisle forklift into the one unit.
Alan Boyden, Joint MD of AJN Steel talks about how replacing the company's counterbalance forklifts with Combilift units has on-site safety:
"We originally changed from counterbalance trucks to Combilifts to ensure safety as well as space-saving manoeuvering of our long products – moving 18m beams with a counterbalance truck is not ideal from many points of view. We have been very happy with the robust and multi-purpose operation of the trucks, but more importantly, they make a valuable contribution to our aim to establish and maintain the highest standards of health and safety performance within our industry."
Has World Safety at Work day encouraged you to look at ways to improve the safety at your workplace?
To discuss how a Combilift multi-direction materials handling unit can improve safety within your business contact one of our experts on 13 22 54 or fill-out a contact form and we will reply as soon as possible.
 
Reference List
Combilift. 2021. Workplace safety – the wider benefits – Combilift. [online] Available at: [Accessed 29 April 2021].