First ever Combilift Straddle Carrier at Silk Logistics
When Silk Logistics Group awarded Adaptalift their material handling contract in 2011, they established a successful relationship, which would ensure the implementation of innovative and cost effective material handling solutions throughout the organisation.
Silk Logistics is a fast paced, high volume business, whose aim is to design, implement and manage innovative and cost effective supply chain management solutions. With 1,100 employees, 600 trailers and warehouses in each state and over 250,000m2 of warehousing space, Silk Logistics has become a leading provider in the Warehouse and Transport sector. The Silk brand stands for: Safety, Integrity, Leadership and Knowledge. All of which is reflected in the relationship that has been built with Adaptalift and the use of quality materials handling equipment.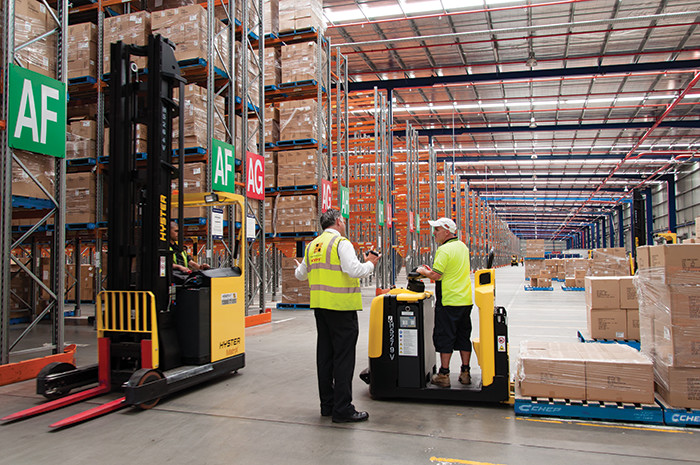 Adaptalift supplies and maintains Silk Logistics' national forklift fleet of over 100 units across their Australian network. The fleet consists of a variety of materials handling equipment, which are utilised in a number of different applications. A Silk Logistics facility in Port of Brisbane, Queensland, makes use of the first ever Combilift Straddle Carrier in Australia. This machinery has proven to be an effective tailored solution to Silk Logistics material handling needs.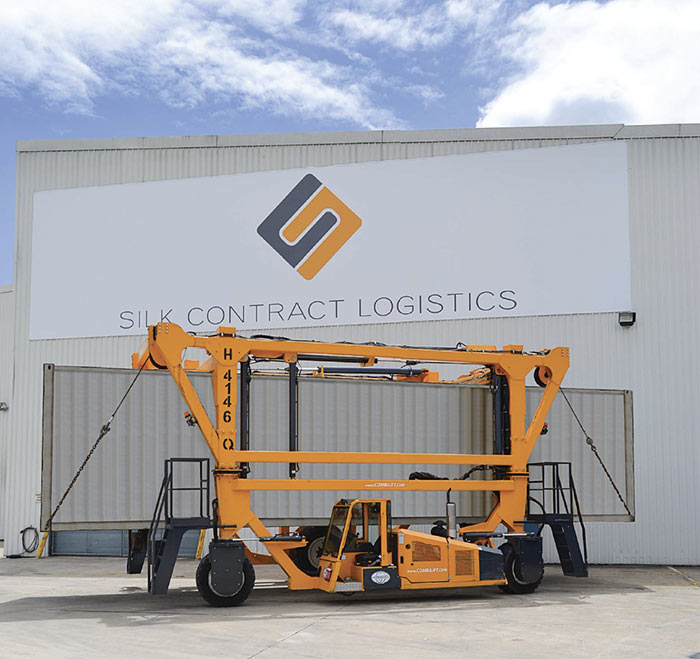 Another Silk Logistics facility in Altona North, Victoria, utilises a new Hyster forklift fleet, consisting of 22 units, in all of the daily activities that are associated with operating a large multi-user warehousing operation.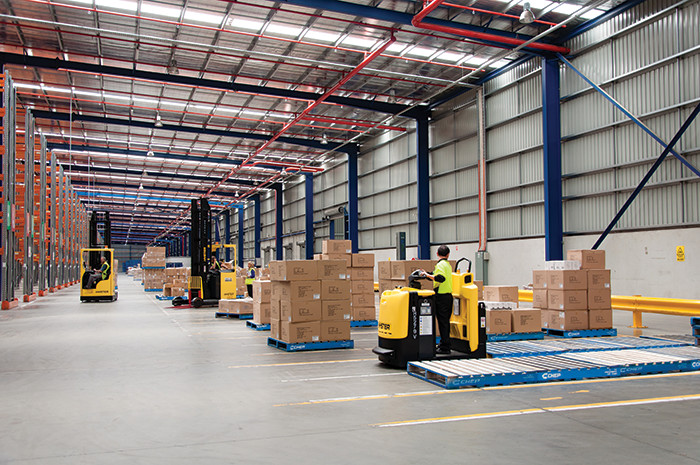 Adaptalift works closely with Silk Logistics in order to provide materials handling solutions that are tailored to their specific needs. The Silk Logistics facility at the Port of Brisbane required a solution that would provide greater storage space, faster turnaround and a new method of container handling. All of which needed to be tailored to the compact size of the Port of Brisbane yard.
As a solution, Adaptalift Hyster, Australia's official dealer of Combilift Multidirectional Forklifts delivered the first Combilift Straddle Carrier into the country, providing an innovative solution to Silk Logistics material handling woes.
The Combilift Straddle Carrier operates differently to conventional container handling equipment. The frame and wheels are positioned on either side of the container when lifting, providing improved stability for the load and minimising the total width of the machine. This leads to an increase in storage space due to the smaller overall size of the Straddle Carrier. Furthermore, containers are transported lower to the ground compared to traditional container handlers, making them safer to operate, as well as giving the Straddle Carrier a lower ground pressure. It weighs only 17,000kg, and can lift up to 35,000kg. The large, wide wheels provide the largest footprint and best point loading of any machine of its type.
Smart Thinking
One of the restrictions placed upon Silk Logistics at the Port of Brisbane, was their method of container movement. Silk Logistics docks raise containers to the same level as the building. Therefore, when handling a 20-foot container, a standard Straddle Carrier would have hit the building. Combilift was able to find an inventive solution to this obstacle. Through re-engineering the Straddle Carrier, they were able to reduce its overall length so that it was suited to Silk Logistics application. This allowed Silk Logistics Group to easily place 20 or 40-foot containers onto the loading docks.
Eliminating Restrictions
The Combilift Straddle Carrier also eliminated the restrictions placed upon Silk Logistics by the size of the yard. Its 14-metre turning radius provided the extra manoeuvrability they sought and provided the ability to turn within the length of a 40-foot container on the spot. Silk Logistics was also able to utilise the Straddle Carriers ability to stack containers two-high, which provided them with double the amount of storage space in both a compact and high-paced environment.
Operator Comfort
The Combilift Straddle Carrier was also of benefit to Silk Logistics, in enhancing driver visibility and safety. The Straddle Carriers flexibility allows it to handle rough ground, gutters, kerbs and sites that have difficult gradients with ease. Its three-wheel concept ensures that regardless of the terrain, contact is maintained with the ground, providing operator safety at all times. Furthermore, when the operator lifts the container and clamps it against the top frame of the machine, they have full 360° vision at all times.
Recognising Potential
As the official supplier of Combilifts in Australia, Adaptalift has been able to recognise the potential of the Straddle Carrier. Its innovative design provides the solution to slow and hazardous environments. Silk Logistics has been able to utilise the Combilift Straddle Carrier to heighten productivity and maximise storage space within a restrictive location.
The Straddle Carrier is extremely versatile, customisable, and can be utilised within a wide range of different applications. Many companies throughout the world are using the Straddle Carrier as a solution to problems they have encountered, from Caterpillar bulldozers in Panama and diesel generators in Africa, to site sheds and temporary buildings in Scandinavia and container movements in China.
While the Straddle Carrier has already seen great success around the world, more companies throughout Australia have begun using the Combilift Straddle Carrier and seeing firsthand the benefits, it brings to their businesses. Shorpak in Perth are utilising a Straddle Carrier for customs work for the Barrow Island Project, and Heatcraft in NSW are moving IBC containers with refrigerated gas. Five more Straddle Carriers have been ordered and will make their way into various businesses over the next few months.
Warehousing Solutions Making work easy
Warehousing operations within the Silk Logistics facility in Altona North, Victoria requires the use of forklifts that can easily manoeuvre in and out of containers, in order to load and unload them. In order to complete this task, Silk Logistics, take advantage of over five Hyster H2.5TX forklifts, which are of benefit to both their forklift operators and their bottom line. This is demonstrated in features such as the Hyster Stability MechanismTM. This feature allows Silk Logistics operators to transfer loads out of containers and into the warehouse in an efficient manner. It also reduces the sway of the forklift during turns and improves lateral stability; ensuring operators are confident travelling on uneven surfaces. Additionally, Silk Logistics is able to reduce downtime through features within the H2.5TX, such as, the removable floor plate and cowl-to-counterweight access. This ensures the continuation of labour in a fast-paced environment.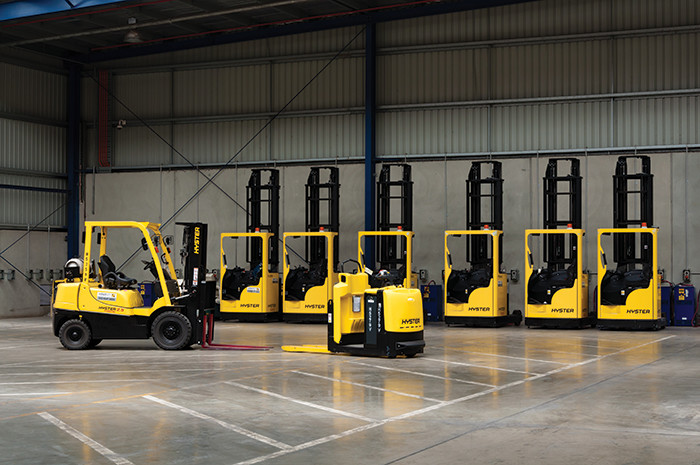 Silk Logistics utilises over twenty Hyster Reach Trucks, between their Altona North, Victoria, and Hemmant, Queensland, facilities. These versatile and manoeuvrable trucks are perfect for storing or retrieving pallets at height in narrow aisles. Silk Logistics ensure the best space utilisation and warehouse throughput by making use of Hyster R1.4 Reach Trucks to store pallets of 1,400kgs up to 9,400mm high. The use of Hyster Reach Trucks also provides Silk Logistics with an efficient way to ensure their employees remain productive throughout the day. The ergonomic design guarantees worker comfort, allowing for a more alert and productive operator. Furthermore, the design of the mast maximises visibility when loading, contributing to a faster cycle time and increased productivity within Silk Logistics warehouses.
Speed and Ease
Silk Logistics facilities are at an advantage when it comes to finding solutions to complete work quickly and effortlessly. This is a result of utilising Hyster L02.5 Low Level Order Pickers. Hyster Low Level Order Pickers have enabled Silk Logistics to optimise pallet space and move pallets quickly within their aisles. Hysters Low Level Order Pickers are developed to optimise the speed and ease of picking from both sides of the warehouse aisle. Energy efficiency, reliability and ergonomics have all been factored into the design of the machine. This is illustrated in the easy to operate scooter control, with fingertip controls for use on the platform. The operator is also able to move the order picker to the next pick location without having to climb on board, through using the creep speed control. The use of the Hyster Low Level Order pickers has allowed Silk Logistics to complete tasks with ease, without threatening the quality of their work.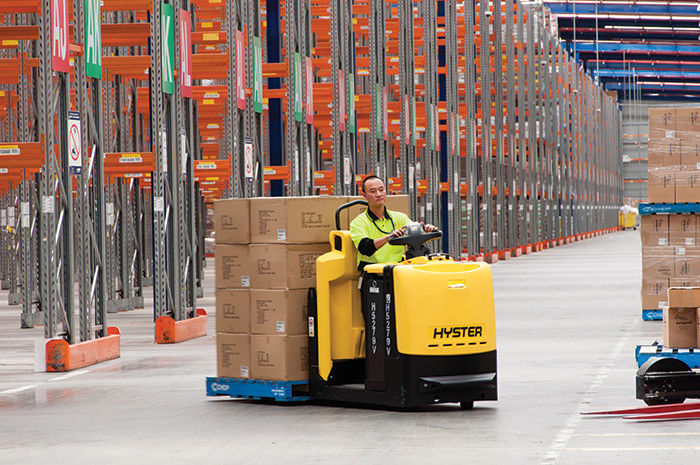 Since awarding Adaptalift their material handling contract in 2011, Silk Logistics has been able to improve upon the productivity of their organisation as a whole. Tailored materials handling solutions like the Combilift Straddle Carrier have encouraged the continued growth of Silk Logistics, and have strengthened the partnership they have established with Adaptalift Hyster. The smart design of Hyster warehousing equipment has allowed operators to complete work safely and efficiently, whilst adhering to corporate safety policies.
The partnership between Silk Logistics Group and Adaptalift has effectively provided quality material handling solutions throughout the entirety of the Silk Logistics organisation.
For more information on Silk Logistics Group, visit silklogistics.com.au.