5 Commonly Overlooked Considerations When Buying a Forklift
Purchasing a forklift can be very expensive, due to the large capital outlay it is imperative that nothing is overlooked before a purchase is made.
This week's blog looks at some considerations that are commonly overlooked in the forklift purchase process.
1. Overall Operating Costs
Operating costs cover all associated costs with keeping a forklift running, including any service, maintenance and repairs costs along with fuel costs for LPG and diesel forklifts as well as electricity costs for charging forklift batteries.
In some cases any funds saved via the purchase of an expensive forklift may be lost quickly due higher overall operating costs.
Higher operating costs can be influenced by factors including (but not limited to):
Low fuel efficiency and having to refuel or recharge more often
Lower maintenance intervals meaning units have to be serviced more often resulting in more service call out fees being charged
Low unit build quality leading to damaged parts needing to be replaced regularly
Adaptalift Group's full range of Hyster and Yale forklifts have some of the lowest cost of ownership The full range offer some of the largest service intervals in the market ensuring customers don't have to pay for unnecessary service call outs, whilst our tailored service agreements offer our customers certainty surrounding the costs of servicing forklift for the length of the agreement combating operating cost blow outs.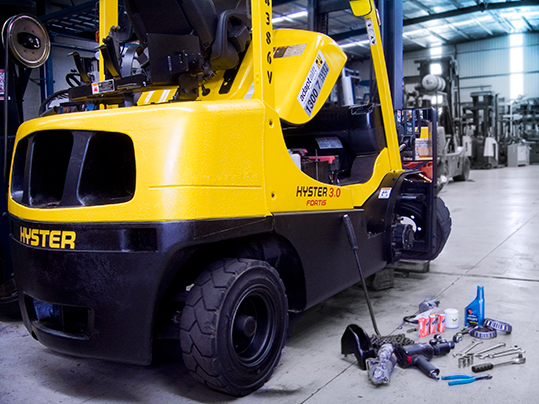 2. Used Equipment Purchases
When considering purchasing a used forklift ensure you're purchasing from a reputable dealer. Purchasing from a reputable dealer in all likelihood will ensure the unit purchased is in excellent working order and is fit for purpose. An inspection and a unit demo should always be carried out before purchasing a unit to ensure that the unit and all on-board systems are working correctly and that there aren't any underlying problems with the unit that may end up costing further funds to repair in the future. When purchasing any used forklift from Adaptalift Group a highly qualified technician carries out a pre-delivery checklist of tests to ensure the unit is fully safe and operating at optimal levels.
3. On-Board Technologies
In the rush to purchase a new forklift it is important to consider all on-board technology and systems you require before purchase. Technology and systems include:
Attachments including weight scales
Fleet management systems
Telemetry systems including speed zoning
Safety systems
It is important to not overlook these technologies as it may be impossible, expensive or time prohibitive to retrofit any of these technologies or systems to your forklift
4. Parts and Maintenance
As previously mentioned overall operating costs can be significantly impacted through the cost of spare parts and maintenance.
When purchasing a forklift you're purchasing a functioning forklift and you may not be thinking about spare parts and maintenance.
Consideration should be given to cost and availability of spare parts for your forklift when making an initial purchase.
There should be no issues or delays in obtaining common spare parts for repairs and maintenance. Issues with the supply can be costly to operations not only financially but also in lost productivity if your forklift is unable to be operated whilst waiting for spare parts to become available.
Adaptalift Group's national branch network keeps a core inventory of spare parts for all our major forklifts brands within each branch's parts department.
We also have a large central parts DC where we keep a large range of genuine and high quality after-market parts allowing us to supply spare parts to our service technicians and customers without delay.
5. Future Capacity and Productivity Forecasts
When purchasing future handling needs are often overlooked.
Due to the high cost it is imperative that you try and future proof your forklift as much as possible to be able to meet any increase in your handling needs.
If the average load being lifted is currently 1.8T and you purchase a 2T forklift, however during a peak period of operation your average load weight increases to 2.5T then your forklift isn't rated to lift loads of this weight meaning you either have to lower your average loads weight which can lead to inefficiencies and loss of productivity or purchase a new high capacity forklift.
In the above scenario with correct planning a 3T forklift could have been purchased originally to lift loads in both peak and off-peak times.
To avoid overlooking the common considerations outlined in this week's blog we recommend conducting prior research to have a full understanding of your materials handling needs now and into the future.
Create a detailed checklist of your desired features and on-board technology required to present to your forklift dealer when beginning the purchase process so you are shown units that will meet your needs.
Prepare a detailed list of any questions you may have for your forklift dealer regarding your purchase. Your dealer should always be willing to provide answers or clarification on any questions you have regarding the unit's features and abilities and/or the purchase process.
Contact your nearest Adaptalift branch and talk to one of our experts to make an informed decision when purchasing your next forklift.
Affordable forklift options
Get in touch with Adaptalift for a range of affordable forklift options. We have electric forklifts available for sale along with a range of other machines and equipment types. Our team also provides cost-effective rental services on short or long-term plans. Contact us to find out more about how we can help.