Forklifts for Tight Spaces – What are your Options?
With warehouse rents in Melbourne increasing by 5.5% in 2019, retailers and owners are looking to maximise the amount of usable warehouse space in their existing facilities.
One way this is occurring is by reconfiguring warehouse setups with narrower aisles and adopting the use of a wide variety of specialist very narrow aisle (VNA) materials handling units.
VNA units are able to operate in smaller width aisles compared to standard units, allowing for the reclaimed space to be filled with additional stock.
This week's blog highlights some of the key narrow aisle materials handling units available from Adaptalift Group.
Combilift WR
Unit Type: Walkie Stacker
Lift Capacity: 1,450kg
Max Lift Height: 6,100mm
The WR from Combilift is a purpose built battery electric pedestrian reach stacker that is able to operate in very narrow aisle of just 2.1m wide.
The units patented multi-position tiller arm allows the operator to stand to the side of the unit whilst operating in aisles rather than being stuck between the unit and racking, thus greatly increasing visibility of goods and lifting operations whilst reducing the risk of accidents occurring in confined space.
An additional advantage of the pedestrian walkie stacker is no license is required to operate the unit.
This allows any properly trained staff member to operate the unit without having to undergo a license test.
Liftsmart WRT15
Unit Type: Walkie Reach Stacker
Lift Capacity: 1,500kg
Max Lift Height: 6,000mm
The WRT15 from Liftsmart is an ergonomic and highly secure battery electric walkie reach stacker specifically designed and engineered for light to medium warehouse lifting duties.
The unit is able to safely operate in aisles with a width minimum width of 3.1m wide.
The unit's unique aisle assist technology that allows operators to stand to the side of the unit whilst moving loads in and out of racking provides greater operator safety by allowing operators a clear view of the tynes when lifting loads.
The unit's aisle assist feature makes it ideal for operating in confined warehouse spaces.
Just like the aforementioned WR walkie stacker there is no license requirement for operation of the WRT15.
Aisle-Master
Unit Type: Articulated Mast Counterbalance Forklift
Lift Capacity: 1,500 – 2,500kg
Max Lift Height: 15,000mm
The Aisle-Master is an advanced VNA articulated forklift, able to operate in aisles as narrow as 1.6m wide.
Units are available in either battery electric or LPG models.
The mast is able to articulate left, right and straight ahead independently of the counterbalance body allowing seamless stacking to occur on either side of an aisle, thus increasing available storage space by up to 50%.
Yale VT Series
Unit Type: 3 Wheel Battery Electric Forklift
Lift Capacity: 1,500 – 2,000kg
Max Lift Height: 6,075mm
The VT series of 3 wheel battery electric forklifts from Yale are high performance energy efficient forklifts for light to medium duty warehouse applications.
As the unit operates only on 3 wheels it has a smaller turning radius than its 4 wheel counterparts.
The VT turning radius range from 1,479mm for the small 1.5T model through to 1,685mm for largest 2T model make the VT series ideal for maneuvering pallets of good in small confined spaces where storage space is at a premium.
Depending on the model of forklift in operation it can operate in aisles with minimum widths from 3.2 and 3.4m wide.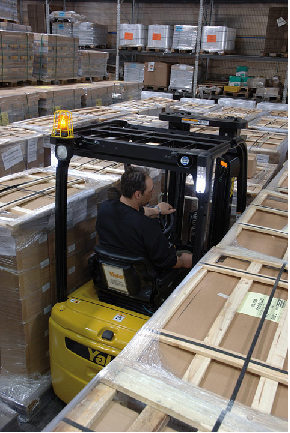 Yale MR1.4-2.5
Unit Type: Reach Truck*
Lift Capacity:* 1,400 – 2,500kg
Max Lift Height: 12,650mm
When space is limited and expanding a warehouses footprint across the ground, an option is to expand and utilise available vertical space by adding more racking on top of existing.
Reach trucks are the ideal materials handling solution for warehouses that are expanding vertically.
Depending on the model being operated MR reach trucks are able to operate in aisles as narrow as 2.8 to 2.9m wide.
With its outer legs able to distribute the weight of heavy loads reach trucks are able to lift loads considerably higher than standard forklifts and pedestrian stackers.
The units single set of wheels allow it to have a small turning circle making it an ideal solution for operating in confined narrow spaces.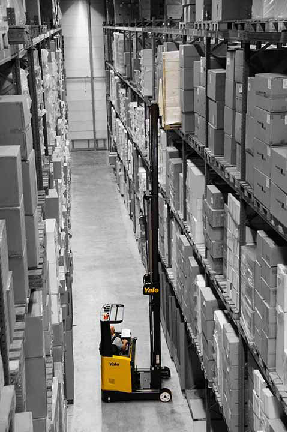 Yale MTC10-15L
Unit Type: Turret Truck
Lift Capacity: 1,000 – 1,500kg
Max Lift Height: 17,000mm
The MTC10-15L turret truck from Yale is a VNA solution that allows the carriage and tynes rotate 180 degrees allowing for the easy picking of items in narrow aisles between 4.2 and 4.8m wide.
The carriage and tynes move independently of the truck itself.
Similar to reach trucks turret trucks are ideal solutions for applications where vertical storage space is being maximised and pallets need to be lifter
efficiently and safely high up.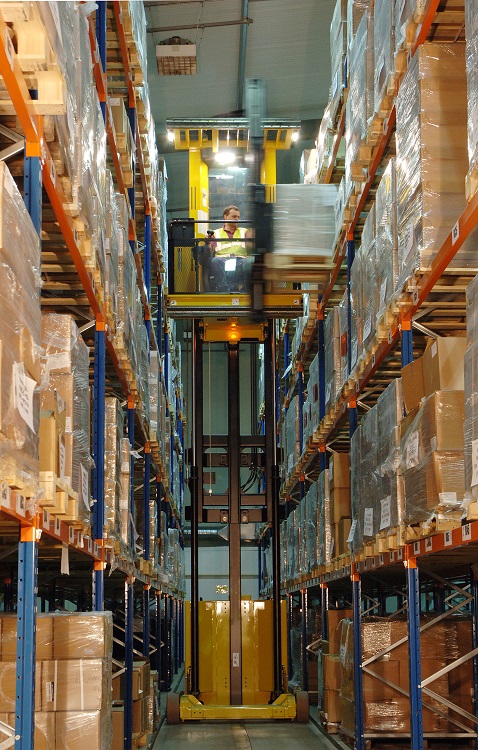 For further information or assistance in maximising your warehouse footprint and vertical storage space by finding the best narrow aisle forklift solution for operating in your tight spaces contact our team on 13 22 54 or email us.
Reference List

Schlesinger, L. (2020). Industrial yields hit record low of 5.8pc, but rents flat. [online] Australian Financial Review. Available at: https://www.afr.com/property/commercial/industrial-yields-hit-record-low-of-5-8pc-but-rents-flat-20190805-p52dva [Accessed 17 Feb. 2020].