Forklifts for the Steel Industry
Steel manufacturers, fabricators and suppliers regularly lift and transport heavy and long loads such as structural steel beams.
Due to the size and weight of loads it can often be harder to manoeuvre them around a supply yard, onto transport or on a job site.
This week's blog looks at specialist forklifts and materials handling units that allow for the easy and safe movement of steel products.
Combilift WR4 Pedestrian Stacker
The WR4 pedestrian stacker from Combilift is an economical and safe option for lifting and handling long loads such as steel in tight spaces.
With lift capacities from 500kg to 16,000kg, the unit offers versatility to operate both indoors and outdoors when necessary.
The units boasts Combilift's patented tiller handle technology engineered to provide improved operator safety, providing them with a clear unobstructed view of the tynes during lifting and retrieval operations from beside the unit whilst still being able to drive the unit into racking to pick-up or set down loads.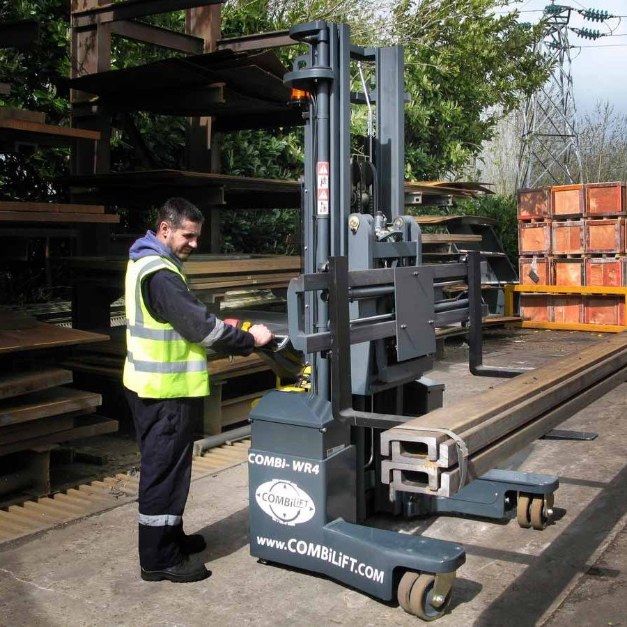 Combilift C-Series Multi-Directional Forklift
Combilift's C-Series multi-directional forklift provides operators with the versatility of three machines in one a side-loader, counterbalance or narrow aisle forklift.
Unit lift capacities starting at 2,500kg up to 25,000kg allow units to lift and transport even the heaviest and longest steel loads.
This enhanced versatility eliminates costly double handling of steel loads whilst improving productivity and improving workflow.
The unit's revolutionary 4-way movement allows for quick changing of its wheels direction to enable it to transport long loads of steel through narrow doorways with confidence and the utmost safety.
Combilift CB Series Multi-Directional Forklift
The CB series is a small and manoeuvrable all-round forklift, ideally suited to lifting and transporting a diverse range of steel products including long loads of steel beams with a load carrying capacity of 2,000kg up to 4,000kg.
The unit's low profile and compact design make it the ideal candidate to load and offload steel products from trucks and deliver it directly to production lines or safely store it away in narrow aisle racking without having to transfer to another materials handling unit.
The units 4-way steering allows for quick transitioning of the wheels to allow the unit to travel sideways down narrow aisles, greatly increases the amount of racking able to be installed in a space for storing the long steel products.
Combilift Straddle Carrier
The ultimate materials handling solution for oversized and heavy steel loads is the Combilift Straddle Carrier. The units can be customised to meet specialist lifting and transport applications from 35,000kg up to 125,000kg.
The Straddle Carrier is able to seamlessly load, transport and unload long and heavy loads such as steel beams from the bed of a truck or the factory floor with its unique ability to drive directly over the load and then use suspended chains from its undercarriage to have the load safely attached for transport and then unloaded at its destination.
The units increased manoeuvrability and light footprint coupled with its high level of customisation make it the ideal materials handling solution for the commercial steel industry.
Hyster's XM Series Heavy Duty Forklift
Hyster's XM series of heavy duty forklift are designed to provide maximum productivity in heavy duty lifting applications.
Powered by Cummins diesel or LPG engines the forklifts are ideally suited to lifting large and heavy steel loads with the benefit of rugged design to operate in outdoor environments such as supply yards.
Units are manufactured with heavy duty vista masts providing superior mast strength for lifting heavy loads.
The Vista mast also provides superior operator views reducing the risk of picking up a load incorrectly as the operator is able to make minute adjustments based on what they see from the cabin.
Units are equipped with a large counterweight providing optimal stability when lifting and transporting long and heavy loads.
The unit's large lifting capacity of between 8,000kg and 16,000kg allow it to lift even the heaviest steel loads.
Units are able to lift heavier loads higher with no reduction in safe lifting capacity up to a lift height of 6.2m, whilst at lift heights above this the unit lift weight de-ration has been kept to a minimum.
Hyster's FT Forklift Series
Hyster's FT series of cushion tyre forklifts have lift capacities between 6,000kg to 7,000kg.
Units can be highly customised based on their application offering superior performance whilst lifting heavy steel loads.
The ability for the unit to be fitted with a wide variety of attachments increases its load handling versatility. Accessories may include clamps or poles to allow the unit to carry coils of steel cable.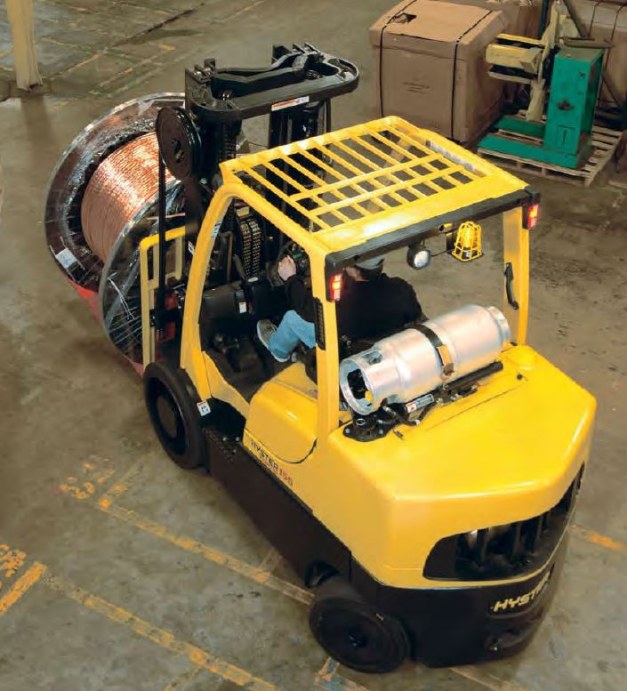 To find out further information on the best materials handling solution for your steel operation contact our team on 13 22 54 or send us an email.