Flameproof Forklifts
For companies whose forklifts operate in hazardous environments, Adaptalift Group with our partners are able to supply a range of flameproof forklifts to lower the risk of ignition whilst increasing overall safety.
This week's blog provides a general overview of flameproof forklifts.
Hazardous Environments
Some examples of hazardous environments forklifts may need to operate include areas with:
Fine and combustible dust particles such as sawdust, grain or dry organic residue
Gases such methane which can be common around sewerage treatment plants or paint fumes at production facilities
Cylinders containing flammable liquids and gases such as

LPG

and propane cylinders
Flammable liquid and gas dispensing equipment such as petrol bowsers
Classifying Hazardous Environments
Areas containing hazardous materials mentioned above are classified according to two criteria the area in which the materials are handled and the ventilation conditions in the area.
Under Australian standards ASNZ60079.10.1 (for explosive gas) and ASNZ60079.10.2 (for combustible dust) five zones have been created to categorise areas and the amount of potentially harmful hazards are present.
Zone 0 – area where a flammable atmosphere is present continuously, for long periods or frequently
Zone 1 – area where a flammable atmosphere is likely to occur as part of normal operations
Zone 2 – area where a flammable atmosphere is not likely to occur as part of normal operations, but if it does occur it will exist only for a short time
Zone 21 – Combustible dust present
Zone 22 – Combustible dust present as a secondary source
No traction vehicles are allowed to operate in areas classified as zone 0, thus eliminating forklifts from operating in these areas.
Forklifts that are required to operate in areas classified as zone 1 or 2 must be manufactured or retrofitted by a qualified technicians or company to be flameproof.
Flameproofing a forklift eliminates all potential sources of ignition on the unit, eliminating the potential for the forklift to ignite any combustible hazard in the area it is operating.
How is a forklift flameproofed?
Due to their requirement for spark ignition LPG and petrol forklift models cannot be used in areas of flammable atmospheres.
Battery electric and diesel forklifts are able to be fully flameproofed to allow them to operate in zone 1 and 2 classified areas.
Some of the key differences of a flameproofed forklift compared to a standard forklift are listed below:
All electrical systems are enclosed or are made intrinsically safe
On diesel powered units Electric gear mechanisms are typically replaced with hydraulic or pneumatic alternatives
Standard forklift lighting and alternators and batteries are replaced with intrinsically safe options
Factory Electric Starter motors are removed and replaced with air start system or Exd electric starter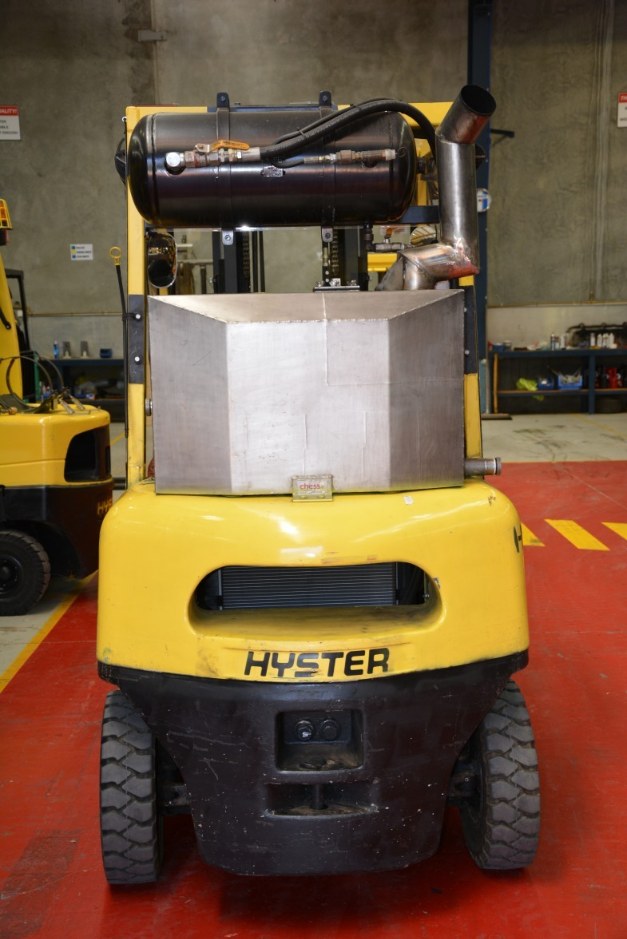 A scrubber tank or a dry system is installed to capture any exhaust gases and removes all sources of ignition (for diesel units only)
A flametrap is installed on the inlet manifold to prevent any backfires from causing ignition
Sticker identification is attached to clearly display that the forklift is able to operate in a particular hazard zone safely
Cabin can be fully enclosed with

PVC

to protect operators from hazardous dust and materials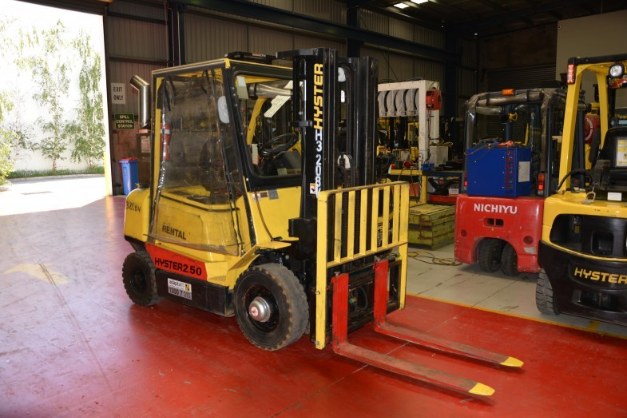 For more information on flameproof forklift options available through Adaptalift Group contact our team on 13 22 54 or send us an email.