4 Changes to Improve Warehouse Efficiency
Improving efficiency in a warehouse can have several benefits to a company's operations and bottom line.
Optimising warehouse operations and efficiencies may:
Increase stock capacity
Decrease handling speeds
Increase overall safety
Decrease operating costs
Increase staffing efficiency
In this post we briefly examine four key changes that can lead to improved warehouse efficiency and how Combilift's innovative Aisle-Master narrow aisle articulating forklift range can assist with improving efficiency in warehouses.
1. Do more with less
Reviewing how a business transports goods around a warehouse is one way to increase warehouse efficiencies whilst also potentially reducing running costs and expenses.
An example of doing more with less is rather than having separate counterbalance forklift to unload goods from trucks and then having a narrow aisle unit to put the goods away in narrow pallet racking, efficiency can be greatly increased by purchasing and utilising a single unit that is able to complete the full move such as the Aisle-Master narrow aisle forklift from Combilift.
The versatile Aisle-Master has been specifically designed to replace multiple forklifts for more efficient offloading, handling, and storage of goods.
It can operate as a counterbalance forklift for offloading trucks in the outdoor yard, transporting the load into a narrow aisle vertical warehouse racking, replacing conventional reach trucks which need greater working areas.
Using a single forklift greatly increase productivity as it eliminates time consuming double handling and speeds up truck to rack operations.
Reducing the number of forklifts in a fleet can also reduce capital and maintenance costs as less forklifts need to be purchased and there are less units that require maintaining.
2. Consider Alternative Fuel Types
With the increasing costs of some fuels like petrol and diesel companies may look to reduce their energy costs.
Companies may consider switching their forklift and MHE fleets to electric powered, electricity for charging units may be considerably cheaper than other fuels.
With the latest advancement in battery technology battery electric forklifts have major performance benefits including improved acceleration with lower maintenance costs.
3. Optimise Racking Design and Layout
Another way businesses can improve warehouse efficiency is by selecting the most appropriate racking design that allows them to store the most goods whilst utilising as much available warehouse space both vertical and horizontal.
To assist in the optimisation of warehouse racking businesses can utilise narrow aisle and high reach forklifts and MHE.
Narrow aisle units allow for more racking to be installed for higher storage levels, whilst high reach units allow for the better utilisation of vertical storage space.
Their articulating mast allows Combilift's Aisle-Master forklift to safely operate in aisle widths of just 1.75m, this is much narrower than the aisle widths required by standard counterbalance forklifts that have significantly larger turning circles.
The Aisle-Master also comes with a maximum lift height of up to 15m, this high reach mast allows businesses to fully utilise the available vertical storage space in a warehouse by extending their racking design upwards.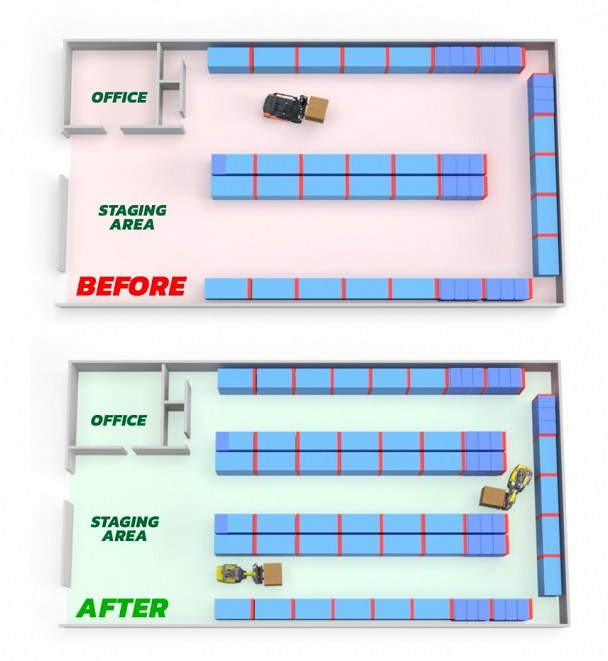 4. Optimise Material Flow and Order Picking
Examining the flow of goods through a warehouse can provide great insights to businesses of efficiency improvements.
A simple way to examine goods flow is to follow the movements of a pallet from unloading to being stored in racking and then from the racking to being dispatched out of the warehouse.
Businesses can then consider the location of elements such as receiving and racking to ensure they are situated to allow the best handling times with the minimum number of movements.
Grouping stock by their demand and placing them accordingly with high demand items being placed closer to the start of picking areas and in easily identifiable and accessed areas within racking will allow the quick and efficient picking of orders as staff don't have to travel as far to retrieve goods or spend extra time trying to find the goods amongst the racking.
The new Aisle-Master order picker is highly recommended by warehouse operators and workers for increasing picking efficiency.
The battery electric stand-on unit combines the narrow aisle operation advantages of the standard Aisle-Master counterbalance forklift with an order picker.
With a lift capacity range beginning at 1,500kg up to 2,500kg and lift heights of up to 12m, the Aisle-Master OP can operate in aisles as narrow as 1650mm while allowing order picking from either side.
The low floor height of just 280mm (11") enables convenient, single step access from both sides of the truck which speeds up order picking compared to the operator having to get in and out from a seated position.
The OP makes easy work of order picking in warehouses and turns storage space into a profit zone and can help you optimise your racking layout by reducing aisle widths and maximising vertical storage space.
Implementing some or all the changes mentioned in this post can greatly increase warehouse efficiency.
Our experienced sales team can conduct site visits inspecting your warehouse layouts and materials handling fleets to provide recommendations and assist with improving efficiencies.
Book a site visit by contacting your nearest branch within our network on 13 22 54 or submit an online enquiry and we will respond as soon as possible.
 
Reference List

Warehouse Efficiency Challenge: 10 ways to improve today: Aisle Master (2021) Aisle Master | Forklifts to Increase Warehouse Storage. Combilift Ireland. Available at: https://aisle-master.com/is-an-electric-forklift-right-for-your-operation/ (Accessed: November 11, 2022).