Combilift Launches New Aisle-Master Order Picker
"Customers already using the Aisle Master for space saving, storage and efficiency in their warehouse asked if we could redevelop the Aisle Master to meet their ever-growing demand for order picking customised orders", said Combilift CEO Martin McVicar.
In response to extensive feedback from customers and the significant growth in e-commerce, Combilift has launched the new Aisle-Master Order Picker, a stand-on battery electric powered model of the industry leading narrow aisle forklift.
The new OP model combines all the advantages of a narrow aisle articulated forklift with an order picker for versatile operation across warehousing and logistic operations.
The OP Aisle-Master is available in lift capacities of 1,500kg to 2,500kg with mast configurations providing lift heights ranging from 4,300mm – 12,100mm.
In this week's blog post we look at some of the highlights of the new OP Aisle-Master and the benefits it can bring.
Easy Convenient Order Picking
The new order picker Aisle-Master articulated forklift is specifically designed for operation in the narrow aisles of warehouse and logistic operation.
It allows easy movement through narrow aisles for order picking on both sides.
The operator cabin floor height is just 280mm enabling safe and convenient single step access from both sides of the forklift, speeding up order picking when compared to the operator having to enter and exit from a seated position.
Increased Versatility
The new Aisle-Master OP increases the versatility of forklift fleets as not only can it be used for order picking down narrow aisles, the unit retains all the key innovative features of the conventional Aisle-Master forklift.
The unit is able to operate as a conventional counterbalance forklift both indoors and outdoors for loading, unloading and stock replenishment when order picking is complete
Increased Convenience and Efficiency
The Aisle-Master chassis and mast are manufactured with high quality robust materials ensuring the forklift is able to withstand heavy duty use.
The forklifts multifunctional programmable joystick control lever that controls both the unit's hydraulics and traction is easily adjustable to enable comfortable and ergonomic working conditions for operators of all heights.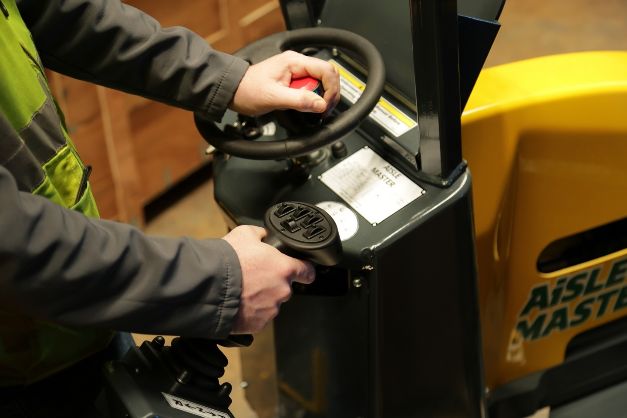 Increased Safety
Improving safety for the operator and those working in the surrounding areas the unit's operator cabin floor is fitted with an operator presence detection floor pad.
The pad automatically engages the forklifts park brake when the operator steps out of the cabin leaving the truck to carry out picking.
This safety feature will prevent the unit from unexpectedly rolling or moving whilst the operator is leaving the cabin potentially rolling over their feet or potentially hitting any racking, other employees or good working in the surrounding area.
Narrow Aisle Warehouse Design
The most significant and innovative feature of the Aisle-Master forklift is its articulated design that allows it to operate in aisle widths as narrow as 1,650mm.
The narrow aisle width allows more racking to be installed in warehouses to be able to store increased levels of valuable stock, turning previously dead space of wider aisles needed for standard counterbalance forklifts into a profit zone by optimising warehouse racking layouts from the reduced aisle widths.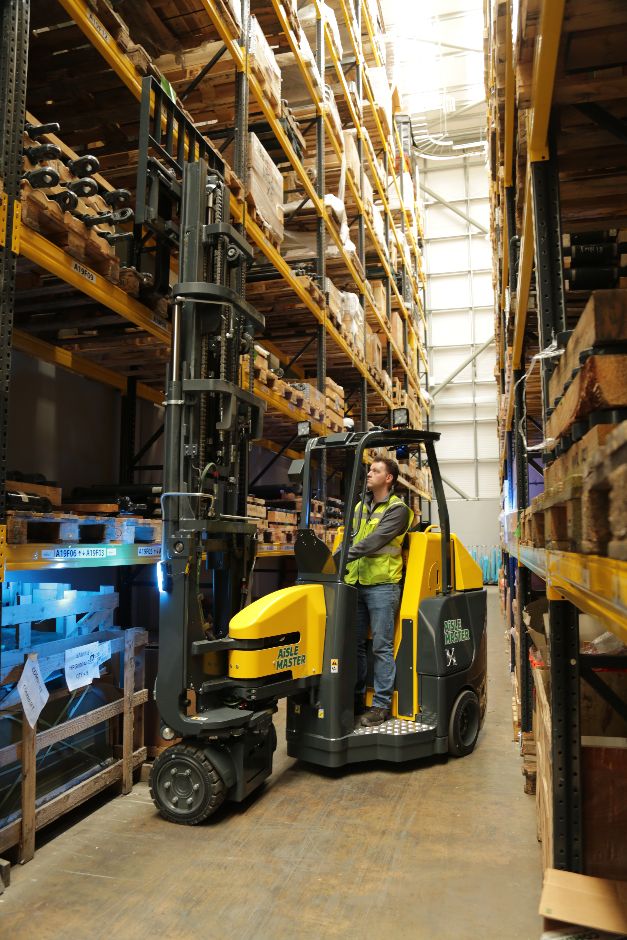 The new Aisle-Master OP model is another major innovative and versatile narrow aisle forklift and order picker developed by Combilift.
The unit is the ideal materials handling solution for multiple applications including: narrow aisle operations, truck to rack handling, bulk picking and individual custom order picking.
To discuss how your warehouse or 3PL operations can benefit by adopting the new Aisle-Master OP contact our team of Combilift experts on 13 22 54 or fill-out a contact form and we will reply as soon as possible.