How to Safely Move a Disabled Forklift
In last week's post discussing why forklifts can't be used to tow trailers and other equipment it briefly discussed why some units are fitted with a tow coupling, pin, or hitch under their counterweight.
This tow point is built into forklifts not to allow them to tow equipment but to be safely towed short distance to a convenient repair location or winched onto a transport truck in the event the unit becomes disabled.
In this post we list safe towing instructions as specified by the AFITA for moving a disabled forklift and briefly examine some safety precautions that must be observed when moving the unit.
Towing a Disabled Forklift Safely
The forklift towing instructions described in this post are prescribed by the AFITA and MUST only be used for one of the following reasons:
Moving a disabled forklift at low speed, to a convenient location on-site where repairs can be completed
Winching a disabled forklift onto a transport truck to be taken to a place of repair.
There are some critical things to consider before attempting to tow the disabled forklift including:
Consult the forklift

OEM

manual instructions for towing a disabled forklift as some units have special requirements for towing such as electric park brakes must be released
Inspect the tow chain or bar to ensure it is in good condition and has enough strength to complete the tow
The forklift selected to tow the disabled forklift should be at least as large as the disabled unit, it must be inspected to ensure it has enough brake capacity, weight, and power to control both forklift for the grade and distance involved
Instructions for Towing a Disabled Forklift
Carry out a risk assessment of the towing situation including the surrounding area, other workers and the equipment involved in the tow
Inspect the counterweight securing bolts to ensure they are in position and securely installed on both forklifts. Inspect the towing pin using only the pin supplied with the forklift
Block disabled truck wheels so that the forklift cannot accidently roll free
Securely fasten the tow chain or bar to both the disabled and towing forklifts
Release the parking brake so that the disabled forklift can move freely when towing begins
Check that the service brake pedal has been released so that the disabled forklift can move unimpeded during towing
Ensure the key switch is in the off position and that the direction control lever is in neutral
Double check the tow chain or bar is properly and securely connected and the disabled forklift has been setup correctly in preparation for towing
Remove the wheel blocks before towing is to commence
Tow the disabled forklift slowly without exceeding a speed of 2km/h
Safety Precautions for Towing a Disabled Forklift
The AFITA provides several safety warnings and precautions to ensure the safety of staff involved in the towing of a disabled forklift.
Some of these warnings and precautions include:
Do not allow an operator on the disabled forklift being towed unless they are steering and/or braking can be controlled
Connect the tow chain or bar as low as possible on the disabled forklift that is being towed
Keep the tow chain or bar angle to a minimum. Do not exceed an angle of 30 degrees from the straight-ahead position
Sudden forklift movements can overload the tow chain or bar and cause it to break. Gradual and smooth movements should be used when towing the disabled forklift
Towing should only be undertaken on a level surface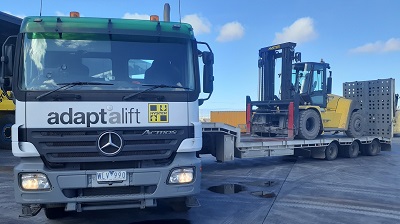 Forklift Repairs and Servicing
Adaptalift Group are experts in forklift repairs and servicing, with over 200 fully equipped service vans and 19 service centres Australia wide we guarantee industry leading response times.
Our fully accredited and highly experienced technicians have over 30 years of experience repairing, and servicing all makes and models of forklifts.
Customers can be assured that Adaptalift technicians are experts and will keep their forklifts running in optimal condition at all times through routine maintenance and can promptly repair any major faults in a timely manner causing the least amount of disruption to business operations.
Forklift Rentals and Sales
Is your forklift temporarily disabled or are you looking to permanently replace a disabled forklift?
Adaptalift Group has a wide range of forklift rental and sale solutions available nationwide to fill any void in your businesses materials handling fleet.
Contact one of our sales or rentals specialists to find the ideal temporary or permanent replacement for your disabled forklift on 13 22 54 or complete a contact form.
Reference List
2010. Engineering Technical Bulletin: Towing & Forklift Trucks Guidance Paper. [ebook] Australian Forklift & Industrial Truck Association, pp.1-2. Available at: [Accessed 1 March 2022].
Disclaimer: The information contained in this blog is for general information only and is not intended as being an authoritative and in compliance with relevant legislation. Every workplace is different and you should always obtain your own professional and legal advice in relation to the steps necessary to make your site compliant with relevant legislation and to protect your business and its employees.
AALG

makes no warranty or representation that the information in this blog is appropriate for your business and accepts no responsibility for any reliance on the information given in this blog.