How to Safely Use a High Pressure Cleaner
As a national distributor of the complete range of industrial cleaning equipment from industry leading manufacturer Kärcher, Adaptalift Group has a large range of high pressure cleaners suitable for a wide variety of applications.
In this week's post we describe eight simple steps on how to safely use a high pressure cleaner along with some helpful tips to keep in mind when pressure cleaning.
Kärcher High Pressure Cleaners
Karcher's wide range of high pressure cleaners range in size from cost effective compact units ideal for at home DIY cleaning of driveways and cars up to large-scale commercial sized units for cleaning on industrial scales such as industrial vehicles and buildings.
Cleaners are available in electric, petrol and diesel models to provide the required pressure for simple up to intensive cleaning applications.
Cold water pressure cleaners are ideal for basic cleaning tasks such as blasting away dirt, hot water pressure cleaners are ideal for more intensive cleaning applications thanks to the addition of heat increasing the reaction speeds when mixed with detergents for faster and more effective cleaning.
In addition to the full range of pressure cleaners Adaptalift Group also supply leading accessories including Karcher's patented detergents and EASY!Force ergonomic trigger gun.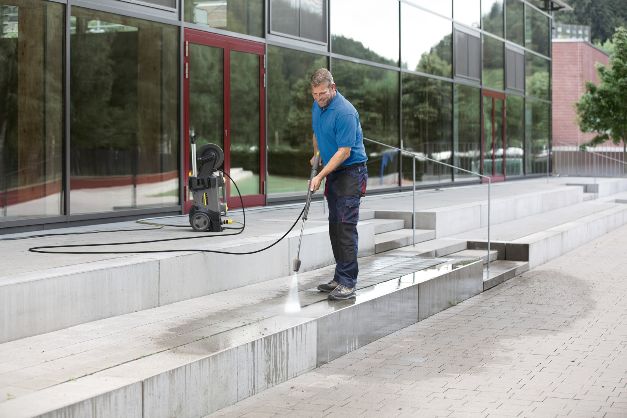 How to Use a High Pressure Cleaner
1. Prepare the Area
Before any cleaning takes place it is important to prepare the area that is going to be cleaned.
Preparations may include:
Removing any potted plants, furniture, bikes and toys so they can't be damaged by the high pressure water jet
Optionally cover unmovable plants or landscaping so they aren't damaged by the high pressure water jet
Sweep away any large dirt, debris or rocks that could become projectiles when hosing
Take note of any outlets, windows or vents in the cleaning area
2. Select the Correct Pressure Washer and Accessories
Decide the level of pressure that will be required to satisfactorily complete your cleaning to match the correct pressure cleaner to your job.
Using an under-powered cleaner may result in an inferior clean whilst also taking longer to complete, an over-powered cleaner may do permanent damage to the cleaning area which can be an expensive mistake.
Pressure cleaner manufacturers such as Kärcher also produce a variety of accessories to use in conjunction with their cleaners such as trigger guns and detergents.
For areas where hygiene is paramount using detergents provide a more hygienic clean.
3. Attach Water Hose
Connect the pressure cleaner unit to its water source via garden or industrial hose depending on availability and the area being cleaned.
Securely connect one end of the hose to the home or area water supply
Securely connect the opposite end of the hose to the pressure washers inlet
Double check both ends are connected properly to ensure they don't come loose when cleaning
4. Start-up Pressure Cleaner
Once a water source has been securely connected you can turn on the pressure cleaner to begin testing and adjusting the water pressure.
For electric pressure cleaners the power cable needs to be plugged into a power outlet and then turned on.
For petrol and diesel model pressure cleaners' manufacturer's instructions should be followed to prepare and start the cleaner, this may include:
Adding the correct oil and fuel to specification
Open up the fuel valve, switch on the cleaner or set choke lever to 'start' and then pull the lever and let the unit run for 10 seconds
Move the choke into the run position
5. Check and Adjust Water Pressure
Once the water supply is connected to the pressure cleaner turn on the water and test out the chosen nozzle by squeezing the trigger.
Start testing on the lowest pressure to avoid potential kickback when pulling the trigger
Squeeze the trigger for approximately a minute to let out any excess air caught in hoses
Release the trigger and adjust the water pressure until it reaches a safe level for cleaning to commence
6. Carry Out Cleaning
With the pressure cleaner operational and set to the correct pressure carry out cleaning the area or object.
For an even clean it is recommended to clean using a grid pattern.
Start cleaning at the top and slowly move down side to side.
A wide spray equals a faster cleaning as more area is cleaned at once, whilst a tighter spray provides a more thorough clean as more water is concentrated on a smaller area.
It is recommended to hold the tip of the nozzle at least 10cm away from the surface being cleaned.

7. Turning off Pressure Washer after Cleaning
Once cleaning has been completed the pressure cleaner needs to be safely turned off.
Release the trigger of the cleaning gun and turn on the safety lock if applicable to prevent any accidental spraying or start-ups
Turn off the water source
Do not detach the hose from the cleaner straight away, pressure will still be built up and could cause injury if not depressurised before detaching
Turn off any safety locks and pull the trigger on the cleaning gun to remove any excess pressure and water
8. Detach from Water Source
Carefully disconnect water source hoses from the pressure cleaner's water inlet, the hose can also be disconnect from the tap to be put away for storage.
Store the pressure cleaner and accessories in a clean, dry indoor area.
Pressure Cleaning Tips
Keep these tips in mind when you're next pressure cleaning:
Always position the pressure cleaner on a flat surface
A wider spray equals faster cleaning, while tighter spray equals deeper cleaning
Avoid spraying windows and be sure to spray away from exterior lighting and fixtures
Never pressure wash whilst standing on a ladder, high pressure may cause you to lose your balance and fall off
Always wear safety goggles, closed-toe shoes or boots and other

PPE

when cleaning
Never use a petrol or diesel powered cleaner in an enclosed space as fumes from the cleaner will build up to unsafe levels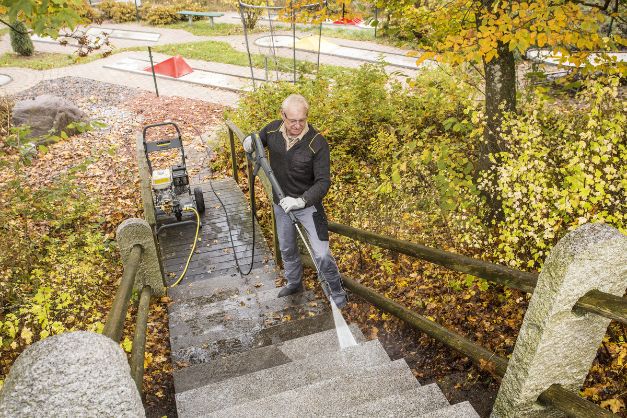 Adaptalift Group offer the most competitive prices on the full range of genuine Karcher industrial cleaning equipment, EASY!Force trigger guns and other accessories.
Contact one of our Kärcher product specialists on 13 22 54 to find the ideal pressure cleaner for your application.