Largest Manufactured Combilift C-Series Forklift Increases Safety and Efficiency
Combilift Ireland recently delivered the largest custom specification manufactured 30T C-Series Forklift to BladeRoom's factory in Gloucestershire, England.
As a manufacturer of modular data centres BladeRoom was looking for the safest and most efficient way of handling server room components as well as the finished data centre modules that are comparable in size to a shipping container and weigh up to 19T each.
BladeRoom are no strangers to the Combilift C-Series already owning the previous largest manufactured C-Series forklift from 2010 that is still in operation at their Mitcheldean factory.
In this week's post we briefly look at some of the advantages of the Combilift C-Series multi-directional forklift that contributed to BladeRoom choosing it as their materials handling solution of choice.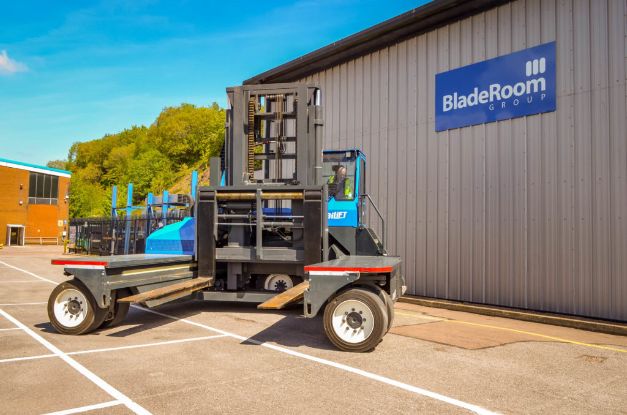 Large Range of Lift Capacities
The smallest unit in the C-Series is capable of lifting and transporting up to 2.5T efficiently and safely.
Currently the largest standard manufactured model is capable of lifting and transporting up to 25T, with models in between 2.5T and 25T providing a C-Series unit to lift long loads of any weight.
Beyond the standard manufactured lift capacities Combilift are also able to design and manufacture custom forklifts with increase lift capacities such as the world's largest 30T C-Series for BladeRoom.
Increased Storage Space
The Combilift C-Series unique 4-way steering system allows the forklift to travel sideways with long loads down or through narrow aisles and doorways.
The unit's ability to travel down narrow aisles sideways means aisle widths can be narrower allowing storage space to be reclaimed.
The reclaimed space is able to be better utilised with the installation of more racking to store larger amounts of profitable products.
The C-Series advanced steering system provides operators with a higher degree of unit control allowing safe and precise movements in the confined spaces of narrow aisles or through narrow doorways.
Compact Design
The new 30T C-Series from Combilift is able to operate in narrower aisles due to its compact design.
Even with the largest lifting capacity of 30T BladeRooms new unit still only measures 5m x 5m with a wheel base of 3,725mm making it considerably smaller than a comparable counterbalance forklift with the required lifting capacity.
Rob Perry from HFT Forklifts Ltd (Hereford), BladeRoom's MHE consultants and Combilift's dealership in the area said:
"The sheer size of a counterbalance forklift capable of moving these structures would have taken up far too much space in the manufacturing area."
Safer Product Handling
The Combilift C-Series is specifically designed to handle long-loads safely.
It is tested to CE machinery directive and complies with ANSI/AMSE, B56.1 requirements.
When travelling with a long load, the Combilift can carry the load at a low level using the integrated platform.
This keeps the load at a low centre of gravity, which means there is greater stability compared to a conventional forklift travelling with the load lifted high.
Increased Safety
BladeRoom's customer C-Series forklift incorporates custom safety features that greatly increase safety when lifting very oversized loads.
The unit is fitted with four safety cameras including a reverse camera that is connected to two monitors inside the operator cab allowing the operator an enhanced view of the area surrounding the unit to ensure there are no people or obstructions in the way of unit movements.
The unit is also fitted with red danger zone lights so that it is clearly illuminated and all pedestrians and other equipment operators can clearly see the unit when it is lifting oversized heavy loads and not impede its movements.
A tilt indicator connected to the tynes is installed in the cab operators display so the operator knows their load is flat and not tilted which can affect the unit's centre of gravity causing a fully loaded unit to tip over potentially damaging the load or forklift.
Custom Tailored Materials Handling Solutions
Combilift know that the materials handling challenges faced by companies vary to a great degree from location to specialist applications.
They're the experts in offering customised materials handling solutions such as the one offered to BladeRoom.
They are able to specify and build the right materials handling solution to meet even the most demanding customer requirements.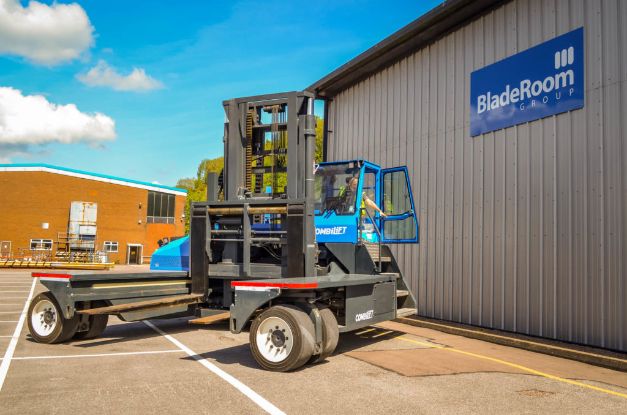 To find out more about Combilift's customised materials handling solutions or how you can benefit from the adoption of a C-Series multi-directional forklift contact one of our Combilift experts on 13 22 54 or complete a contact form and one of our experts will respond.
 
Reference List

Combilift. 2021. Largest ever Combilift C-Series forklift delivered. [online] Available at: [Accessed 26 August 2021].