Nutrien Ag Solutions Improves Safety with New Hyster Forklift Fleet
Nutrien Ag Solutions are one of Australia's largest farming and agricultural suppliers, formed out of the merger between Ruralco and Landmark Nutrien boasts over 4,000 expert staff with 400 locations nationwide.
2021 has seen Adaptalift Group support Nutrien with the rollout of their new forklift fleet to approximately 185 branches Australia wide.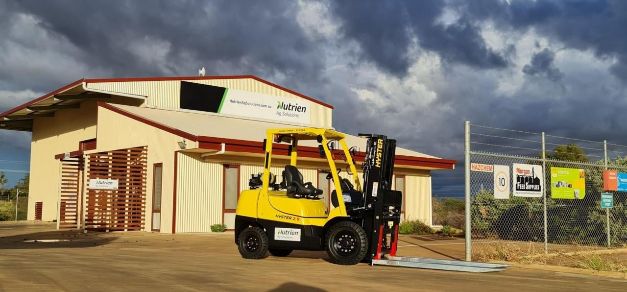 The rollout continues our long and valued partnership supplying Nutrien with class leading materials handling solutions from Hyster beyond twenty years.
Nutrien Ag Solutions Head of Safety and Risk, Richard Dovison, said forklifts offer a practical materials handling solution:
"Forklifts are used in our business every day to lift, stack and transfer loads in warehouses and branches."
Hyster's premium Japanese built XT forklifts were for the fleet renewal, with the new units offering increased safety features that aligned with Nutrien's proactive efforts to reduce employee and contractor injuries.
"The roll out of our new forklift fleet is part of our proactive efforts to reduce the number of employees and contractors getting injured, with a core focus on preventing serious injuries. The message for our teams is to do it safely, or not at all."
As part of the roll-out Adaptalift Group was able to develop and provide numerous tailored safety and productivity solutions for Nutrien including:
Advanced Bluetooth keyless entry system with newly developed mobile phone apps
Operator presence systems that prevents travel or the use of hydraulic functions when the operator is not seated with their seatbelt done up
Paperless electronic safety checklists
Class leading telemetry with the integration of the ForkTrack system on all units resulting in reduced fleet running costs thanks to real-time monitoring, control and web based reporting, operator accountability measures and performance reporting.
To assist with the national roll-out Adaptalift also produced and supplied an in-depth unit induction video that allows all Nutrien forklift operators familiarise themselves with the new technology, features and operational functions of their new forklifts.
Some of the key features each new XT forklift is equipped with to improve safety and operator ergonomics include:
Speed limiting
Improved transmission gear reduces noise
Improved capacity retention and visibility at high lifts
Reverse assist grip grab handle with auxiliary horn button when reverse driving

LED

and pedestrian awareness lights
Audible/visible operational alerts including signal lights, rotating beacons and reverse buzzer
Ergonomic seat with adjustments for fore/aft, backrest recline and suspension
Adaptalift Group CEO Steven Taylor said:
"Nutrien's new forklift fleet has increased safety and productivity when handling loads with the standard inclusion of hydraulic fork positioners.
One of the most important safety features of the new Hyster forklifts is the operator presence system which prevents travel and the use of hydraulic functions when an operator is not seated and the improved lateral stability to reduce truck lean and the risk of the forklift tipping over when cornering."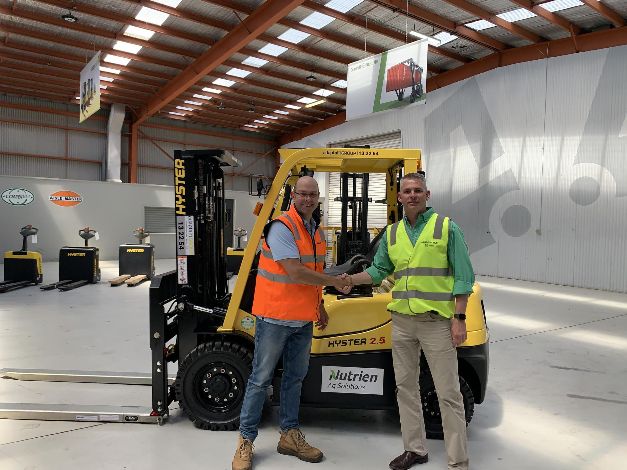 Adaptalift Group look forward to continuing our partnership with Nutrien Ag Solutions well into the future.
Reference List

Nutrien Ag Solutions. 2021. Safety first for Nutrien's new forklift fleet. [online] Available at: [Accessed 23 August 2021].