Combilift C-Series Increases Forklift Fleet Sustainability
As environmental problems such as climate change become more prominent global concerns many businesses are looking for ways to become better corporate citizens and reduce or limit the effects their operations have on the environment.
As the global e-commerce and trade continue to boom companies in the transport, warehousing and freight forwarding industries have seen dramatic increases in the demands for their services, thus they are looking for ways to reduce the environmental impacts of their operations.
For businesses that want to reduce their environmental impacts without compromising on performance the C-Series multi-directional forklift from Combilift offers four key advantages that can increase the sustainability of a forklift fleet.
The four advantages are briefly discussed in this week's post.
3 in 1 Forklift
The design of the Combilift C-Series forklift means it is 3 units in 1, it can operate as a side-loader, standard counterbalance forklift or a narrow aisle forklift.
The increased versatility of the single forklift can potentially allow businesses to drastically reduce the size of their forklift fleets as the C-Series is an all-inclusive MHE solution meaning the business doesn't have to own and operate individual side-loaders, counterbalance or narrow aisle forklifts to complete their work.
Reducing the size of a forklift fleet can have positive environmental impacts for a businesses as with less forklifts operating carbon emissions are greatly reduced.
Operating multiple types of forklifts can also have a detrimental effect on operational efficiencies as loads need to be handled multiple times by different units and operators may have to constantly change back and forth between different units.
The Combilift C-Series allows a single operator to handle a load from pick-up to drop-off safely and efficiently without double handling which can greatly increase overall productivity.
A prime example of increased productivity due to the elimination of double handling and operators needing to change forklifts is Timber importer RH Wilson who switched from a fleet of conventional side-loaders and counterbalance forklifts to a Combilift C4000.
Owner Rodney Dalton says:
"We were alarmed at the hours and manpower previously involved to locate a specific pack. With the Combilift we are down to less than five minutes per pack, which makes a huge difference when dealing with the four to seven articulated trucks that we typically load or unload every day"

Extended Operating Life
Operating high quality forklifts for their full expected operating life is another way to increase sustainability.
Rather than continually purchasing new cheaper forklifts when a unit breaks down, Combilift forklifts are manufactured using high quality components making them tough and reliable with proven longevity.
Before delivery to customer every Combilift C-Series forklift is subjected to rigorous quality control inspections and testing to ensure customers receive the best quality products that will last their full operational life without needing to be replaced.
The C-Series multi-directional forklifts are built tough allowing them to seamlessly shift between indoor and outdoor operations, completing complex tasks without damaging the unit or loads.
The use of high quality components and engineering during manufacturing lowers the unit's maintenance requirements reducing the amount of downtime the unit may experience which may negatively impact business operations.
Easy to access spare parts allows for the fast supply of units reducing the period of time a unit in inoperable to a minimum.
Optimised Storage
The C-Series greatest asset is its ability to safely transport long loads through narrow doorways and down narrow aisles, alleviating the problem of underutilised warehouse space.
When operators fail to utilise available warehouse effectively when they wish to expand and grow often their only option is to find a new larger premises unnecessarily increasing their carbon footprint.
When compared to the aisle widths required to accommodate a standard counterbalance forklifts turning circle the aisle widths for a C-Series unit can be significantly narrowed thanks to its side-way movement capabilities instantly freeing up more warehouse space to store goods or the installation of additional racking to house profitable products.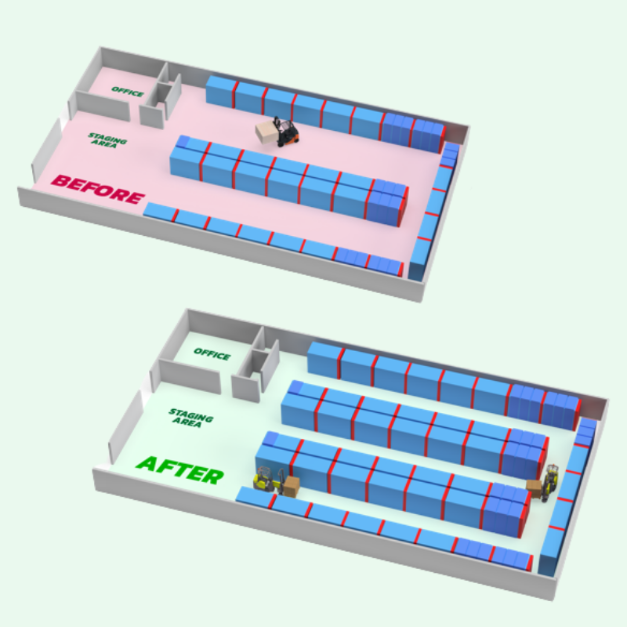 Battery Electric Power
Combilift offers the C-Series in LPG and diesel powered models as well as the more environmentally friendly battery electric models.
Battery electric models offer a more environmentally conscious materials handling solution able to safely carry a wide variety of palletised and long loads in standard and confined spaces.
Battery electric C-Series multi-directional forklifts provide optimum performance without compromising on performance when compared to their combustion engine counterparts.
They don't produce any CO2 emissions reducing greenhouse gas emissions.
Lawson's Timber Group Transport Manager David Harvey says:
"We are keen to keep emissions as low as we can for the good of the environment, and also to keep noise levels to a minimum for our neighbours in residential areas. This is definitely the way forward for us and our new orders in the pipeline at the Combilift factory are all electric models. Our drivers also like the quiet operation they offer,"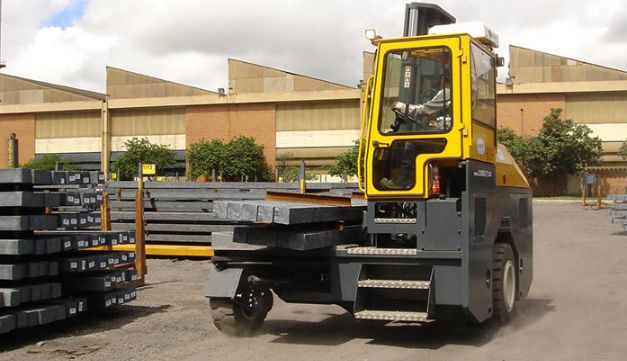 For further information on how to increase your forklift fleets sustainability with through the adoption of a Combilift C-Series multi-directional forklift contact your nearest Combilift specialist on 13 22 54 or fill-out a contact form.
 
Reference List
Combilift. 2021. What significance can our C-Series Range have on your sustainability efforts?. [online] Available at: [Accessed 2 September 2021].