How to choose the correct forklift fuel type?
One of the most important factors that needs to be considered when purchasing a new forklift is its fuel type.
The choice of a forklifts fuel type must be suitably matched to the type of job being undertaken, budget and operating environment.
The most common forklift fuel types include:
Lead Acid Battery Electric
Lithium Ion Battery Electric

LPG

Diesel
This blog lists some advantages and disadvantages of each of the above forklift fuel types listed below, to assist in selecting the correct forklift fuel type for your budget, application and operating environment.
Lead Acid Battery Electric Forklifts
Lead acid battery electric forklifts are powered by either a single battery or a fuel cell that provides power to the forklifts electric motor.
Battery electric forklifts do not emit any exhaust fumes whilst operating, thus greatly improving indoor air quality.
This can be advantageous in certain application settings such as food handling where exhaust fumes from LPG or diesel forklifts may contaminate or spoil product.
They're most commonly fitted with cushion tyres and are best suited to operate on hard surfaces such as concrete.
Advantages
More environmentally friendly and able to operate indoors due to lack of emissions
Smaller turning circle and manoeuvrability make them easier to operate in narrow aisles and spaces
Electric forklifts have a longer life span compared to other types of forklifts
Helps with communication amongst workers by providing a low level of noise
Low centre of gravity – more stability at greater lift heights
Simplistic and user friendly operator controls
Disadvantages
Batteries take 8 hours to recharge plus another 8 hours to cooldown, for around the clock operations expensive spare batteries will need to be purchased to prevent downtime
Longer downtime when changing batteries
Additional costs will be incurred as a suitably sized and well ventilated battery recharge station will need to be built to keep batteries in optimum condition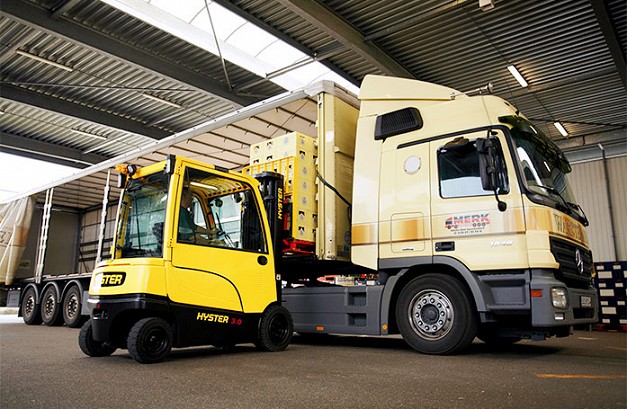 Lithium Ion Battery Forklifts
Lithium Ion battery forklifts are the new innovative technology.
The adoption of the new technology is increasing rapidly as they have many advantages over traditional lead acid battery forklifts.
They supply consistent power to the forklift with quicker charging times and less maintenance.
Advantages
Lithium Ion batteries deliver consistent power and voltage throughout a full charge compared to lead acid batteries that deliver declining power rates over the shift as it loses charge
Faster charging speeds with no cooling down period increases productivity especially for multi-shift operations
Lithium Ion batteries can be opportunity charged throughout a shift whenever the operator goes on a break instead of having to complete time consuming battery changeovers
Lower costs as less batteries are required to be purchased with one lithium ion battery able to replace up to three lead acid batteries
Lower auxiliary costs as they eliminate the need for additional storage space for a battery charging room to charge and store additional lead acid batteries
Maintenance free batteries as they do not require watering, equalising or cleaning
Disadvantages
High up-front costs of new technology may be a barrier to purchase for smaller operations
Need for increased monitoring via additional battery management systems to allow accurate monitoring state-of-charge current, voltage measurements, and the battery's state of health to proactively manage its health
Higher recycling costs associated with disposing of lithium ion batteries
Lithium ion batteries weigh less than their lead acid counterparts, additional counterbalance weight may need to be added to the forklift to compensate
LPG

Forklifts

Counterbalance LPG forklifts are able to lift heavier loads and have longer running times than battery electric forklifts.

Normally with a lift capacity of between 1,500kg (1.5T) and 8,000kg (8T) LPG forklifts are the ideal solution for operating in warehouses and loading docks.

LPG forklifts have the added versatility of being able to work indoors and outdoors unlike diesel (outdoors only) and battery electric (indoors only) forklifts.

Advantages
Widely available most common forklift fuel type
Flexibility to operate outdoors and in well ventilated indoor areas due to low emissions
Quick refueling, taking less than 5 minutes to change

LPG

bottle compared to recharging a forklift battery
Longer shift operating time
Can operate up and down gradient paths
Reduced costs as spare batteries aren't need to be purchased or a purpose built battery charging room isn't need to be built and maintained
Disadvantages
Additional costs involved with the setup and maintenance of an outdoor storage area for

LPG

tanks
Obstructed rear view as the

LPG

tank is installed on the forklifts rear counterbalance
Higher fuel costs compared to battery electric forklifts
Increased injury potential as operators need to lift and install full

LPG

tanks during or at the end of their shift
Diesel Forklifts
Large diesel forklifts are often specified for heavy lifting applications.
Often lifting loads between 9,000kg (9T) up to 45,000kg (45T) ISO containers.
With their higher ground clearance they're ideal for working outdoors on asphalt or unpaved areas such as container yards and ports.
Powerful diesel engines provide the forklift with the necessary power to lift heavier loads and allow the unit to drive around the operating environment whilst fully laden.
Advantages
More torque as opposed to other fuel types making forklifts suitable for lifting high capacity loads
More reliable – less complicated internally
Diesel lasts longer as opposed to other fuel types
Quick refuelling (less than five minutes) as they are refuelled via a bowser similar to a car at a petrol station
Disadvantages
Diesel fuel can be more expensive than

LPG

depending on location
Loud engines can disrupt communication in the work area
Additional cost and space requirements as it requires fuel reserve storage room, which meets

EPA

standards
Requires more consumable parts (tyres, emissions maintenance, oil and filter changes)
Heavier forklift service weight to cater for the heavier loads being lifted, so operating area must be reinforced to support fully laden weight of forklift
Can only be used in open spaces or well ventilated areas due to the diesel fuel emissions emitted
This blog has outlined lists of advantages and disadvantages of the three main types of forklift fuel type's battery electric, LPG and diesel.
For assistance in selecting the correct forklift fuel type that is most appropriate for your application contact one of our specialists on 13 22 54 or fill out a contact form and we will respond as soon as possible.