Reachstacker Trends, Innovations and Benefits
Early in 2020 John Bensalhia from Portstrategy.com spoke to representatives from major reachstacker manufacturers including Hyster to discuss current industry trends, innovations and assess the potential benefits Reachstacker operators could see.
This blog explores some of the trends, innovations and benefits John was able to document from Hyster as to why the brands Reachstacker container handlers remain at the forefront of port based container handling globally.
Trend: Lowest Total Cost of Operation (
TCO

)

During interview Chris van de Werdt Port Strategy Manager EMEA Big Trucks Hyster Company explained that one of the current industry trends is for customers are focusing more on productivity rather than overall fuel savings they can achieve.

Van de Werdt believes:
"This is because fuel savings alone do not bring costs per container down – it is a combination of factors. We estimate that typically for the European and US market (excluding the tyre costs), just 16% of the total cost to run a reachstacker is the fuel cost, 20% is maintenance costs, 20% is depreciation and a full 44% is operational costs, including the driver."
As a reachstacker manufacturer Hyster's approach to fuel savings has been to try and strike the best balance offering operators fuel savings but still being able to support busy port container handling operations with powerful and efficient container handling units.
Testing conducted by Hyster shows a Hyster reachstacker can be up to 12% more productive than comparable competitor models, which provides a significant boost to overall productivity as 12% more containers can be moved or transported per truck per hour.
Benefit: Telematics Increases Productivity
A significant benefit outlined by Van de Werdt is the increases in productivity terminal operators may see with the adoption of telematics systems.
To see live information on how a reachstacker is performing during operations and the ability from performance information to be able to detect potential problems with units or to pre-emptively plan for when routine maintenance and repairs can be completed on a unit whilst minimising the impact on terminal operations is a significant benefit offered to adopters of telematics systems.
The adoption of telematics is allowing terminal operators to move more containers safely and efficiently without increasing costs.
Speedshield Technologies part of the Adaptalift Group have designed and developed Forktrack the most advanced fleet management safety system for the materials handling industry.
ForkTrack combines advanced safety features with an unprecedented level of fleet efficiency.
The system results in reduced fleet running costs via instant monitoring and control, real-time web based reporting, and operator accountability and performance.
ForkTrack integrates seamlessly with the award winning Speedshield product range, including Zoned Speed Control, Variable Speed Limiting and Lift Height Monitoring.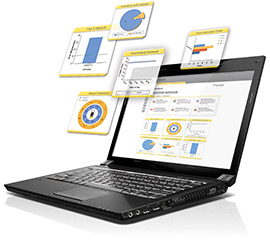 Trend: Focus on Environment – Noise Reduction
According to Van de Werdt Hyster reachstacker customers are placing a high emphasis on noise reduction particularly across ports and terminals located in cities and in close vicinity to residential areas.
"…companies are willing to invest reducing noise from both their MHE and the spreader landing on container or when the container is lowered and put down"
To combat noise pollution and to reduce noise during container put down operations Hyster offers a range of padding options that can be installed on a reachstackers spreader bar to dampen noise resulting from lowering and container put downs.
The dampening pads work in unison together with advanced sensors that detect a container and automatically reduce lowering speed just before contact to lessen the force and noise created when the spreader bar connects to a container or the container is lowered to the ground.
Innovation: Lithium Ion Batteries and Hydrogen Power to Reduce CO2 Emissions
Another growing trend highlighted is the growing desire across global ports and container terminals to reduce the amount of CO2 emissions contributed by operations.
Hyster is working with many partner ports and container terminals globally to plan new facilities and re-configure existing facilities to allow for the incorporation alternative fuel type units from the standard combustion engines including battery electric and hydrogen fuel reachstacker options.
To assist in the transition away from CO2 emitting reachstackers Hyster offers customers zero emission battery electric reachstacker that operate on high voltage as a power source to power fully electric motors.
Further research and testing is being conducted to maximise the operational period of these battery electric units across long working shifts, with Hyster researching and developing large lithium ion batteries which are recharged by on board fuel cells during operation.
Van de Werdt says the aforementioned on-board hydrogen fuel cell setup
"Suits the challenges of heavy-duty terminal operations, reducing planning complexity or charging issues. It means continuous operation is possible if hydrogen is available from on-board hydrogen tanks."
Trend: Increased Reachstacker Flexibility
Ports and container terminals are looking towards increasing the uses for their reachstackers so that they have the ability to be used for more than just standard container moving.
Van de Werdt explains that:
"When one truck can do lots of things, the terminal is then able to adapt and offer additional services…if you multiply that across a large fleet operations can diversify and even reduce fleet sizes"
The increased flexibility to handle a wider variety of loads can lead to ports and terminals gaining increased business from clients as they diversify their handling abilities.
To cater to this desire for increased flexibility Hyster has developed quick change attachment options for its reachstacker models.
Operators are able to quickly and safely change over attachments on reachstackers to be able to handle loads including containers, steel or coil handling or long tubes and pipes.
Another innovation on the latest Hyster reachstacker models is the new hinged elevating operator cabin that allows operators direct visibility over the top corners pockets of second rail containers even when there is a container in the first rail position.
The new elevating cabin removes the need for previously utilised cameras or spotter staff that directed the operator, all of these contributed to extra time and cost per container move.
Looking to the future modern reachstackers must be built to withstand wear and tear as well as the harsh weather often found in sea ports and terminals including rain, wind and snow, whilst also offering maximum flexibility to be able to lift diversified loads not just containers safely and efficiently.
To find out how your container handling operations can directly benefit from the adoption of Hyster reachstackers or Speedshield Technologies Forktrack safety and fleet management telemetry system call one of Adaptalift's MHE experts on 13 22 54 or alternatively fill out a contact form and we will be in contact as soon as possible.  
Reference List

Portstrategy.com. 2020. Port Strategy |

REACH

PICKINGS

OFFERED

BY

REACHSTACKERS

. [online] Available at: [Accessed 3 September 2020].