What are Order and Stock Pickers?
Order or stock pickers can be divided into two different types:
Order pickers can be elevated work platforms (

EWP

) and are often referred to as personnel lifts as they are designed to safely lift an individual operator to height to complete work
Order pickers may also be materials handling equipment (

MHE

) that can be designed to allow the picking of stock at low, medium and high levels of racking safely and efficiently
Both EWP and MHE order and stock pickers can be used to complete a variety of tasks including:
Stock put away or retrieval
Indoor maintenance projects (e.g. painting)
Minor construction projects
This week's blog briefly profiles the different types of order and stock pickers available and looks at the advantages of utilising them over other methods to lift operators to complete work.
Elevated Work Platform Order and Stock Pickers
Aerial Order Pickers
Aerial order pickers such as the Dingli TT037 electric order picker is a self-propelled personnel lift that is ideally suited to a range of indoor warehouse application such as picking stock from vertical racking for order fulfillment.
The unit's large 300kg safe working limit at full height allows for the safe lifting of an operator to heights of up to 3.7m to retrieve stock.
The order picker is powered by 2 × 12V batteries and can be fully maneuvered whilst the operator cage is fully raised.
Order pickers often have larger platforms to allow for picked goods to be safely stowed during picking operations.
Convenience features such as storage pockets allow operators to easily store clipboards containing picking slips and other documents easily without fear of it falling from the unit during picking operations.
Vertical Mast Lifts
Vertical mast lifts such as the MVP-2 mobile vertical lift from Dingli are another form of personnel lift that can lift operators vertically to heights of up to 9 metres high.
Due to the units extended maximum lift height when compared to the aerial order picker previously mentioned means that the mast lifts safe working limit is only 150kg, however this should be sufficient to lift a single operator to retrieve stock.
Four Interlocking swinging outriggers are deployed when the mast lift is extended providing maximum stability and safety for operators suspended at height.
Self-propelled Mast Lifts
With zero tail swing, jib mast and work platform mast lifts such as the Dingli MV095J are the ideal EWP solution for working in congested or confined spaces.
The electrically powered two wheel drive lifts have a safe working limit of up to 200kg comfortably accommodating a single operator along with picked goods or supplies and equipment for carrying out maintenance tasks.
Materials Handling Order and Stock Pickers
Low Level Order Pickers
Low level order pickers such as the LO2.0 – 2.5 series allow quick and efficient order and stock picking from both sides of warehouse aisles at low levels.
Units have a load capacity of up to 2,500kg and are powered by a high performance 2.6kW motor for quick acceleration and travel speed to ensure maximum productivity across a whole shift.
The order picker's operator space has been ergonomically designed to provide excellent operator comfort during long shifts.
The units easy to operate fingertip controls allows the operator to move the picker between locations either by stepping on-board the platform they can use the creep speed side control on the side of the truck whilst walking beside the unit.
Pickers also include regenerative braking and anti-roll back on slopes increasing safety and performance, the unit's ground clearance also mean uneven floors, debris or ramps will not hinder the movement of the pickers.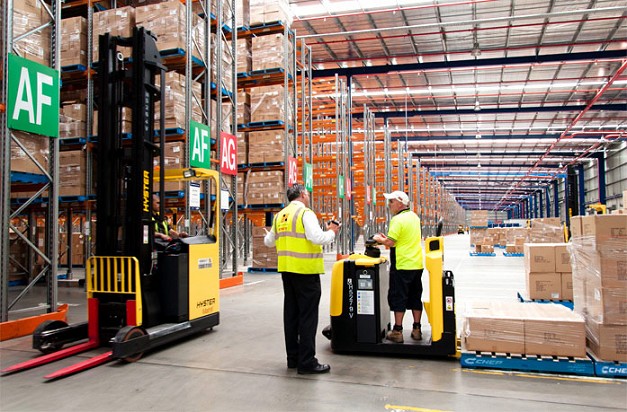 Mid-Level Order Pickers
Hyster's K series mid-level order pickers offers operators a lift capacity up to 1,000kg.
The order pickers rising cab helps operators to pick items at medium to high locations up to 3m high.
The operator's compartment provides maximum comfort with direct access to the pallets.
For higher level models side gates can be installed to protect the operator.
Highly sensitive electric steering and controls allow for precise positioning in warehouse aisles.
Pickers are powered by 24V batteries to provide fast and efficient movement across shifts.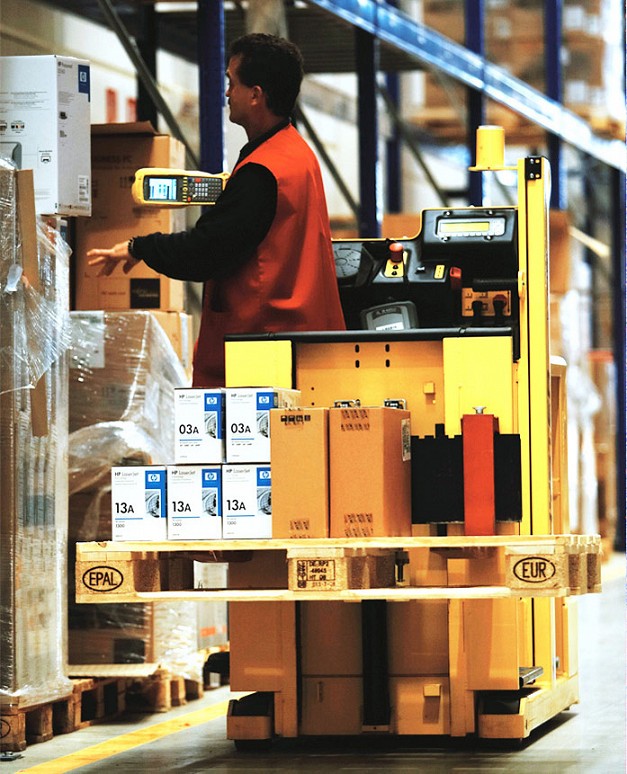 High Level Order Pickers
High level order pickers such as the R30XM series from Hyster are designed for indoor use and are ideally suited to a wide variety of applications such as warehousing and general home improvements.
Pickers offer operators lift capacities of up to 1,360kg up to a maximum lift height of up to 7.5m high.
The ability to raise the operator high up into racking allows warehouse racking systems to be designed to fully maximise available vertical storage space benefiting businesses as more stock is able to be stored.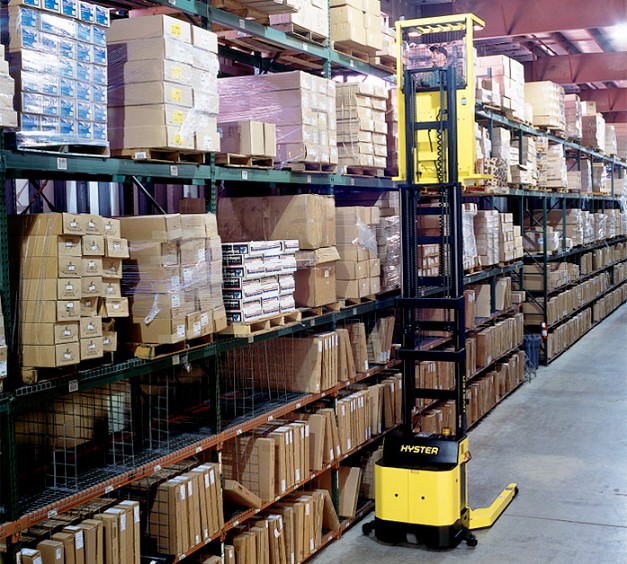 Advantages of Stock and Order Pickers
Increased Safety
Order pickers and mast lifts greatly increase safety during picking and maintenance operations.
Normally to be able to reach heights tall manual ladders are required these can often be unstable with increased risk of operators falling off the top platform.
Electric order pickers and mast lifts replace the need to use unstable manual ladders.
Operators are safely enclosed in the basket or work platform and electronically raised up to the necessary height to complete work or pick items.
Mast lifts like the MVP-2 from Dingli include four interlocking swinging outriggers that are deployed before lifting operations to ensure the lift is extremely stable no matter how high the basket or work platform is raised.
Most personnel lift baskets or work platforms have attachment points for harnesses, the ability for operators to attach a harness to the unit provides another layer of safety and security that isn't available on manual ladders.
A third and final way electric personnel lifts increase operator safety when compared to manual ladders is during the retrieval of goods or carrying supplies and equipment these items can be placed inside the basket or work platform leaving the operators hands free to raise, lower and manoeuvre the lift freely.
The safe operation of the personnel lift is a lot safer than workers having to hold onto goods or supplies as they climb up and down the ladder.
Having to hold onto things whilst manually climbing up and down the ladder is immediately unsafe as the operator is no longer hanging on with two hands and the extra weight of the items their holding may unbalance them increasing their risk of falling.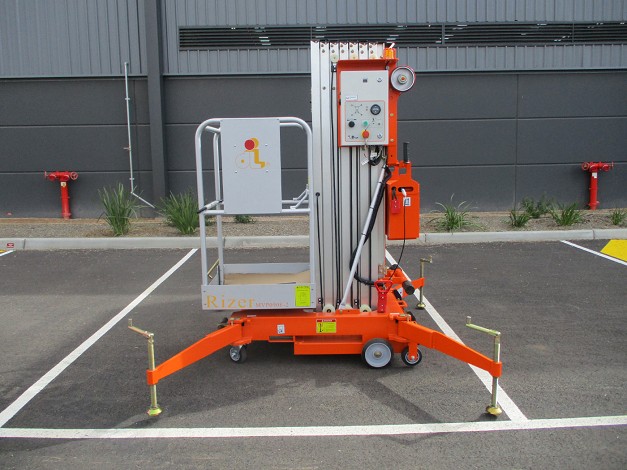 Increased Efficiency
It is always recommended that when using tall manual ladders that a separate operator holds and balances the ladder at the bottom whilst another operator climbs up to complete works or pick items to maintain the ladders stability.
The need to have two employees assigned to each ladder during operations or having to find a fellow employee to hold the ladder when the need to climb a ladder occurs can be extremely disruptive to operations.
Electric personnel lifts allow for increased efficiency as they can be safely operated by an individual operator.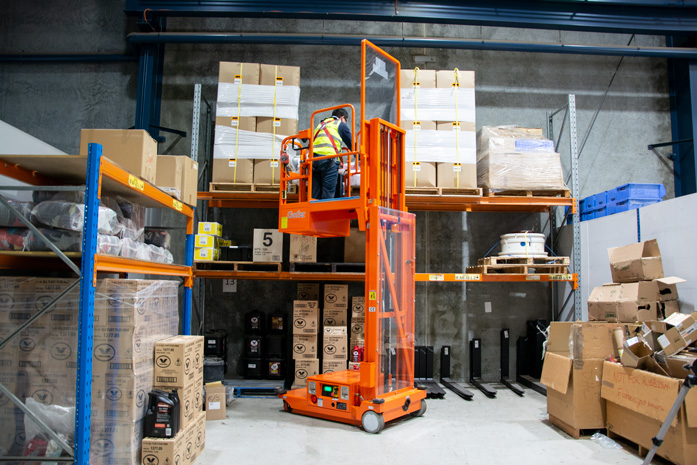 Operate in confined or congested spaces
Due to their compact size and not having swing arms like boom lifts personnel lifts such as aerial order pickers and mast lifts are ideal for operating in confined or congested spaces.
They're often small footprint being only 2-3 feet wide they do not take up much space.
They're compact size also allows the lifts to easily fit through and under most doors or overhanging objects whilst still being able to lift operators up high.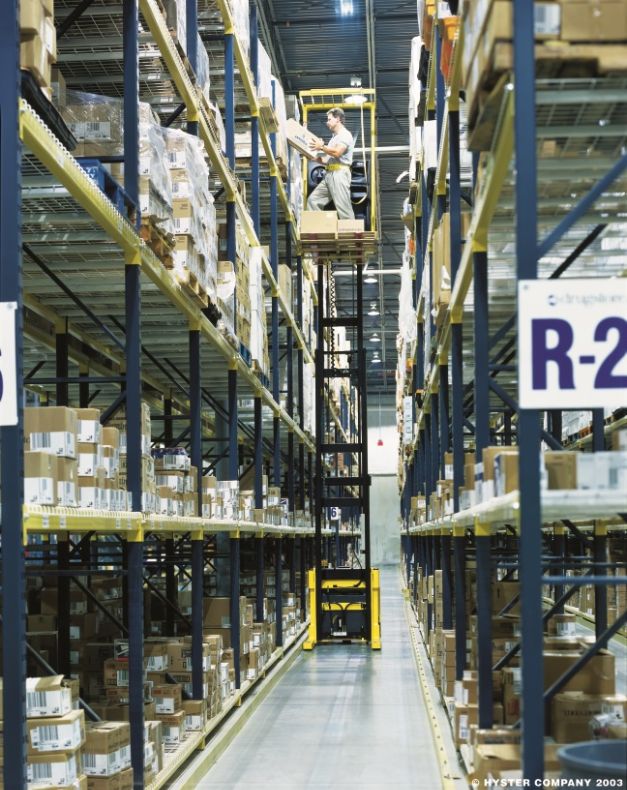 This week's blog has described the different types of order pickers and mast lifts that make up the personnel lift category of elevating work platforms and some of the advantages they can provide to businesses.
For assistance in finding the correct order picker or mast lift for your application contact our team of order and stock picker experts on 13 22 54 or fill out a contact form and we will reply as soon as possible.
Reference List

2021. What is an

EWP

?. [ebook] Elevating Work Platform Association of Australia, p.1. Available at: [Accessed 17 F